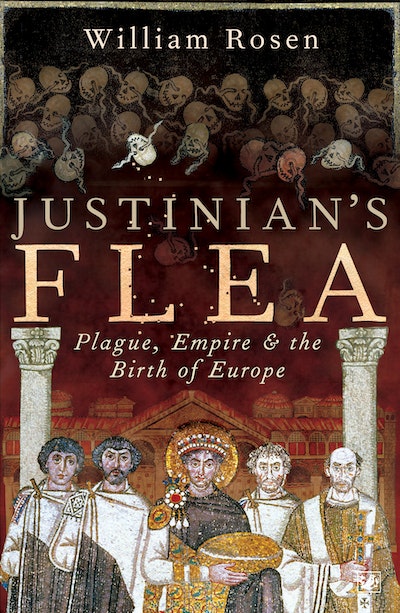 Published:

1 February 2011

ISBN:

9781409000884

Imprint:

Vintage Digital

Format:

EBook

Pages:

384
Justinian's Flea
Plague, Empire and the Birth of Europe
---
---
---
Popular history at its best: an epic story in which the newly united Roman Empire under Justinian is decimated by bubonic plague.
In the middle of the sixth century, the world's smallest organism collided with the world's mightiest empire. With the death of twenty-five million people, the Roman Empire, under her last great emperor, Justinian, was decimated. Before Yersinia pestis, the bacterium that carries bubonic plague, was finished, both the Roman and Persian empires were easy pickings for the armies of Muhammad on their conquering march out of Arabia. In its wake, the plague - history's first pandemic - marked the transition from the age of Mediterranean empires to the age of European nation-states - from antiquity to the medieval world.
A narrative history that melds contemporary sources with modern disciplines, Justinian's Flea is a unique account of one of history's great turning points - the summer of 542 - revealed through the experiences of the remarkable individuals whose lives are a window onto a remarkable age: Justinian, his general Belisarius, the greatest soldier between Caesar and Saladin; his architect, Anthemius who built Constantinople's Hagia Sophia (and whose brother, Alexander, was the great physician of the plague years); Tribonian, the jurist who created the Justinianic Code; and, finally, his empress Theodora, the one-time prostitute who became co-ruler of the empire, the most politically powerful woman in European history until Elizabeth I.
Published:

1 February 2011

ISBN:

9781409000884

Imprint:

Vintage Digital

Format:

EBook

Pages:

384
Praise for Justinian's Flea
A massively ambitious work that covers a great deal of ground..... a splendid biography of the emperor Justinian

Ian Pindar, Guardian
Ambitious and learned...readers will be swept along by the strong current of Mr Rosen's good natured erudition

Economist
As a feat of scholarship alone this book is extraordinary, but what really impresses is the sense of ease its author manifests in whatever subject he enters. It's as if he had been granted the freedom of late antiquity at birth ... His eloquence, wit, narrative skill, learning and (one dares to add) compassion, hoist this book abouve the miasma of its deeply sombre subject and make it, strangely, a joy

Independent on Sunday
Assertively modern in language and attitude, Rosen's multi-disciplinary Byzantine history deals not only with fatal microbiology but also celebrates Justinian's major achievements

The Times
Justinan was, as Rosen engagingly sets out, a master statesman.... Rosen carefully weighs his contribution

Financial Times
William Rosen doesn´t just give us the most believable, the most human and the most fully rounded Justinian ever, he also conjures up a vivid picture of the age, in a compelling style that makes his weighty learning light

Felipe Fernandez-Armesto, author of Millennium and Civilizations