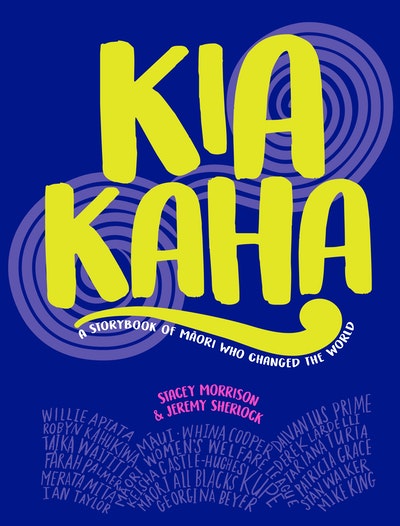 Published:

28 September 2021

ISBN:

9780143776437

Imprint:

Puffin

Format:

Hardback

Pages:

208

RRP:

$45.00
Kia Kaha
A Storybook of Maori Who Changed the World
---
---
An award-winning and powerful illustrated storybook for the tamariki and rangatahi of Aotearoa New Zealand celebrating Maoritanga!
KIA KAHA is a collection of true stories about amazing Maori who have achieved incredible things.
Each of them blazed a trail in their own way, and this pukapuka was written to show that with your kura huna, your special gifts, YOU can make a difference too.
Written by Stacey Morrison and Jeremy Sherlock, and featuring fabulous illustrations by Akoni Pakinga, Haylee Ngaroma, Isobel Joy Te Aho-White, Jess Thompson aka Maori Mermaid, Josh Morgan, Kurawaka Productions, Miriama Grace-Smith, Ngaumutane Jones aka Ms Meemo, Reweti Arapete, Taupuruariki Whakataka-Brightwell, Xoe Hall and Zak Waipara, KIA KAHA is a very special book for the young people of Aotearoa. Featuring people and groups both historic and contemporary, who have achieved great things from land marches and language revival to hip hop and contemporary Maori fashion design, this pukapuka will fill readers of all ages, and from all walks of life, with aroha, whanaungatanga and hope for our future.
Kia kaha – be strong, go hard!
Published:

28 September 2021

ISBN:

9780143776437

Imprint:

Puffin

Format:

Hardback

Pages:

208

RRP:

$45.00
The stories are concise, compelling, important and often revelatory, especially to those who grew up outside te ao Maori. Just as great are the brilliant, revealing and often wildly creative illustrations by the 12 Maori illustrators who worked on the book. Give it to people you care about because it's brillant, or because it's beautiful, or because it's important, but do give it.

Greg Bruce, Canvas
From the creators of the Maori Made Easy series and beautifully illustrated by 12 Maori artists, this collection of true stories features inspirational Maori from all walks of life. It's a brilliant gift for all ages.

Lucy Bailey, The Dominion Post Weekend
I see this magnificent and important book, this gift, this taonga, as a waka that sets sail into the future with song and recognition, ideas and heart, mahi and aroha. This is my favourite children's book of 2021, no question.

Paula Green, Poetry Box
The key to an excellent biographical anthology is choosing the right people, and Stacey and Jeremy have got this absolutely spot on. The choices range from Maui (demigod) to the Upper Hutt Posse, chief justice Sir Joe Williams to fashion designer Kiri Nathan, and suffragist Meri Te Tai Mangakahia to the Maori All Blacks. Illustrations from Josh Morgan, Xoë Hall and a variety of other fabulous Maori artists bring it to life.

Sarah Forster, Newsroom
I like how this collection gets to the heart of the personality of the person being profiled....Stacey and Jeremy have picked a diverse range of Maori role models from politicians, artists, film directors, leaders, activitists, to te reo educators, waka builders, musicians and writers. It's been in the bestseller list ever since it came out and I'm not surprised. Would make an excellent Christmas present for any age group. And if you can afford it, why not donate a copy of this book to your local school. It's a handsome book that many schools (if they have a budget) and homes will want to buy for their libraries.

Maria Gill, kidsbooksnz.blogspot.com
overflowing with inspiration for any young reader...An amazing collection of astounding New Zealanders. Ano te pai!

Whatbooknext.com
This is a powerful illustrated storybook and an inspiring compendium that celebrates Maori who have done incredible things. From individuals to groups, historic to contemporary history, every entry showcases Maori who have blazed a trail of their own. Illustrated by a host of 12 talented Maori artists, each of whom brings their own flavour to the mini biographies, Kia Kaha is a very special book for readers of all ages. It will inspire every reader, of every generation, to draw on their own strengths and abilities. This is a highly engaging book and wonderful resource that will fill readers with hope and aroha.

Judges, NZ Booklovers Awards, NZ Booklovers
New Zealand Booklovers Awards
Winner • 2022 • NZ Booklovers Best Children's Book Award
Article
Article
Kia Kaha profile - Taika Waititi
He kept trying new things, experimenting and, most importantly, he kept making stuff. Creative, unusual and funny stuff. Eventually, Taika thought he'd try to make a short film . . .
Teachers' notes