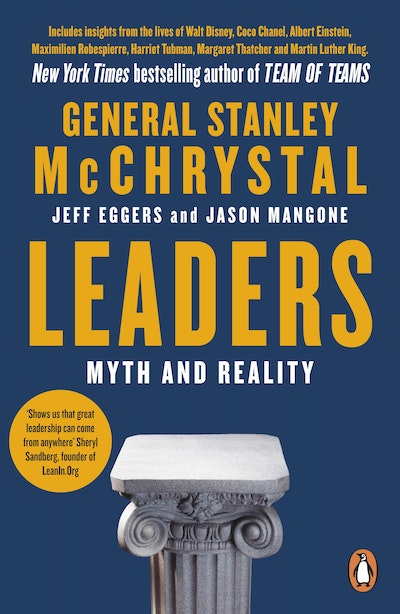 Published:

3 December 2019

ISBN:

9780241336342

Imprint:

Penguin General UK

Format:

Paperback

Pages:

480

RRP:

$30.00
Leaders
Myth and Reality
---
---
---
The bestselling author of Team of Teams dismantles the Great Man theory of leadership, by profiling leaders whose real stories defy their legends
The bestselling author of Team of Teams dismantles the Great Man theory of leadership, by profiling leaders whose real stories defy their legends
Retired four-star general Stan McChrystal has studied leadership his whole adult life, from his first day at West Point to his most recent work with the corporate clients of the McChrystal Group. In this follow-up to his bestsellers My Share of the Task and Team of Teams, McChrystal explores what leadership really means, debunking the many myths that have surrounded the concept. He focuses on thirteen great leaders, showing that the lessons we commonly draw from their lives are seldom the correct ones.
Taking leadership lessons from Walt Disney, Coco Chanel, Maximilien Robespierre, Abu Musab Zarkawi, Margaret Thatcher, Albert Einstein, Leonard Bernstein, Martin Luther and many more, ultimately, McChrystal posits that different environments will require different leaders, and that followers will choose the leader they need. Aspiring leaders will be best served not by cultivating a standard set of textbook leadership qualities, but by learning to discern what is required in each situation.
Published:

3 December 2019

ISBN:

9780241336342

Imprint:

Penguin General UK

Format:

Paperback

Pages:

480

RRP:

$30.00
Leaders rexamines old notions of leadership - especially the outdated view that history is shaped by great men going it alone. General McChrystal shows us that leadership can take many forms, leaders often have different strengths, and great leaders can come from anywhere

SHERYL SANDBERG, COO of Facebook and founder of LeanIn.Org
Leaders is a superb, thought-provoking challenge to conventional understanding of the nature of leadership. An enlightening, entertaining must-read about why we revere so many leaders who are often deeply flawed and even unsuccessful, and the lessons for thinking about and teaching leadership in the future

ROBERT M. GATES, former US Secretary of Defense
Leadership, we learn, is complex. At a time when Americans yearn for leaders we can admire and respect, this book... will help you think differently about both leadership and our history

WALTER ISAACSON, author of Steve Jobs and Leonardo da Vinci
No living American has more convincingly combined the practice and teaching of leadership than General Stanley McChrystal: that's why Yale students flock to his classes. Now, in Leaders, he invites us to join them, with Plutarch as his teaching assistant. No current or aspiring leader can afford to miss this shrewd and surprising book

JOHN LEWIS GADDIS, Yale University
Leaders is a must-read for all leaders - whether they're just beginning their careers or whether they're already leading an entire organization

KEN LANGONE, author of I Love Capitalism!
Whenever Stanley McChrystal talks, I take notes. I am so drawn to his ability to cut through pop-culture theories about leadership to get to the core of what actually makes a leader. Leaders takes us deeper than most other leadership books into the true and often messy mechanics of leadership. Anyone who considers themselves a student of leadership must read this book

SIMON SINEK, optimist and author of Start With Why and Leader Eat Last