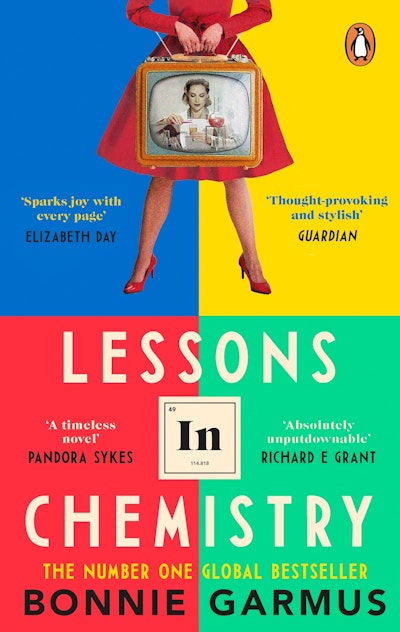 Published:

7 March 2023

ISBN:

9781804990926

Imprint:

Penguin

Format:

Paperback

Pages:

400

RRP:

$26.00
Lessons in Chemistry
The multi-million-copy bestseller
---
---
---
The sensational Number One debut of 2022, now in paperback. The major bestseller featuring the uncompromising, unconventional Elizabeth Zott - the most exciting new character in fiction.
THE 6-MILLION-COPY BESTSELLER AND PRIZE-WINNER
Now a major Apple TV series starring Brie Larson
'I loved it' Nigella Lawson
'The most charming, life-enhancing novel I've read in ages' Sunday Times
'Thought-provoking and stylish' Guardian
___________
Your ability to change everything - including yourself - starts here
Chemist Elizabeth Zott is not your average woman. In fact, Elizabeth Zott would be the first to point out that there is no such thing.
But it's the early 1960s and her all-male team at Hastings Research Institute take a very unscientific view of equality. Forced to resign, she reluctantly signs on as the host of a cooking show, Supper at Six. But her revolutionary approach to cooking, fuelled by scientific and rational commentary, grabs the attention of a nation.
Soon, a legion of overlooked housewives find themselves daring to change the status quo. One molecule at a time.
__________
A Book of the Year for: Guardian, Times, Sunday Times, New York Times, Good Housekeeping, Woman & Home, Stylist, TLS, Oprah Daily, Newsweek, Mail on Sunday, Entertainment Weekly, NPR, India Knight, Hay Festival, Waterstones, Amazon and many others
Winner of the Goodreads Choice Best Debut Novel Award
Author of the Year at the British Book Awards
As read on BBC Radio Four
A BBC TV 'Between the Covers' pick
Hay Festival Book of the Year
Winner of the Books are My Bag Reader's Choice Award
Winner of the Books are My Bag Breakthrough Author Award
Shortlisted for the HWA Crown Award
'I loved Lessons in Chemistry and am devastated to have finished it!' Nigella Lawson
'Laugh-out-loud funny and brimming with life, generosity and courage' Rachel Joyce
'A novel that sparks joy with every page' Elizabeth Day
'Witty and sometimes hilarious ... the Catch-22 of early feminism' Stephen King
'Biting and cheerIng in equal measure' Jojo Moyes
'A beautiful, sharp, funny and dark modern classic. I adored it' Chris Whitaker
Published:

7 March 2023

ISBN:

9781804990926

Imprint:

Penguin

Format:

Paperback

Pages:

400

RRP:

$26.00
Praise for Lessons in Chemistry
Lessons in Chemistry is a breath of fresh air - a witty, propulsive, and refreshingly hopeful novel populated with singular characters. This book is an utter delight - wry, warm and compulsively readable

CLAIRE LOMBARDO, author of THE MOST FUN WE EVER HAD
Lessons in Chemistry is a breath of fresh air - a witty, propulsive, and refreshingly hopeful novel populated with singular characters. This book is an utter delight - wry, warm and compulsively readable

CLAIRE LOMBARDO, author of THE MOST FUN WE EVER HAD
Lessons in Chemistry is a breath of fresh air - a witty, propulsive, and refreshingly hopeful novel populated with singular characters. This book is an utter delight - wry, warm and compulsively readable

CLAIRE LOMBARDO, author of THE MOST FUN WE EVER HAD
Lessons in Chemistry is a breath of fresh air - a witty, propulsive, and refreshingly hopeful novel populated with singular characters. This book is an utter delight - wry, warm and compulsively readable

CLAIRE LOMBARDO, author of THE MOST FUN WE EVER HAD
Lessons in Chemistry is a breath of fresh air - a witty, propulsive, and refreshingly hopeful novel populated with singular characters. This book is an utter delight - wry, warm and compulsively readable

CLAIRE LOMBARDO, author of THE MOST FUN WE EVER HAD
Lessons in Chemistry is a breath of fresh air - a witty, propulsive, and refreshingly hopeful novel populated with singular characters. This book is an utter delight - wry, warm and compulsively readable

CLAIRE LOMBARDO, author of THE MOST FUN WE EVER HAD
Lessons in Chemistry is a breath of fresh air - a witty, propulsive, and refreshingly hopeful novel populated with singular characters. This book is an utter delight - wry, warm and compulsively readable

CLAIRE LOMBARDO, author of THE MOST FUN WE EVER HAD
Lessons in Chemistry is a breath of fresh air - a witty, propulsive, and refreshingly hopeful novel populated with singular characters. This book is an utter delight - wry, warm and compulsively readable

CLAIRE LOMBARDO, author of THE MOST FUN WE EVER HAD
Lessons in Chemistry is a breath of fresh air - a witty, propulsive, and refreshingly hopeful novel populated with singular characters. This book is an utter delight - wry, warm and compulsively readable

CLAIRE LOMBARDO, author of THE MOST FUN WE EVER HAD
Lessons in Chemistry is a breath of fresh air - a witty, propulsive, and refreshingly hopeful novel populated with singular characters. This book is an utter delight - wry, warm and compulsively readable

CLAIRE LOMBARDO, author of THE MOST FUN WE EVER HAD
Original, fresh, tender, funny and warm. The story dances and swirls, captivating the reader from the first page. Elizabeth Zott is the most wonderful character. Just fantastic

SINEAD MORIARTY
Original, fresh, tender, funny and warm. The story dances and swirls, captivating the reader from the first page. Elizabeth Zott is the most wonderful character. Just fantastic

SINEAD MORIARTY
Original, fresh, tender, funny and warm. The story dances and swirls, captivating the reader from the first page. Elizabeth Zott is the most wonderful character. Just fantastic

SINEAD MORIARTY
Original, fresh, tender, funny and warm. The story dances and swirls, captivating the reader from the first page. Elizabeth Zott is the most wonderful character. Just fantastic

SINEAD MORIARTY
Original, fresh, tender, funny and warm. The story dances and swirls, captivating the reader from the first page. Elizabeth Zott is the most wonderful character. Just fantastic

SINEAD MORIARTY
Original, fresh, tender, funny and warm. The story dances and swirls, captivating the reader from the first page. Elizabeth Zott is the most wonderful character. Just fantastic

SINEAD MORIARTY
Original, fresh, tender, funny and warm. The story dances and swirls, captivating the reader from the first page. Elizabeth Zott is the most wonderful character. Just fantastic

SINEAD MORIARTY
Original, fresh, tender, funny and warm. The story dances and swirls, captivating the reader from the first page. Elizabeth Zott is the most wonderful character. Just fantastic

SINEAD MORIARTY
Original, fresh, tender, funny and warm. The story dances and swirls, captivating the reader from the first page. Elizabeth Zott is the most wonderful character. Just fantastic

SINEAD MORIARTY
Original, fresh, tender, funny and warm. The story dances and swirls, captivating the reader from the first page. Elizabeth Zott is the most wonderful character. Just fantastic

SINEAD MORIARTY
A timeless book. Elizabeth Zott is an iconic heroine - a feminist who refuses to be quashed, a mother who believes that her child is a person to behold, rather than to mould, and who will leave you, and the lens through which you see the world, quite changed

PANDORA SYKES
A timeless book. Elizabeth Zott is an iconic heroine - a feminist who refuses to be quashed, a mother who believes that her child is a person to behold, rather than to mould, and who will leave you, and the lens through which you see the world, quite changed

PANDORA SYKES
A timeless book. Elizabeth Zott is an iconic heroine - a feminist who refuses to be quashed, a mother who believes that her child is a person to behold, rather than to mould, and who will leave you, and the lens through which you see the world, quite changed

PANDORA SYKES
A timeless book. Elizabeth Zott is an iconic heroine - a feminist who refuses to be quashed, a mother who believes that her child is a person to behold, rather than to mould, and who will leave you, and the lens through which you see the world, quite changed

PANDORA SYKES
A timeless book. Elizabeth Zott is an iconic heroine - a feminist who refuses to be quashed, a mother who believes that her child is a person to behold, rather than to mould, and who will leave you, and the lens through which you see the world, quite changed

PANDORA SYKES
A timeless book. Elizabeth Zott is an iconic heroine - a feminist who refuses to be quashed, a mother who believes that her child is a person to behold, rather than to mould, and who will leave you, and the lens through which you see the world, quite changed

PANDORA SYKES
A timeless book. Elizabeth Zott is an iconic heroine - a feminist who refuses to be quashed, a mother who believes that her child is a person to behold, rather than to mould, and who will leave you, and the lens through which you see the world, quite changed

PANDORA SYKES
A timeless book. Elizabeth Zott is an iconic heroine - a feminist who refuses to be quashed, a mother who believes that her child is a person to behold, rather than to mould, and who will leave you, and the lens through which you see the world, quite changed

PANDORA SYKES
A timeless book. Elizabeth Zott is an iconic heroine - a feminist who refuses to be quashed, a mother who believes that her child is a person to behold, rather than to mould, and who will leave you, and the lens through which you see the world, quite changed

PANDORA SYKES
A timeless book. Elizabeth Zott is an iconic heroine - a feminist who refuses to be quashed, a mother who believes that her child is a person to behold, rather than to mould, and who will leave you, and the lens through which you see the world, quite changed

PANDORA SYKES
A book that sparks joy with every page. LESSONS IN CHEMISTRY is both funny and rousing: it had me laughing one minute and air-punching the next. Bonnie Garmus has created an unforgettable heroine

ELIZABETH DAY
A book that sparks joy with every page. LESSONS IN CHEMISTRY is both funny and rousing: it had me laughing one minute and air-punching the next. Bonnie Garmus has created an unforgettable heroine

ELIZABETH DAY
A book that sparks joy with every page. LESSONS IN CHEMISTRY is both funny and rousing: it had me laughing one minute and air-punching the next. Bonnie Garmus has created an unforgettable heroine

ELIZABETH DAY
A book that sparks joy with every page. LESSONS IN CHEMISTRY is both funny and rousing: it had me laughing one minute and air-punching the next. Bonnie Garmus has created an unforgettable heroine

ELIZABETH DAY
A book that sparks joy with every page. LESSONS IN CHEMISTRY is both funny and rousing: it had me laughing one minute and air-punching the next. Bonnie Garmus has created an unforgettable heroine

ELIZABETH DAY
A book that sparks joy with every page. LESSONS IN CHEMISTRY is both funny and rousing: it had me laughing one minute and air-punching the next. Bonnie Garmus has created an unforgettable heroine

ELIZABETH DAY
A book that sparks joy with every page. LESSONS IN CHEMISTRY is both funny and rousing: it had me laughing one minute and air-punching the next. Bonnie Garmus has created an unforgettable heroine

ELIZABETH DAY
A book that sparks joy with every page. LESSONS IN CHEMISTRY is both funny and rousing: it had me laughing one minute and air-punching the next. Bonnie Garmus has created an unforgettable heroine

ELIZABETH DAY
A book that sparks joy with every page. LESSONS IN CHEMISTRY is both funny and rousing: it had me laughing one minute and air-punching the next. Bonnie Garmus has created an unforgettable heroine

ELIZABETH DAY
A book that sparks joy with every page. LESSONS IN CHEMISTRY is both funny and rousing: it had me laughing one minute and air-punching the next. Bonnie Garmus has created an unforgettable heroine

ELIZABETH DAY
It's the world versus Elizabeth Zott, an extraordinary woman determined to live on her own terms, and I had no trouble choosing a side. Lessons in Chemistry is a page-turning and highly satisfying tale: zippy, zesty, and Zotty

MAGGIE SHIPSTEAD, author of GREAT CIRCLE
It's the world versus Elizabeth Zott, an extraordinary woman determined to live on her own terms, and I had no trouble choosing a side. Lessons in Chemistry is a page-turning and highly satisfying tale: zippy, zesty, and Zotty

MAGGIE SHIPSTEAD, author of GREAT CIRCLE
It's the world versus Elizabeth Zott, an extraordinary woman determined to live on her own terms, and I had no trouble choosing a side. Lessons in Chemistry is a page-turning and highly satisfying tale: zippy, zesty, and Zotty

MAGGIE SHIPSTEAD, author of GREAT CIRCLE
It's the world versus Elizabeth Zott, an extraordinary woman determined to live on her own terms, and I had no trouble choosing a side. Lessons in Chemistry is a page-turning and highly satisfying tale: zippy, zesty, and Zotty

MAGGIE SHIPSTEAD, author of GREAT CIRCLE
It's the world versus Elizabeth Zott, an extraordinary woman determined to live on her own terms, and I had no trouble choosing a side. Lessons in Chemistry is a page-turning and highly satisfying tale: zippy, zesty, and Zotty

MAGGIE SHIPSTEAD, author of GREAT CIRCLE
It's the world versus Elizabeth Zott, an extraordinary woman determined to live on her own terms, and I had no trouble choosing a side. Lessons in Chemistry is a page-turning and highly satisfying tale: zippy, zesty, and Zotty

MAGGIE SHIPSTEAD, author of GREAT CIRCLE
It's the world versus Elizabeth Zott, an extraordinary woman determined to live on her own terms, and I had no trouble choosing a side. Lessons in Chemistry is a page-turning and highly satisfying tale: zippy, zesty, and Zotty

MAGGIE SHIPSTEAD, author of GREAT CIRCLE
It's the world versus Elizabeth Zott, an extraordinary woman determined to live on her own terms, and I had no trouble choosing a side. Lessons in Chemistry is a page-turning and highly satisfying tale: zippy, zesty, and Zotty

MAGGIE SHIPSTEAD, author of GREAT CIRCLE
It's the world versus Elizabeth Zott, an extraordinary woman determined to live on her own terms, and I had no trouble choosing a side. Lessons in Chemistry is a page-turning and highly satisfying tale: zippy, zesty, and Zotty

MAGGIE SHIPSTEAD, author of GREAT CIRCLE
It's the world versus Elizabeth Zott, an extraordinary woman determined to live on her own terms, and I had no trouble choosing a side. Lessons in Chemistry is a page-turning and highly satisfying tale: zippy, zesty, and Zotty

MAGGIE SHIPSTEAD, author of GREAT CIRCLE
A transporting read, recommended for fans of Where'd You Go, Bernadette and The Marvelous Mrs Maisel

STYLIST MAGAZINE, BOOKS TO LOOK FORWARD TO IN 2022
A transporting read, recommended for fans of Where'd You Go, Bernadette and The Marvelous Mrs Maisel

STYLIST MAGAZINE, BOOKS TO LOOK FORWARD TO IN 2022
A transporting read, recommended for fans of Where'd You Go, Bernadette and The Marvelous Mrs Maisel

STYLIST MAGAZINE, BOOKS TO LOOK FORWARD TO IN 2022
A transporting read, recommended for fans of Where'd You Go, Bernadette and The Marvelous Mrs Maisel

STYLIST MAGAZINE, BOOKS TO LOOK FORWARD TO IN 2022
A transporting read, recommended for fans of Where'd You Go, Bernadette and The Marvelous Mrs Maisel

STYLIST MAGAZINE, BOOKS TO LOOK FORWARD TO IN 2022
A transporting read, recommended for fans of Where'd You Go, Bernadette and The Marvelous Mrs Maisel

STYLIST MAGAZINE, BOOKS TO LOOK FORWARD TO IN 2022
A transporting read, recommended for fans of Where'd You Go, Bernadette and The Marvelous Mrs Maisel

STYLIST MAGAZINE, BOOKS TO LOOK FORWARD TO IN 2022
A transporting read, recommended for fans of Where'd You Go, Bernadette and The Marvelous Mrs Maisel

STYLIST MAGAZINE, BOOKS TO LOOK FORWARD TO IN 2022
A transporting read, recommended for fans of Where'd You Go, Bernadette and The Marvelous Mrs Maisel

STYLIST MAGAZINE, BOOKS TO LOOK FORWARD TO IN 2022
A transporting read, recommended for fans of Where'd You Go, Bernadette and The Marvelous Mrs Maisel

STYLIST MAGAZINE, BOOKS TO LOOK FORWARD TO IN 2022
Lessons in Chemistry is a vibrant and original story of hope and staying true to yourself. Laugh-out-loud funny, shrewdly observant, and brimming with life and generosity and courage

RACHEL JOYCE
Lessons in Chemistry is a vibrant and original story of hope and staying true to yourself. Laugh-out-loud funny, shrewdly observant, and brimming with life and generosity and courage

RACHEL JOYCE
Lessons in Chemistry is a vibrant and original story of hope and staying true to yourself. Laugh-out-loud funny, shrewdly observant, and brimming with life and generosity and courage

RACHEL JOYCE
Lessons in Chemistry is a vibrant and original story of hope and staying true to yourself. Laugh-out-loud funny, shrewdly observant, and brimming with life and generosity and courage

RACHEL JOYCE
Lessons in Chemistry is a vibrant and original story of hope and staying true to yourself. Laugh-out-loud funny, shrewdly observant, and brimming with life and generosity and courage

RACHEL JOYCE
Lessons in Chemistry is a vibrant and original story of hope and staying true to yourself. Laugh-out-loud funny, shrewdly observant, and brimming with life and generosity and courage

RACHEL JOYCE
Lessons in Chemistry is a vibrant and original story of hope and staying true to yourself. Laugh-out-loud funny, shrewdly observant, and brimming with life and generosity and courage

RACHEL JOYCE
Lessons in Chemistry is a vibrant and original story of hope and staying true to yourself. Laugh-out-loud funny, shrewdly observant, and brimming with life and generosity and courage

RACHEL JOYCE
Lessons in Chemistry is a vibrant and original story of hope and staying true to yourself. Laugh-out-loud funny, shrewdly observant, and brimming with life and generosity and courage

RACHEL JOYCE
Lessons in Chemistry is a vibrant and original story of hope and staying true to yourself. Laugh-out-loud funny, shrewdly observant, and brimming with life and generosity and courage

RACHEL JOYCE
Fast, funny and furious

DAILY EXPRESS
Fast, funny and furious

DAILY EXPRESS
Fast, funny and furious

DAILY EXPRESS
Fast, funny and furious

DAILY EXPRESS
Fast, funny and furious

DAILY EXPRESS
Fast, funny and furious

DAILY EXPRESS
Fast, funny and furious

DAILY EXPRESS
Fast, funny and furious

DAILY EXPRESS
Fast, funny and furious

DAILY EXPRESS
Fast, funny and furious

DAILY EXPRESS
A truly involving and uplifting book! Bonnie Garmus addresses serious topics with humour that is genuinely funny. I especially liked the dog. Mine only appears to know one word, which is 'supper', but there again she is a Labrador. I'm sure this is going to be a great success, and deserves to be

ANNE YOUNGSON, Costa Book Award-shortlisted author of MEET ME AT THE MUSEUM
A truly involving and uplifting book! Bonnie Garmus addresses serious topics with humour that is genuinely funny. I especially liked the dog. Mine only appears to know one word, which is 'supper', but there again she is a Labrador. I'm sure this is going to be a great success, and deserves to be

ANNE YOUNGSON, Costa Book Award-shortlisted author of MEET ME AT THE MUSEUM
A truly involving and uplifting book! Bonnie Garmus addresses serious topics with humour that is genuinely funny. I especially liked the dog. Mine only appears to know one word, which is 'supper', but there again she is a Labrador. I'm sure this is going to be a great success, and deserves to be

ANNE YOUNGSON, Costa Book Award-shortlisted author of MEET ME AT THE MUSEUM
A truly involving and uplifting book! Bonnie Garmus addresses serious topics with humour that is genuinely funny. I especially liked the dog. Mine only appears to know one word, which is 'supper', but there again she is a Labrador. I'm sure this is going to be a great success, and deserves to be

ANNE YOUNGSON, Costa Book Award-shortlisted author of MEET ME AT THE MUSEUM
A truly involving and uplifting book! Bonnie Garmus addresses serious topics with humour that is genuinely funny. I especially liked the dog. Mine only appears to know one word, which is 'supper', but there again she is a Labrador. I'm sure this is going to be a great success, and deserves to be

ANNE YOUNGSON, Costa Book Award-shortlisted author of MEET ME AT THE MUSEUM
A truly involving and uplifting book! Bonnie Garmus addresses serious topics with humour that is genuinely funny. I especially liked the dog. Mine only appears to know one word, which is 'supper', but there again she is a Labrador. I'm sure this is going to be a great success, and deserves to be

ANNE YOUNGSON, Costa Book Award-shortlisted author of MEET ME AT THE MUSEUM
A truly involving and uplifting book! Bonnie Garmus addresses serious topics with humour that is genuinely funny. I especially liked the dog. Mine only appears to know one word, which is 'supper', but there again she is a Labrador. I'm sure this is going to be a great success, and deserves to be

ANNE YOUNGSON, Costa Book Award-shortlisted author of MEET ME AT THE MUSEUM
A truly involving and uplifting book! Bonnie Garmus addresses serious topics with humour that is genuinely funny. I especially liked the dog. Mine only appears to know one word, which is 'supper', but there again she is a Labrador. I'm sure this is going to be a great success, and deserves to be

ANNE YOUNGSON, Costa Book Award-shortlisted author of MEET ME AT THE MUSEUM
A truly involving and uplifting book! Bonnie Garmus addresses serious topics with humour that is genuinely funny. I especially liked the dog. Mine only appears to know one word, which is 'supper', but there again she is a Labrador. I'm sure this is going to be a great success, and deserves to be

ANNE YOUNGSON, Costa Book Award-shortlisted author of MEET ME AT THE MUSEUM
A truly involving and uplifting book! Bonnie Garmus addresses serious topics with humour that is genuinely funny. I especially liked the dog. Mine only appears to know one word, which is 'supper', but there again she is a Labrador. I'm sure this is going to be a great success, and deserves to be

ANNE YOUNGSON, Costa Book Award-shortlisted author of MEET ME AT THE MUSEUM
This incredible novel has EVERYTHING - an unforgettable heroine, wry humour, love, family and bucketloads of optimism and female empowerment. It's WONDERFUL

HANNAH BECKERMAN
This incredible novel has EVERYTHING - an unforgettable heroine, wry humour, love, family and bucketloads of optimism and female empowerment. It's WONDERFUL

HANNAH BECKERMAN
This incredible novel has EVERYTHING - an unforgettable heroine, wry humour, love, family and bucketloads of optimism and female empowerment. It's WONDERFUL

HANNAH BECKERMAN
This incredible novel has EVERYTHING - an unforgettable heroine, wry humour, love, family and bucketloads of optimism and female empowerment. It's WONDERFUL

HANNAH BECKERMAN
This incredible novel has EVERYTHING - an unforgettable heroine, wry humour, love, family and bucketloads of optimism and female empowerment. It's WONDERFUL

HANNAH BECKERMAN
This incredible novel has EVERYTHING - an unforgettable heroine, wry humour, love, family and bucketloads of optimism and female empowerment. It's WONDERFUL

HANNAH BECKERMAN
This incredible novel has EVERYTHING - an unforgettable heroine, wry humour, love, family and bucketloads of optimism and female empowerment. It's WONDERFUL

HANNAH BECKERMAN
This incredible novel has EVERYTHING - an unforgettable heroine, wry humour, love, family and bucketloads of optimism and female empowerment. It's WONDERFUL

HANNAH BECKERMAN
This incredible novel has EVERYTHING - an unforgettable heroine, wry humour, love, family and bucketloads of optimism and female empowerment. It's WONDERFUL

HANNAH BECKERMAN
This incredible novel has EVERYTHING - an unforgettable heroine, wry humour, love, family and bucketloads of optimism and female empowerment. It's WONDERFUL

HANNAH BECKERMAN
A fabulous novel. Compelling, satisfying, a real page-turner

NINA STIBBE
A fabulous novel. Compelling, satisfying, a real page-turner

NINA STIBBE
A fabulous novel. Compelling, satisfying, a real page-turner

NINA STIBBE
A fabulous novel. Compelling, satisfying, a real page-turner

NINA STIBBE
A fabulous novel. Compelling, satisfying, a real page-turner

NINA STIBBE
A fabulous novel. Compelling, satisfying, a real page-turner

NINA STIBBE
A fabulous novel. Compelling, satisfying, a real page-turner

NINA STIBBE
A fabulous novel. Compelling, satisfying, a real page-turner

NINA STIBBE
A fabulous novel. Compelling, satisfying, a real page-turner

NINA STIBBE
A fabulous novel. Compelling, satisfying, a real page-turner

NINA STIBBE
Not only is Elizabeth an unforgettable character, so too are her adorable dog Six Thirty and daughter, Mad. This is a truly unique book with some great life lessons

WOMAN AND HOME, Best Books of 2022
Not only is Elizabeth an unforgettable character, so too are her adorable dog Six Thirty and daughter, Mad. This is a truly unique book with some great life lessons

WOMAN AND HOME, Best Books of 2022
Not only is Elizabeth an unforgettable character, so too are her adorable dog Six Thirty and daughter, Mad. This is a truly unique book with some great life lessons

WOMAN AND HOME, Best Books of 2022
Not only is Elizabeth an unforgettable character, so too are her adorable dog Six Thirty and daughter, Mad. This is a truly unique book with some great life lessons

WOMAN AND HOME, Best Books of 2022
Not only is Elizabeth an unforgettable character, so too are her adorable dog Six Thirty and daughter, Mad. This is a truly unique book with some great life lessons

WOMAN AND HOME, Best Books of 2022
Not only is Elizabeth an unforgettable character, so too are her adorable dog Six Thirty and daughter, Mad. This is a truly unique book with some great life lessons

WOMAN AND HOME, Best Books of 2022
Not only is Elizabeth an unforgettable character, so too are her adorable dog Six Thirty and daughter, Mad. This is a truly unique book with some great life lessons

WOMAN AND HOME, Best Books of 2022
Not only is Elizabeth an unforgettable character, so too are her adorable dog Six Thirty and daughter, Mad. This is a truly unique book with some great life lessons

WOMAN AND HOME, Best Books of 2022
Not only is Elizabeth an unforgettable character, so too are her adorable dog Six Thirty and daughter, Mad. This is a truly unique book with some great life lessons

WOMAN AND HOME, Best Books of 2022
Not only is Elizabeth an unforgettable character, so too are her adorable dog Six Thirty and daughter, Mad. This is a truly unique book with some great life lessons

WOMAN AND HOME, Best Books of 2022
A truly unique book with some great life lessons

WOMAN AND HOME, BEST BOOKS OF 2022
A truly unique book with some great life lessons

WOMAN AND HOME, BEST BOOKS OF 2022
A truly unique book with some great life lessons

WOMAN AND HOME, BEST BOOKS OF 2022
A truly unique book with some great life lessons

WOMAN AND HOME, BEST BOOKS OF 2022
A truly unique book with some great life lessons

WOMAN AND HOME, BEST BOOKS OF 2022
A truly unique book with some great life lessons

WOMAN AND HOME, BEST BOOKS OF 2022
A truly unique book with some great life lessons

WOMAN AND HOME, BEST BOOKS OF 2022
A truly unique book with some great life lessons

WOMAN AND HOME, BEST BOOKS OF 2022
A truly unique book with some great life lessons

WOMAN AND HOME, BEST BOOKS OF 2022
A truly unique book with some great life lessons

WOMAN AND HOME, BEST BOOKS OF 2022
Strikingly relevant. . . Darkly funny and poignant. . . Lessons in Chemistry's excellent experiment is quirky and heartwarming

THE ATLANTIC
Strikingly relevant. . . Darkly funny and poignant. . . Lessons in Chemistry's excellent experiment is quirky and heartwarming

THE ATLANTIC
Strikingly relevant. . . Darkly funny and poignant. . . Lessons in Chemistry's excellent experiment is quirky and heartwarming

THE ATLANTIC
Strikingly relevant. . . Darkly funny and poignant. . . Lessons in Chemistry's excellent experiment is quirky and heartwarming

THE ATLANTIC
Strikingly relevant. . . Darkly funny and poignant. . . Lessons in Chemistry's excellent experiment is quirky and heartwarming

THE ATLANTIC
Strikingly relevant. . . Darkly funny and poignant. . . Lessons in Chemistry's excellent experiment is quirky and heartwarming

THE ATLANTIC
Strikingly relevant. . . Darkly funny and poignant. . . Lessons in Chemistry's excellent experiment is quirky and heartwarming

THE ATLANTIC
Strikingly relevant. . . Darkly funny and poignant. . . Lessons in Chemistry's excellent experiment is quirky and heartwarming

THE ATLANTIC
Strikingly relevant. . . Darkly funny and poignant. . . Lessons in Chemistry's excellent experiment is quirky and heartwarming

THE ATLANTIC
Strikingly relevant. . . Darkly funny and poignant. . . Lessons in Chemistry's excellent experiment is quirky and heartwarming

THE ATLANTIC
This triumphant feminist fable, wittily observed, is teeming with vivid comic set-pieces

TELEGRAPH, Fiction of the Week
This triumphant feminist fable, wittily observed, is teeming with vivid comic set-pieces

TELEGRAPH, Fiction of the Week
This triumphant feminist fable, wittily observed, is teeming with vivid comic set-pieces

TELEGRAPH, Fiction of the Week
This triumphant feminist fable, wittily observed, is teeming with vivid comic set-pieces

TELEGRAPH, Fiction of the Week
This triumphant feminist fable, wittily observed, is teeming with vivid comic set-pieces

TELEGRAPH, Fiction of the Week
This triumphant feminist fable, wittily observed, is teeming with vivid comic set-pieces

TELEGRAPH, Fiction of the Week
This triumphant feminist fable, wittily observed, is teeming with vivid comic set-pieces

TELEGRAPH, Fiction of the Week
This triumphant feminist fable, wittily observed, is teeming with vivid comic set-pieces

TELEGRAPH, Fiction of the Week
This triumphant feminist fable, wittily observed, is teeming with vivid comic set-pieces

TELEGRAPH, Fiction of the Week
This triumphant feminist fable, wittily observed, is teeming with vivid comic set-pieces

TELEGRAPH, Fiction of the Week
I haven't loved a character as much as the hero of this joyful, warm debut in a very long time

GOOD HOUSEKEEPING, Book of the Month
I haven't loved a character as much as the hero of this joyful, warm debut in a very long time

GOOD HOUSEKEEPING, Book of the Month
I haven't loved a character as much as the hero of this joyful, warm debut in a very long time

GOOD HOUSEKEEPING, Book of the Month
I haven't loved a character as much as the hero of this joyful, warm debut in a very long time

GOOD HOUSEKEEPING, Book of the Month
I haven't loved a character as much as the hero of this joyful, warm debut in a very long time

GOOD HOUSEKEEPING, Book of the Month
I haven't loved a character as much as the hero of this joyful, warm debut in a very long time

GOOD HOUSEKEEPING, Book of the Month
I haven't loved a character as much as the hero of this joyful, warm debut in a very long time

GOOD HOUSEKEEPING, Book of the Month
I haven't loved a character as much as the hero of this joyful, warm debut in a very long time

GOOD HOUSEKEEPING, Book of the Month
I haven't loved a character as much as the hero of this joyful, warm debut in a very long time

GOOD HOUSEKEEPING, Book of the Month
I haven't loved a character as much as the hero of this joyful, warm debut in a very long time

GOOD HOUSEKEEPING, Book of the Month
Bold, smart and often hilarious look at so-called women's work

REAL SIMPLE, US
Bold, smart and often hilarious look at so-called women's work

REAL SIMPLE, US
Bold, smart and often hilarious look at so-called women's work

REAL SIMPLE, US
Bold, smart and often hilarious look at so-called women's work

REAL SIMPLE, US
Bold, smart and often hilarious look at so-called women's work

REAL SIMPLE, US
Bold, smart and often hilarious look at so-called women's work

REAL SIMPLE, US
Bold, smart and often hilarious look at so-called women's work

REAL SIMPLE, US
Bold, smart and often hilarious look at so-called women's work

REAL SIMPLE, US
Bold, smart and often hilarious look at so-called women's work

REAL SIMPLE, US
Bold, smart and often hilarious look at so-called women's work

REAL SIMPLE, US
In Garmus' debut novel, a frustrated chemist finds herself at the helm of a cooking show that sparks a revolution. Welcome to the 1960s, where a woman's arsenal of tools was often limited to the kitchen - and where Elizabeth Zott is hellbent on overturning the status quo one meal at a time

NEW YORK TIMES
In Garmus' debut novel, a frustrated chemist finds herself at the helm of a cooking show that sparks a revolution. Welcome to the 1960s, where a woman's arsenal of tools was often limited to the kitchen - and where Elizabeth Zott is hellbent on overturning the status quo one meal at a time

NEW YORK TIMES
In Garmus' debut novel, a frustrated chemist finds herself at the helm of a cooking show that sparks a revolution. Welcome to the 1960s, where a woman's arsenal of tools was often limited to the kitchen - and where Elizabeth Zott is hellbent on overturning the status quo one meal at a time

NEW YORK TIMES
In Garmus' debut novel, a frustrated chemist finds herself at the helm of a cooking show that sparks a revolution. Welcome to the 1960s, where a woman's arsenal of tools was often limited to the kitchen - and where Elizabeth Zott is hellbent on overturning the status quo one meal at a time

NEW YORK TIMES
In Garmus' debut novel, a frustrated chemist finds herself at the helm of a cooking show that sparks a revolution. Welcome to the 1960s, where a woman's arsenal of tools was often limited to the kitchen - and where Elizabeth Zott is hellbent on overturning the status quo one meal at a time

NEW YORK TIMES
In Garmus' debut novel, a frustrated chemist finds herself at the helm of a cooking show that sparks a revolution. Welcome to the 1960s, where a woman's arsenal of tools was often limited to the kitchen - and where Elizabeth Zott is hellbent on overturning the status quo one meal at a time

NEW YORK TIMES
In Garmus' debut novel, a frustrated chemist finds herself at the helm of a cooking show that sparks a revolution. Welcome to the 1960s, where a woman's arsenal of tools was often limited to the kitchen - and where Elizabeth Zott is hellbent on overturning the status quo one meal at a time

NEW YORK TIMES
In Garmus' debut novel, a frustrated chemist finds herself at the helm of a cooking show that sparks a revolution. Welcome to the 1960s, where a woman's arsenal of tools was often limited to the kitchen - and where Elizabeth Zott is hellbent on overturning the status quo one meal at a time

NEW YORK TIMES
In Garmus' debut novel, a frustrated chemist finds herself at the helm of a cooking show that sparks a revolution. Welcome to the 1960s, where a woman's arsenal of tools was often limited to the kitchen - and where Elizabeth Zott is hellbent on overturning the status quo one meal at a time

NEW YORK TIMES
In Garmus' debut novel, a frustrated chemist finds herself at the helm of a cooking show that sparks a revolution. Welcome to the 1960s, where a woman's arsenal of tools was often limited to the kitchen - and where Elizabeth Zott is hellbent on overturning the status quo one meal at a time

NEW YORK TIMES
An energetic debut ... A more adorable plea for rationalism and gender equality would be hard to find

KIRKUS (starred review)
An energetic debut ... A more adorable plea for rationalism and gender equality would be hard to find

KIRKUS (starred review)
An energetic debut ... A more adorable plea for rationalism and gender equality would be hard to find

KIRKUS (starred review)
An energetic debut ... A more adorable plea for rationalism and gender equality would be hard to find

KIRKUS (starred review)
An energetic debut ... A more adorable plea for rationalism and gender equality would be hard to find

KIRKUS (starred review)
An energetic debut ... A more adorable plea for rationalism and gender equality would be hard to find

KIRKUS (starred review)
An energetic debut ... A more adorable plea for rationalism and gender equality would be hard to find

KIRKUS (starred review)
An energetic debut ... A more adorable plea for rationalism and gender equality would be hard to find

KIRKUS (starred review)
An energetic debut ... A more adorable plea for rationalism and gender equality would be hard to find

KIRKUS (starred review)
An energetic debut ... A more adorable plea for rationalism and gender equality would be hard to find

KIRKUS (starred review)
Indefatigable and formidable, Elizabeth pushes the bounds of how women and their work are perceived in this thoroughly engaging debut novel

BOOKLIST
Indefatigable and formidable, Elizabeth pushes the bounds of how women and their work are perceived in this thoroughly engaging debut novel

BOOKLIST
Indefatigable and formidable, Elizabeth pushes the bounds of how women and their work are perceived in this thoroughly engaging debut novel

BOOKLIST
Indefatigable and formidable, Elizabeth pushes the bounds of how women and their work are perceived in this thoroughly engaging debut novel

BOOKLIST
Indefatigable and formidable, Elizabeth pushes the bounds of how women and their work are perceived in this thoroughly engaging debut novel

BOOKLIST
Indefatigable and formidable, Elizabeth pushes the bounds of how women and their work are perceived in this thoroughly engaging debut novel

BOOKLIST
Indefatigable and formidable, Elizabeth pushes the bounds of how women and their work are perceived in this thoroughly engaging debut novel

BOOKLIST
Indefatigable and formidable, Elizabeth pushes the bounds of how women and their work are perceived in this thoroughly engaging debut novel

BOOKLIST
Indefatigable and formidable, Elizabeth pushes the bounds of how women and their work are perceived in this thoroughly engaging debut novel

BOOKLIST
Indefatigable and formidable, Elizabeth pushes the bounds of how women and their work are perceived in this thoroughly engaging debut novel

BOOKLIST
Elizabeth Zott is the smart, fierce star of Garmus' witty debut. Brilliant

MAIL ON SUNDAY
Elizabeth Zott is the smart, fierce star of Garmus' witty debut. Brilliant

MAIL ON SUNDAY
Elizabeth Zott is the smart, fierce star of Garmus' witty debut. Brilliant

MAIL ON SUNDAY
Elizabeth Zott is the smart, fierce star of Garmus' witty debut. Brilliant

MAIL ON SUNDAY
Elizabeth Zott is the smart, fierce star of Garmus' witty debut. Brilliant

MAIL ON SUNDAY
Elizabeth Zott is the smart, fierce star of Garmus' witty debut. Brilliant

MAIL ON SUNDAY
Elizabeth Zott is the smart, fierce star of Garmus' witty debut. Brilliant

MAIL ON SUNDAY
Elizabeth Zott is the smart, fierce star of Garmus' witty debut. Brilliant

MAIL ON SUNDAY
Elizabeth Zott is the smart, fierce star of Garmus' witty debut. Brilliant

MAIL ON SUNDAY
Elizabeth Zott is the smart, fierce star of Garmus' witty debut. Brilliant

MAIL ON SUNDAY
Full of humour, heartbreak and characters who feel like real people. This is a book that everyone will be talking about

RED MAGAZINE
Full of humour, heartbreak and characters who feel like real people. This is a book that everyone will be talking about

RED MAGAZINE
Full of humour, heartbreak and characters who feel like real people. This is a book that everyone will be talking about

RED MAGAZINE
Full of humour, heartbreak and characters who feel like real people. This is a book that everyone will be talking about

RED MAGAZINE
Full of humour, heartbreak and characters who feel like real people. This is a book that everyone will be talking about

RED MAGAZINE
Full of humour, heartbreak and characters who feel like real people. This is a book that everyone will be talking about

RED MAGAZINE
Full of humour, heartbreak and characters who feel like real people. This is a book that everyone will be talking about

RED MAGAZINE
Full of humour, heartbreak and characters who feel like real people. This is a book that everyone will be talking about

RED MAGAZINE
Full of humour, heartbreak and characters who feel like real people. This is a book that everyone will be talking about

RED MAGAZINE
Full of humour, heartbreak and characters who feel like real people. This is a book that everyone will be talking about

RED MAGAZINE
Smart, funny, big-hearted

SUNDAY TIMES
Smart, funny, big-hearted

SUNDAY TIMES
Smart, funny, big-hearted

SUNDAY TIMES
Smart, funny, big-hearted

SUNDAY TIMES
Smart, funny, big-hearted

SUNDAY TIMES
Smart, funny, big-hearted

SUNDAY TIMES
Smart, funny, big-hearted

SUNDAY TIMES
Smart, funny, big-hearted

SUNDAY TIMES
Smart, funny, big-hearted

SUNDAY TIMES
Smart, funny, big-hearted

SUNDAY TIMES
Charming and emboldening tale with a vintage sheen... A thoroughly entertaining and emboldened look at gender in the 1960s. A must read!

MAGIC RADIO, BOOK CLUB READ
Charming and emboldening tale with a vintage sheen... A thoroughly entertaining and emboldened look at gender in the 1960s. A must read!

MAGIC RADIO, BOOK CLUB READ
Charming and emboldening tale with a vintage sheen... A thoroughly entertaining and emboldened look at gender in the 1960s. A must read!

MAGIC RADIO, BOOK CLUB READ
Charming and emboldening tale with a vintage sheen... A thoroughly entertaining and emboldened look at gender in the 1960s. A must read!

MAGIC RADIO, BOOK CLUB READ
Charming and emboldening tale with a vintage sheen... A thoroughly entertaining and emboldened look at gender in the 1960s. A must read!

MAGIC RADIO, BOOK CLUB READ
Charming and emboldening tale with a vintage sheen... A thoroughly entertaining and emboldened look at gender in the 1960s. A must read!

MAGIC RADIO, BOOK CLUB READ
Charming and emboldening tale with a vintage sheen... A thoroughly entertaining and emboldened look at gender in the 1960s. A must read!

MAGIC RADIO, BOOK CLUB READ
Charming and emboldening tale with a vintage sheen... A thoroughly entertaining and emboldened look at gender in the 1960s. A must read!

MAGIC RADIO, BOOK CLUB READ
Charming and emboldening tale with a vintage sheen... A thoroughly entertaining and emboldened look at gender in the 1960s. A must read!

MAGIC RADIO, BOOK CLUB READ
Charming and emboldening tale with a vintage sheen... A thoroughly entertaining and emboldened look at gender in the 1960s. A must read!

MAGIC RADIO, BOOK CLUB READ
Feminism is the catalyst that makes [Lessons in Chemistry] fizz like hydrochloric acid on limestone. Elizabeth Zott does not have 'moxie'; she has courage. She is not a 'girl boss' or a 'lady chemist'; she's a groundbreaker and an expert in abiogenesis. . . To file Elizabeth Zott among the pink razors of the book world is to miss the sharpness of Garmus's message. Lessons in Chemistry will make you wonder about all the real-life women born ahead of their time - women who were sidelined, ignored and worse because they weren't as resourceful, determined and lucky as Elizabeth Zott. She's a reminder of how far we've come, but also how far we still have to go

NEW YORK TIMES BOOK REVIEW
Feminism is the catalyst that makes [Lessons in Chemistry] fizz like hydrochloric acid on limestone. Elizabeth Zott does not have 'moxie'; she has courage. She is not a 'girl boss' or a 'lady chemist'; she's a groundbreaker and an expert in abiogenesis. . . To file Elizabeth Zott among the pink razors of the book world is to miss the sharpness of Garmus's message. Lessons in Chemistry will make you wonder about all the real-life women born ahead of their time - women who were sidelined, ignored and worse because they weren't as resourceful, determined and lucky as Elizabeth Zott. She's a reminder of how far we've come, but also how far we still have to go

NEW YORK TIMES BOOK REVIEW
Feminism is the catalyst that makes [Lessons in Chemistry] fizz like hydrochloric acid on limestone. Elizabeth Zott does not have 'moxie'; she has courage. She is not a 'girl boss' or a 'lady chemist'; she's a groundbreaker and an expert in abiogenesis. . . To file Elizabeth Zott among the pink razors of the book world is to miss the sharpness of Garmus's message. Lessons in Chemistry will make you wonder about all the real-life women born ahead of their time - women who were sidelined, ignored and worse because they weren't as resourceful, determined and lucky as Elizabeth Zott. She's a reminder of how far we've come, but also how far we still have to go

NEW YORK TIMES BOOK REVIEW
Feminism is the catalyst that makes [Lessons in Chemistry] fizz like hydrochloric acid on limestone. Elizabeth Zott does not have 'moxie'; she has courage. She is not a 'girl boss' or a 'lady chemist'; she's a groundbreaker and an expert in abiogenesis. . . To file Elizabeth Zott among the pink razors of the book world is to miss the sharpness of Garmus's message. Lessons in Chemistry will make you wonder about all the real-life women born ahead of their time - women who were sidelined, ignored and worse because they weren't as resourceful, determined and lucky as Elizabeth Zott. She's a reminder of how far we've come, but also how far we still have to go

NEW YORK TIMES BOOK REVIEW
Feminism is the catalyst that makes [Lessons in Chemistry] fizz like hydrochloric acid on limestone. Elizabeth Zott does not have 'moxie'; she has courage. She is not a 'girl boss' or a 'lady chemist'; she's a groundbreaker and an expert in abiogenesis. . . To file Elizabeth Zott among the pink razors of the book world is to miss the sharpness of Garmus's message. Lessons in Chemistry will make you wonder about all the real-life women born ahead of their time - women who were sidelined, ignored and worse because they weren't as resourceful, determined and lucky as Elizabeth Zott. She's a reminder of how far we've come, but also how far we still have to go

NEW YORK TIMES BOOK REVIEW
Feminism is the catalyst that makes [Lessons in Chemistry] fizz like hydrochloric acid on limestone. Elizabeth Zott does not have 'moxie'; she has courage. She is not a 'girl boss' or a 'lady chemist'; she's a groundbreaker and an expert in abiogenesis. . . To file Elizabeth Zott among the pink razors of the book world is to miss the sharpness of Garmus's message. Lessons in Chemistry will make you wonder about all the real-life women born ahead of their time - women who were sidelined, ignored and worse because they weren't as resourceful, determined and lucky as Elizabeth Zott. She's a reminder of how far we've come, but also how far we still have to go

NEW YORK TIMES BOOK REVIEW
Feminism is the catalyst that makes [Lessons in Chemistry] fizz like hydrochloric acid on limestone. Elizabeth Zott does not have 'moxie'; she has courage. She is not a 'girl boss' or a 'lady chemist'; she's a groundbreaker and an expert in abiogenesis. . . To file Elizabeth Zott among the pink razors of the book world is to miss the sharpness of Garmus's message. Lessons in Chemistry will make you wonder about all the real-life women born ahead of their time - women who were sidelined, ignored and worse because they weren't as resourceful, determined and lucky as Elizabeth Zott. She's a reminder of how far we've come, but also how far we still have to go

NEW YORK TIMES BOOK REVIEW
Feminism is the catalyst that makes [Lessons in Chemistry] fizz like hydrochloric acid on limestone. Elizabeth Zott does not have 'moxie'; she has courage. She is not a 'girl boss' or a 'lady chemist'; she's a groundbreaker and an expert in abiogenesis. . . To file Elizabeth Zott among the pink razors of the book world is to miss the sharpness of Garmus's message. Lessons in Chemistry will make you wonder about all the real-life women born ahead of their time - women who were sidelined, ignored and worse because they weren't as resourceful, determined and lucky as Elizabeth Zott. She's a reminder of how far we've come, but also how far we still have to go

NEW YORK TIMES BOOK REVIEW
Feminism is the catalyst that makes [Lessons in Chemistry] fizz like hydrochloric acid on limestone. Elizabeth Zott does not have 'moxie'; she has courage. She is not a 'girl boss' or a 'lady chemist'; she's a groundbreaker and an expert in abiogenesis. . . To file Elizabeth Zott among the pink razors of the book world is to miss the sharpness of Garmus's message. Lessons in Chemistry will make you wonder about all the real-life women born ahead of their time - women who were sidelined, ignored and worse because they weren't as resourceful, determined and lucky as Elizabeth Zott. She's a reminder of how far we've come, but also how far we still have to go

NEW YORK TIMES BOOK REVIEW
Feminism is the catalyst that makes [Lessons in Chemistry] fizz like hydrochloric acid on limestone. Elizabeth Zott does not have 'moxie'; she has courage. She is not a 'girl boss' or a 'lady chemist'; she's a groundbreaker and an expert in abiogenesis. . . To file Elizabeth Zott among the pink razors of the book world is to miss the sharpness of Garmus's message. Lessons in Chemistry will make you wonder about all the real-life women born ahead of their time - women who were sidelined, ignored and worse because they weren't as resourceful, determined and lucky as Elizabeth Zott. She's a reminder of how far we've come, but also how far we still have to go

NEW YORK TIMES BOOK REVIEW
Garmus delivers an assured voice, an indelible heroine and relatable love stories

WASHINGTON POST
Garmus delivers an assured voice, an indelible heroine and relatable love stories

WASHINGTON POST
Garmus delivers an assured voice, an indelible heroine and relatable love stories

WASHINGTON POST
Garmus delivers an assured voice, an indelible heroine and relatable love stories

WASHINGTON POST
Garmus delivers an assured voice, an indelible heroine and relatable love stories

WASHINGTON POST
Garmus delivers an assured voice, an indelible heroine and relatable love stories

WASHINGTON POST
Garmus delivers an assured voice, an indelible heroine and relatable love stories

WASHINGTON POST
Garmus delivers an assured voice, an indelible heroine and relatable love stories

WASHINGTON POST
Garmus delivers an assured voice, an indelible heroine and relatable love stories

WASHINGTON POST
Garmus delivers an assured voice, an indelible heroine and relatable love stories

WASHINGTON POST
Entirely enjoyable, totally engrossing novel, Garmus' beautifully drawn characters, her polished, engaging prose and a hugely satisfying plot make for a glorious read. Lessons In Chemistry is alight with warmth, wit and hard-won wisdom. Absolutely wonderful

DAILY EXPRESS
Entirely enjoyable, totally engrossing novel, Garmus' beautifully drawn characters, her polished, engaging prose and a hugely satisfying plot make for a glorious read. Lessons In Chemistry is alight with warmth, wit and hard-won wisdom. Absolutely wonderful

DAILY EXPRESS
Entirely enjoyable, totally engrossing novel, Garmus' beautifully drawn characters, her polished, engaging prose and a hugely satisfying plot make for a glorious read. Lessons In Chemistry is alight with warmth, wit and hard-won wisdom. Absolutely wonderful

DAILY EXPRESS
Entirely enjoyable, totally engrossing novel, Garmus' beautifully drawn characters, her polished, engaging prose and a hugely satisfying plot make for a glorious read. Lessons In Chemistry is alight with warmth, wit and hard-won wisdom. Absolutely wonderful

DAILY EXPRESS
Entirely enjoyable, totally engrossing novel, Garmus' beautifully drawn characters, her polished, engaging prose and a hugely satisfying plot make for a glorious read. Lessons In Chemistry is alight with warmth, wit and hard-won wisdom. Absolutely wonderful

DAILY EXPRESS
Entirely enjoyable, totally engrossing novel, Garmus' beautifully drawn characters, her polished, engaging prose and a hugely satisfying plot make for a glorious read. Lessons In Chemistry is alight with warmth, wit and hard-won wisdom. Absolutely wonderful

DAILY EXPRESS
Entirely enjoyable, totally engrossing novel, Garmus' beautifully drawn characters, her polished, engaging prose and a hugely satisfying plot make for a glorious read. Lessons In Chemistry is alight with warmth, wit and hard-won wisdom. Absolutely wonderful

DAILY EXPRESS
Entirely enjoyable, totally engrossing novel, Garmus' beautifully drawn characters, her polished, engaging prose and a hugely satisfying plot make for a glorious read. Lessons In Chemistry is alight with warmth, wit and hard-won wisdom. Absolutely wonderful

DAILY EXPRESS
Entirely enjoyable, totally engrossing novel, Garmus' beautifully drawn characters, her polished, engaging prose and a hugely satisfying plot make for a glorious read. Lessons In Chemistry is alight with warmth, wit and hard-won wisdom. Absolutely wonderful

DAILY EXPRESS
Entirely enjoyable, totally engrossing novel, Garmus' beautifully drawn characters, her polished, engaging prose and a hugely satisfying plot make for a glorious read. Lessons In Chemistry is alight with warmth, wit and hard-won wisdom. Absolutely wonderful

DAILY EXPRESS
Zott is a brilliantly realised character whom it's impossible not to love...[a] warm and addictive novel which cleverly and entertainingly unpacks the thorny questions around women's empowerment, the need to be true to oneself and why we should refuse to accept the limitations others try to impose on us. A triumph

DAILY MAIL
Zott is a brilliantly realised character whom it's impossible not to love...[a] warm and addictive novel which cleverly and entertainingly unpacks the thorny questions around women's empowerment, the need to be true to oneself and why we should refuse to accept the limitations others try to impose on us. A triumph

DAILY MAIL
Zott is a brilliantly realised character whom it's impossible not to love...[a] warm and addictive novel which cleverly and entertainingly unpacks the thorny questions around women's empowerment, the need to be true to oneself and why we should refuse to accept the limitations others try to impose on us. A triumph

DAILY MAIL
Zott is a brilliantly realised character whom it's impossible not to love...[a] warm and addictive novel which cleverly and entertainingly unpacks the thorny questions around women's empowerment, the need to be true to oneself and why we should refuse to accept the limitations others try to impose on us. A triumph

DAILY MAIL
Zott is a brilliantly realised character whom it's impossible not to love...[a] warm and addictive novel which cleverly and entertainingly unpacks the thorny questions around women's empowerment, the need to be true to oneself and why we should refuse to accept the limitations others try to impose on us. A triumph

DAILY MAIL
Zott is a brilliantly realised character whom it's impossible not to love...[a] warm and addictive novel which cleverly and entertainingly unpacks the thorny questions around women's empowerment, the need to be true to oneself and why we should refuse to accept the limitations others try to impose on us. A triumph

DAILY MAIL
Zott is a brilliantly realised character whom it's impossible not to love...[a] warm and addictive novel which cleverly and entertainingly unpacks the thorny questions around women's empowerment, the need to be true to oneself and why we should refuse to accept the limitations others try to impose on us. A triumph

DAILY MAIL
Zott is a brilliantly realised character whom it's impossible not to love...[a] warm and addictive novel which cleverly and entertainingly unpacks the thorny questions around women's empowerment, the need to be true to oneself and why we should refuse to accept the limitations others try to impose on us. A triumph

DAILY MAIL
Zott is a brilliantly realised character whom it's impossible not to love...[a] warm and addictive novel which cleverly and entertainingly unpacks the thorny questions around women's empowerment, the need to be true to oneself and why we should refuse to accept the limitations others try to impose on us. A triumph

DAILY MAIL
Zott is a brilliantly realised character whom it's impossible not to love...[a] warm and addictive novel which cleverly and entertainingly unpacks the thorny questions around women's empowerment, the need to be true to oneself and why we should refuse to accept the limitations others try to impose on us. A triumph

DAILY MAIL
The most charming, life-enhancing novel I've read in ages. A perfect delight. It's about Elizabeth Zott, a scientist who accidentally becomes a TV cook in the early 1960s. Very strongly recommend

INDIA KNIGHT, SUNDAY TIMES
The most charming, life-enhancing novel I've read in ages. A perfect delight. It's about Elizabeth Zott, a scientist who accidentally becomes a TV cook in the early 1960s. Very strongly recommend

INDIA KNIGHT, SUNDAY TIMES
The most charming, life-enhancing novel I've read in ages. A perfect delight. It's about Elizabeth Zott, a scientist who accidentally becomes a TV cook in the early 1960s. Very strongly recommend

INDIA KNIGHT, SUNDAY TIMES
The most charming, life-enhancing novel I've read in ages. A perfect delight. It's about Elizabeth Zott, a scientist who accidentally becomes a TV cook in the early 1960s. Very strongly recommend

INDIA KNIGHT, SUNDAY TIMES
The most charming, life-enhancing novel I've read in ages. A perfect delight. It's about Elizabeth Zott, a scientist who accidentally becomes a TV cook in the early 1960s. Very strongly recommend

INDIA KNIGHT, SUNDAY TIMES
The most charming, life-enhancing novel I've read in ages. A perfect delight. It's about Elizabeth Zott, a scientist who accidentally becomes a TV cook in the early 1960s. Very strongly recommend

INDIA KNIGHT, SUNDAY TIMES
The most charming, life-enhancing novel I've read in ages. A perfect delight. It's about Elizabeth Zott, a scientist who accidentally becomes a TV cook in the early 1960s. Very strongly recommend

INDIA KNIGHT, SUNDAY TIMES
The most charming, life-enhancing novel I've read in ages. A perfect delight. It's about Elizabeth Zott, a scientist who accidentally becomes a TV cook in the early 1960s. Very strongly recommend

INDIA KNIGHT, SUNDAY TIMES
The most charming, life-enhancing novel I've read in ages. A perfect delight. It's about Elizabeth Zott, a scientist who accidentally becomes a TV cook in the early 1960s. Very strongly recommend

INDIA KNIGHT, SUNDAY TIMES
The most charming, life-enhancing novel I've read in ages. A perfect delight. It's about Elizabeth Zott, a scientist who accidentally becomes a TV cook in the early 1960s. Very strongly recommend

INDIA KNIGHT, SUNDAY TIMES
Witty, inspiring and a joy

I-NEWSPAPER
Witty, inspiring and a joy

I-NEWSPAPER
Witty, inspiring and a joy

I-NEWSPAPER
Witty, inspiring and a joy

I-NEWSPAPER
Witty, inspiring and a joy

I-NEWSPAPER
Witty, inspiring and a joy

I-NEWSPAPER
Witty, inspiring and a joy

I-NEWSPAPER
Witty, inspiring and a joy

I-NEWSPAPER
Witty, inspiring and a joy

I-NEWSPAPER
Witty, inspiring and a joy

I-NEWSPAPER
A kicky debut, this book tackles feminism, resilience, and rationalism in a fun and refreshing way

BUZZFEED
A kicky debut, this book tackles feminism, resilience, and rationalism in a fun and refreshing way

BUZZFEED
A kicky debut, this book tackles feminism, resilience, and rationalism in a fun and refreshing way

BUZZFEED
A kicky debut, this book tackles feminism, resilience, and rationalism in a fun and refreshing way

BUZZFEED
A kicky debut, this book tackles feminism, resilience, and rationalism in a fun and refreshing way

BUZZFEED
A kicky debut, this book tackles feminism, resilience, and rationalism in a fun and refreshing way

BUZZFEED
A kicky debut, this book tackles feminism, resilience, and rationalism in a fun and refreshing way

BUZZFEED
A kicky debut, this book tackles feminism, resilience, and rationalism in a fun and refreshing way

BUZZFEED
A kicky debut, this book tackles feminism, resilience, and rationalism in a fun and refreshing way

BUZZFEED
A kicky debut, this book tackles feminism, resilience, and rationalism in a fun and refreshing way

BUZZFEED
Polished, funny, thought-provoking. Wearing its research lightly but confidently with sentences so stylishly turned it's hard to believe it's a debut ... The real pleasure is in the dry wit of Garmus's writing

GUARDIAN, Book of the day
Polished, funny, thought-provoking. Wearing its research lightly but confidently with sentences so stylishly turned it's hard to believe it's a debut ... The real pleasure is in the dry wit of Garmus's writing

GUARDIAN, Book of the day
Polished, funny, thought-provoking. Wearing its research lightly but confidently with sentences so stylishly turned it's hard to believe it's a debut ... The real pleasure is in the dry wit of Garmus's writing

GUARDIAN, Book of the day
Polished, funny, thought-provoking. Wearing its research lightly but confidently with sentences so stylishly turned it's hard to believe it's a debut ... The real pleasure is in the dry wit of Garmus's writing

GUARDIAN, Book of the day
Polished, funny, thought-provoking. Wearing its research lightly but confidently with sentences so stylishly turned it's hard to believe it's a debut ... The real pleasure is in the dry wit of Garmus's writing

GUARDIAN, Book of the day
Polished, funny, thought-provoking. Wearing its research lightly but confidently with sentences so stylishly turned it's hard to believe it's a debut ... The real pleasure is in the dry wit of Garmus's writing

GUARDIAN, Book of the day
Polished, funny, thought-provoking. Wearing its research lightly but confidently with sentences so stylishly turned it's hard to believe it's a debut ... The real pleasure is in the dry wit of Garmus's writing

GUARDIAN, Book of the day
Polished, funny, thought-provoking. Wearing its research lightly but confidently with sentences so stylishly turned it's hard to believe it's a debut ... The real pleasure is in the dry wit of Garmus's writing

GUARDIAN, Book of the day
Polished, funny, thought-provoking. Wearing its research lightly but confidently with sentences so stylishly turned it's hard to believe it's a debut ... The real pleasure is in the dry wit of Garmus's writing

GUARDIAN, Book of the day
Polished, funny, thought-provoking. Wearing its research lightly but confidently with sentences so stylishly turned it's hard to believe it's a debut ... The real pleasure is in the dry wit of Garmus's writing

GUARDIAN, Book of the day
A fast-moving plot, zippy dialogue and wry sense of humour. A satisfying story with hateable villains and loveable good guys. Garmus's sparkling writing is a breath of fresh air

SUNDAY EXPRESS
A fast-moving plot, zippy dialogue and wry sense of humour. A satisfying story with hateable villains and loveable good guys. Garmus's sparkling writing is a breath of fresh air

SUNDAY EXPRESS
A fast-moving plot, zippy dialogue and wry sense of humour. A satisfying story with hateable villains and loveable good guys. Garmus's sparkling writing is a breath of fresh air

SUNDAY EXPRESS
A fast-moving plot, zippy dialogue and wry sense of humour. A satisfying story with hateable villains and loveable good guys. Garmus's sparkling writing is a breath of fresh air

SUNDAY EXPRESS
A fast-moving plot, zippy dialogue and wry sense of humour. A satisfying story with hateable villains and loveable good guys. Garmus's sparkling writing is a breath of fresh air

SUNDAY EXPRESS
A fast-moving plot, zippy dialogue and wry sense of humour. A satisfying story with hateable villains and loveable good guys. Garmus's sparkling writing is a breath of fresh air

SUNDAY EXPRESS
A fast-moving plot, zippy dialogue and wry sense of humour. A satisfying story with hateable villains and loveable good guys. Garmus's sparkling writing is a breath of fresh air

SUNDAY EXPRESS
A fast-moving plot, zippy dialogue and wry sense of humour. A satisfying story with hateable villains and loveable good guys. Garmus's sparkling writing is a breath of fresh air

SUNDAY EXPRESS
A fast-moving plot, zippy dialogue and wry sense of humour. A satisfying story with hateable villains and loveable good guys. Garmus's sparkling writing is a breath of fresh air

SUNDAY EXPRESS
A fast-moving plot, zippy dialogue and wry sense of humour. A satisfying story with hateable villains and loveable good guys. Garmus's sparkling writing is a breath of fresh air

SUNDAY EXPRESS
Original and refreshing. Elizabeth Zott is one of those singular, unforgettable characters you don't come across enough in fiction. Witty and dark, it is both a breath of fresh air and a reminder of how much still has to change for true equality

PRESS ASSOCIATION
Original and refreshing. Elizabeth Zott is one of those singular, unforgettable characters you don't come across enough in fiction. Witty and dark, it is both a breath of fresh air and a reminder of how much still has to change for true equality

PRESS ASSOCIATION
Original and refreshing. Elizabeth Zott is one of those singular, unforgettable characters you don't come across enough in fiction. Witty and dark, it is both a breath of fresh air and a reminder of how much still has to change for true equality

PRESS ASSOCIATION
Original and refreshing. Elizabeth Zott is one of those singular, unforgettable characters you don't come across enough in fiction. Witty and dark, it is both a breath of fresh air and a reminder of how much still has to change for true equality

PRESS ASSOCIATION
Original and refreshing. Elizabeth Zott is one of those singular, unforgettable characters you don't come across enough in fiction. Witty and dark, it is both a breath of fresh air and a reminder of how much still has to change for true equality

PRESS ASSOCIATION
Original and refreshing. Elizabeth Zott is one of those singular, unforgettable characters you don't come across enough in fiction. Witty and dark, it is both a breath of fresh air and a reminder of how much still has to change for true equality

PRESS ASSOCIATION
Original and refreshing. Elizabeth Zott is one of those singular, unforgettable characters you don't come across enough in fiction. Witty and dark, it is both a breath of fresh air and a reminder of how much still has to change for true equality

PRESS ASSOCIATION
Original and refreshing. Elizabeth Zott is one of those singular, unforgettable characters you don't come across enough in fiction. Witty and dark, it is both a breath of fresh air and a reminder of how much still has to change for true equality

PRESS ASSOCIATION
Original and refreshing. Elizabeth Zott is one of those singular, unforgettable characters you don't come across enough in fiction. Witty and dark, it is both a breath of fresh air and a reminder of how much still has to change for true equality

PRESS ASSOCIATION
Original and refreshing. Elizabeth Zott is one of those singular, unforgettable characters you don't come across enough in fiction. Witty and dark, it is both a breath of fresh air and a reminder of how much still has to change for true equality

PRESS ASSOCIATION
Elizabeth is a woman who challenges the norms of a woman in the 60s...her perseverance to succeed is enthralling. The fight to do what she really wants, and that alone, is one that'll have you rooting for her throughout

STYLIST
Elizabeth is a woman who challenges the norms of a woman in the 60s...her perseverance to succeed is enthralling. The fight to do what she really wants, and that alone, is one that'll have you rooting for her throughout

STYLIST
Elizabeth is a woman who challenges the norms of a woman in the 60s...her perseverance to succeed is enthralling. The fight to do what she really wants, and that alone, is one that'll have you rooting for her throughout

STYLIST
Elizabeth is a woman who challenges the norms of a woman in the 60s...her perseverance to succeed is enthralling. The fight to do what she really wants, and that alone, is one that'll have you rooting for her throughout

STYLIST
Elizabeth is a woman who challenges the norms of a woman in the 60s...her perseverance to succeed is enthralling. The fight to do what she really wants, and that alone, is one that'll have you rooting for her throughout

STYLIST
Elizabeth is a woman who challenges the norms of a woman in the 60s...her perseverance to succeed is enthralling. The fight to do what she really wants, and that alone, is one that'll have you rooting for her throughout

STYLIST
Elizabeth is a woman who challenges the norms of a woman in the 60s...her perseverance to succeed is enthralling. The fight to do what she really wants, and that alone, is one that'll have you rooting for her throughout

STYLIST
Elizabeth is a woman who challenges the norms of a woman in the 60s...her perseverance to succeed is enthralling. The fight to do what she really wants, and that alone, is one that'll have you rooting for her throughout

STYLIST
Elizabeth is a woman who challenges the norms of a woman in the 60s...her perseverance to succeed is enthralling. The fight to do what she really wants, and that alone, is one that'll have you rooting for her throughout

STYLIST
Elizabeth is a woman who challenges the norms of a woman in the 60s...her perseverance to succeed is enthralling. The fight to do what she really wants, and that alone, is one that'll have you rooting for her throughout

STYLIST
Unforgettable ... Elizabeth Zott is intelligent, fearless, determined and utterly inspiring

CULTUREFLY
Unforgettable ... Elizabeth Zott is intelligent, fearless, determined and utterly inspiring

CULTUREFLY
Unforgettable ... Elizabeth Zott is intelligent, fearless, determined and utterly inspiring

CULTUREFLY
Unforgettable ... Elizabeth Zott is intelligent, fearless, determined and utterly inspiring

CULTUREFLY
Unforgettable ... Elizabeth Zott is intelligent, fearless, determined and utterly inspiring

CULTUREFLY
Unforgettable ... Elizabeth Zott is intelligent, fearless, determined and utterly inspiring

CULTUREFLY
Unforgettable ... Elizabeth Zott is intelligent, fearless, determined and utterly inspiring

CULTUREFLY
Unforgettable ... Elizabeth Zott is intelligent, fearless, determined and utterly inspiring

CULTUREFLY
Unforgettable ... Elizabeth Zott is intelligent, fearless, determined and utterly inspiring

CULTUREFLY
Unforgettable ... Elizabeth Zott is intelligent, fearless, determined and utterly inspiring

CULTUREFLY
Every bit as brilliant as everyone is saying. Funny, clever, full of heart and wonderful characters. I loved it

A J PEARCE
Every bit as brilliant as everyone is saying. Funny, clever, full of heart and wonderful characters. I loved it

A J PEARCE
Every bit as brilliant as everyone is saying. Funny, clever, full of heart and wonderful characters. I loved it

A J PEARCE
Every bit as brilliant as everyone is saying. Funny, clever, full of heart and wonderful characters. I loved it

A J PEARCE
Every bit as brilliant as everyone is saying. Funny, clever, full of heart and wonderful characters. I loved it

A J PEARCE
Every bit as brilliant as everyone is saying. Funny, clever, full of heart and wonderful characters. I loved it

A J PEARCE
Every bit as brilliant as everyone is saying. Funny, clever, full of heart and wonderful characters. I loved it

A J PEARCE
Every bit as brilliant as everyone is saying. Funny, clever, full of heart and wonderful characters. I loved it

A J PEARCE
Every bit as brilliant as everyone is saying. Funny, clever, full of heart and wonderful characters. I loved it

A J PEARCE
Every bit as brilliant as everyone is saying. Funny, clever, full of heart and wonderful characters. I loved it

A J PEARCE
A funny, thought-provoking revenge story. Elizabeth Zott is ahead of her time. This is such a great book, everyone should read it!

SHAPARAK KHORSANDI
A funny, thought-provoking revenge story. Elizabeth Zott is ahead of her time. This is such a great book, everyone should read it!

SHAPARAK KHORSANDI
A funny, thought-provoking revenge story. Elizabeth Zott is ahead of her time. This is such a great book, everyone should read it!

SHAPARAK KHORSANDI
A funny, thought-provoking revenge story. Elizabeth Zott is ahead of her time. This is such a great book, everyone should read it!

SHAPARAK KHORSANDI
A funny, thought-provoking revenge story. Elizabeth Zott is ahead of her time. This is such a great book, everyone should read it!

SHAPARAK KHORSANDI
A funny, thought-provoking revenge story. Elizabeth Zott is ahead of her time. This is such a great book, everyone should read it!

SHAPARAK KHORSANDI
A funny, thought-provoking revenge story. Elizabeth Zott is ahead of her time. This is such a great book, everyone should read it!

SHAPARAK KHORSANDI
A funny, thought-provoking revenge story. Elizabeth Zott is ahead of her time. This is such a great book, everyone should read it!

SHAPARAK KHORSANDI
A funny, thought-provoking revenge story. Elizabeth Zott is ahead of her time. This is such a great book, everyone should read it!

SHAPARAK KHORSANDI
A funny, thought-provoking revenge story. Elizabeth Zott is ahead of her time. This is such a great book, everyone should read it!

SHAPARAK KHORSANDI
A proper page turner which really made me giggle. It's so dry. The humour has a gorgeous lightness of touch. I really enjoyed it

STEVE WRIGHT, BBC RADIO TWO BOOK CLUB
A proper page turner which really made me giggle. It's so dry. The humour has a gorgeous lightness of touch. I really enjoyed it

STEVE WRIGHT, BBC RADIO TWO BOOK CLUB
A proper page turner which really made me giggle. It's so dry. The humour has a gorgeous lightness of touch. I really enjoyed it

STEVE WRIGHT, BBC RADIO TWO BOOK CLUB
A proper page turner which really made me giggle. It's so dry. The humour has a gorgeous lightness of touch. I really enjoyed it

STEVE WRIGHT, BBC RADIO TWO BOOK CLUB
A proper page turner which really made me giggle. It's so dry. The humour has a gorgeous lightness of touch. I really enjoyed it

STEVE WRIGHT, BBC RADIO TWO BOOK CLUB
A proper page turner which really made me giggle. It's so dry. The humour has a gorgeous lightness of touch. I really enjoyed it

STEVE WRIGHT, BBC RADIO TWO BOOK CLUB
A proper page turner which really made me giggle. It's so dry. The humour has a gorgeous lightness of touch. I really enjoyed it

STEVE WRIGHT, BBC RADIO TWO BOOK CLUB
A proper page turner which really made me giggle. It's so dry. The humour has a gorgeous lightness of touch. I really enjoyed it

STEVE WRIGHT, BBC RADIO TWO BOOK CLUB
A proper page turner which really made me giggle. It's so dry. The humour has a gorgeous lightness of touch. I really enjoyed it

STEVE WRIGHT, BBC RADIO TWO BOOK CLUB
A proper page turner which really made me giggle. It's so dry. The humour has a gorgeous lightness of touch. I really enjoyed it

STEVE WRIGHT, BBC RADIO TWO BOOK CLUB
Witty, fast-paced and unabashedly amusing' Lessons in Chemistry is 'written with charm, verve and piercing insight ... a future classic

LITERARY REVIEW
Witty, fast-paced and unabashedly amusing' Lessons in Chemistry is 'written with charm, verve and piercing insight ... a future classic

LITERARY REVIEW
Witty, fast-paced and unabashedly amusing' Lessons in Chemistry is 'written with charm, verve and piercing insight ... a future classic

LITERARY REVIEW
Witty, fast-paced and unabashedly amusing' Lessons in Chemistry is 'written with charm, verve and piercing insight ... a future classic

LITERARY REVIEW
Witty, fast-paced and unabashedly amusing' Lessons in Chemistry is 'written with charm, verve and piercing insight ... a future classic

LITERARY REVIEW
Witty, fast-paced and unabashedly amusing' Lessons in Chemistry is 'written with charm, verve and piercing insight ... a future classic

LITERARY REVIEW
Witty, fast-paced and unabashedly amusing' Lessons in Chemistry is 'written with charm, verve and piercing insight ... a future classic

LITERARY REVIEW
Witty, fast-paced and unabashedly amusing' Lessons in Chemistry is 'written with charm, verve and piercing insight ... a future classic

LITERARY REVIEW
Witty, fast-paced and unabashedly amusing' Lessons in Chemistry is 'written with charm, verve and piercing insight ... a future classic

LITERARY REVIEW
Witty, fast-paced and unabashedly amusing' Lessons in Chemistry is 'written with charm, verve and piercing insight ... a future classic

LITERARY REVIEW
The best book I've read recently. I loved it

SARA COX, BBC 2 Between the Covers
The best book I've read recently. I loved it

SARA COX, BBC 2 Between the Covers
The best book I've read recently. I loved it

SARA COX, BBC 2 Between the Covers
The best book I've read recently. I loved it

SARA COX, BBC 2 Between the Covers
The best book I've read recently. I loved it

SARA COX, BBC 2 Between the Covers
The best book I've read recently. I loved it

SARA COX, BBC 2 Between the Covers
The best book I've read recently. I loved it

SARA COX, BBC 2 Between the Covers
The best book I've read recently. I loved it

SARA COX, BBC 2 Between the Covers
The best book I've read recently. I loved it

SARA COX, BBC 2 Between the Covers
The best book I've read recently. I loved it

SARA COX, BBC 2 Between the Covers
Garmus has made feminism not just palpable, but delicious

I-NEWS
Garmus has made feminism not just palpable, but delicious

I-NEWS
Garmus has made feminism not just palpable, but delicious

I-NEWS
Garmus has made feminism not just palpable, but delicious

I-NEWS
Garmus has made feminism not just palpable, but delicious

I-NEWS
Garmus has made feminism not just palpable, but delicious

I-NEWS
Garmus has made feminism not just palpable, but delicious

I-NEWS
Garmus has made feminism not just palpable, but delicious

I-NEWS
Garmus has made feminism not just palpable, but delicious

I-NEWS
Garmus has made feminism not just palpable, but delicious

I-NEWS
Absolutely unputdownable. I completely loved it

RICHARD E GRANT
Absolutely unputdownable. I completely loved it

RICHARD E GRANT
Absolutely unputdownable. I completely loved it

RICHARD E GRANT
Absolutely unputdownable. I completely loved it

RICHARD E GRANT
Absolutely unputdownable. I completely loved it

RICHARD E GRANT
Absolutely unputdownable. I completely loved it

RICHARD E GRANT
Absolutely unputdownable. I completely loved it

RICHARD E GRANT
Absolutely unputdownable. I completely loved it

RICHARD E GRANT
Absolutely unputdownable. I completely loved it

RICHARD E GRANT
Absolutely unputdownable. I completely loved it

RICHARD E GRANT
I loved it. You don't want to finish it. You don't want to put it down. It's wonderful to hear a voice that has total honesty and clarity. I love that Elizabeth Zott is funny and hasn't got a clue that she's funny

DEBORAH MEADEN, BBC 2 BETWEEN THE COVERS
I loved it. You don't want to finish it. You don't want to put it down. It's wonderful to hear a voice that has total honesty and clarity. I love that Elizabeth Zott is funny and hasn't got a clue that she's funny

DEBORAH MEADEN, BBC 2 BETWEEN THE COVERS
I loved it. You don't want to finish it. You don't want to put it down. It's wonderful to hear a voice that has total honesty and clarity. I love that Elizabeth Zott is funny and hasn't got a clue that she's funny

DEBORAH MEADEN, BBC 2 BETWEEN THE COVERS
I loved it. You don't want to finish it. You don't want to put it down. It's wonderful to hear a voice that has total honesty and clarity. I love that Elizabeth Zott is funny and hasn't got a clue that she's funny

DEBORAH MEADEN, BBC 2 BETWEEN THE COVERS
I loved it. You don't want to finish it. You don't want to put it down. It's wonderful to hear a voice that has total honesty and clarity. I love that Elizabeth Zott is funny and hasn't got a clue that she's funny

DEBORAH MEADEN, BBC 2 BETWEEN THE COVERS
I loved it. You don't want to finish it. You don't want to put it down. It's wonderful to hear a voice that has total honesty and clarity. I love that Elizabeth Zott is funny and hasn't got a clue that she's funny

DEBORAH MEADEN, BBC 2 BETWEEN THE COVERS
I loved it. You don't want to finish it. You don't want to put it down. It's wonderful to hear a voice that has total honesty and clarity. I love that Elizabeth Zott is funny and hasn't got a clue that she's funny

DEBORAH MEADEN, BBC 2 BETWEEN THE COVERS
I loved it. You don't want to finish it. You don't want to put it down. It's wonderful to hear a voice that has total honesty and clarity. I love that Elizabeth Zott is funny and hasn't got a clue that she's funny

DEBORAH MEADEN, BBC 2 BETWEEN THE COVERS
I loved it. You don't want to finish it. You don't want to put it down. It's wonderful to hear a voice that has total honesty and clarity. I love that Elizabeth Zott is funny and hasn't got a clue that she's funny

DEBORAH MEADEN, BBC 2 BETWEEN THE COVERS
I loved it. You don't want to finish it. You don't want to put it down. It's wonderful to hear a voice that has total honesty and clarity. I love that Elizabeth Zott is funny and hasn't got a clue that she's funny

DEBORAH MEADEN, BBC 2 BETWEEN THE COVERS
I loved everything about it. There were so many things I could relate to

STEPHEN BAILEY, BBC 2 BETWEEN THE COVERS
I loved everything about it. There were so many things I could relate to

STEPHEN BAILEY, BBC 2 BETWEEN THE COVERS
I loved everything about it. There were so many things I could relate to

STEPHEN BAILEY, BBC 2 BETWEEN THE COVERS
I loved everything about it. There were so many things I could relate to

STEPHEN BAILEY, BBC 2 BETWEEN THE COVERS
I loved everything about it. There were so many things I could relate to

STEPHEN BAILEY, BBC 2 BETWEEN THE COVERS
I loved everything about it. There were so many things I could relate to

STEPHEN BAILEY, BBC 2 BETWEEN THE COVERS
I loved everything about it. There were so many things I could relate to

STEPHEN BAILEY, BBC 2 BETWEEN THE COVERS
I loved everything about it. There were so many things I could relate to

STEPHEN BAILEY, BBC 2 BETWEEN THE COVERS
I loved everything about it. There were so many things I could relate to

STEPHEN BAILEY, BBC 2 BETWEEN THE COVERS
I loved everything about it. There were so many things I could relate to

STEPHEN BAILEY, BBC 2 BETWEEN THE COVERS
i couldn't put it down. It was so easy to read: hilarious, heartfelt. With all of the issues that we are still dealing with right now. Heartbreaking and heartwarming in equal measure

SUKH OJLA
i couldn't put it down. It was so easy to read: hilarious, heartfelt. With all of the issues that we are still dealing with right now. Heartbreaking and heartwarming in equal measure

SUKH OJLA
i couldn't put it down. It was so easy to read: hilarious, heartfelt. With all of the issues that we are still dealing with right now. Heartbreaking and heartwarming in equal measure

SUKH OJLA
i couldn't put it down. It was so easy to read: hilarious, heartfelt. With all of the issues that we are still dealing with right now. Heartbreaking and heartwarming in equal measure

SUKH OJLA
i couldn't put it down. It was so easy to read: hilarious, heartfelt. With all of the issues that we are still dealing with right now. Heartbreaking and heartwarming in equal measure

SUKH OJLA
i couldn't put it down. It was so easy to read: hilarious, heartfelt. With all of the issues that we are still dealing with right now. Heartbreaking and heartwarming in equal measure

SUKH OJLA
i couldn't put it down. It was so easy to read: hilarious, heartfelt. With all of the issues that we are still dealing with right now. Heartbreaking and heartwarming in equal measure

SUKH OJLA
i couldn't put it down. It was so easy to read: hilarious, heartfelt. With all of the issues that we are still dealing with right now. Heartbreaking and heartwarming in equal measure

SUKH OJLA
i couldn't put it down. It was so easy to read: hilarious, heartfelt. With all of the issues that we are still dealing with right now. Heartbreaking and heartwarming in equal measure

SUKH OJLA
i couldn't put it down. It was so easy to read: hilarious, heartfelt. With all of the issues that we are still dealing with right now. Heartbreaking and heartwarming in equal measure

SUKH OJLA
An absolute delight. Zott is a cracking protagonist - strikingly single-minded, socially awkward, fiercely determined to forge her own path

FINANCIAL TIMES, Best Audio Books
An absolute delight. Zott is a cracking protagonist - strikingly single-minded, socially awkward, fiercely determined to forge her own path

FINANCIAL TIMES, Best Audio Books
An absolute delight. Zott is a cracking protagonist - strikingly single-minded, socially awkward, fiercely determined to forge her own path

FINANCIAL TIMES, Best Audio Books
An absolute delight. Zott is a cracking protagonist - strikingly single-minded, socially awkward, fiercely determined to forge her own path

FINANCIAL TIMES, Best Audio Books
An absolute delight. Zott is a cracking protagonist - strikingly single-minded, socially awkward, fiercely determined to forge her own path

FINANCIAL TIMES, Best Audio Books
An absolute delight. Zott is a cracking protagonist - strikingly single-minded, socially awkward, fiercely determined to forge her own path

FINANCIAL TIMES, Best Audio Books
An absolute delight. Zott is a cracking protagonist - strikingly single-minded, socially awkward, fiercely determined to forge her own path

FINANCIAL TIMES, Best Audio Books
An absolute delight. Zott is a cracking protagonist - strikingly single-minded, socially awkward, fiercely determined to forge her own path

FINANCIAL TIMES, Best Audio Books
An absolute delight. Zott is a cracking protagonist - strikingly single-minded, socially awkward, fiercely determined to forge her own path

FINANCIAL TIMES, Best Audio Books
An absolute delight. Zott is a cracking protagonist - strikingly single-minded, socially awkward, fiercely determined to forge her own path

FINANCIAL TIMES, Best Audio Books
Laugh-aloud funny, witty and provocative, LESSONS IN CHEMISTRY recreates the rampant sexism of America just before Betty Friedan's THE FEMININE MYSTIQUE and the bonfire of the bras

THE TIMES, audiobook of the week
Laugh-aloud funny, witty and provocative, LESSONS IN CHEMISTRY recreates the rampant sexism of America just before Betty Friedan's THE FEMININE MYSTIQUE and the bonfire of the bras

THE TIMES, audiobook of the week
Laugh-aloud funny, witty and provocative, LESSONS IN CHEMISTRY recreates the rampant sexism of America just before Betty Friedan's THE FEMININE MYSTIQUE and the bonfire of the bras

THE TIMES, audiobook of the week
Laugh-aloud funny, witty and provocative, LESSONS IN CHEMISTRY recreates the rampant sexism of America just before Betty Friedan's THE FEMININE MYSTIQUE and the bonfire of the bras

THE TIMES, audiobook of the week
Laugh-aloud funny, witty and provocative, LESSONS IN CHEMISTRY recreates the rampant sexism of America just before Betty Friedan's THE FEMININE MYSTIQUE and the bonfire of the bras

THE TIMES, audiobook of the week
Laugh-aloud funny, witty and provocative, LESSONS IN CHEMISTRY recreates the rampant sexism of America just before Betty Friedan's THE FEMININE MYSTIQUE and the bonfire of the bras

THE TIMES, audiobook of the week
Laugh-aloud funny, witty and provocative, LESSONS IN CHEMISTRY recreates the rampant sexism of America just before Betty Friedan's THE FEMININE MYSTIQUE and the bonfire of the bras

THE TIMES, audiobook of the week
Laugh-aloud funny, witty and provocative, LESSONS IN CHEMISTRY recreates the rampant sexism of America just before Betty Friedan's THE FEMININE MYSTIQUE and the bonfire of the bras

THE TIMES, audiobook of the week
Laugh-aloud funny, witty and provocative, LESSONS IN CHEMISTRY recreates the rampant sexism of America just before Betty Friedan's THE FEMININE MYSTIQUE and the bonfire of the bras

THE TIMES, audiobook of the week
Laugh-aloud funny, witty and provocative, LESSONS IN CHEMISTRY recreates the rampant sexism of America just before Betty Friedan's THE FEMININE MYSTIQUE and the bonfire of the bras

THE TIMES, audiobook of the week
A funny, big-hearted read

THE TIMES, Summer Reading Choice
A funny, big-hearted read

THE TIMES, Summer Reading Choice
A funny, big-hearted read

THE TIMES, Summer Reading Choice
A funny, big-hearted read

THE TIMES, Summer Reading Choice
A funny, big-hearted read

THE TIMES, Summer Reading Choice
A funny, big-hearted read

THE TIMES, Summer Reading Choice
A funny, big-hearted read

THE TIMES, Summer Reading Choice
A funny, big-hearted read

THE TIMES, Summer Reading Choice
A funny, big-hearted read

THE TIMES, Summer Reading Choice
A funny, big-hearted read

THE TIMES, Summer Reading Choice
THE antidote to life's current grimness: a shrewd, witty, inventive, feminist comedy you should all race to read

PATRICK GALE
THE antidote to life's current grimness: a shrewd, witty, inventive, feminist comedy you should all race to read

PATRICK GALE
THE antidote to life's current grimness: a shrewd, witty, inventive, feminist comedy you should all race to read

PATRICK GALE
THE antidote to life's current grimness: a shrewd, witty, inventive, feminist comedy you should all race to read

PATRICK GALE
THE antidote to life's current grimness: a shrewd, witty, inventive, feminist comedy you should all race to read

PATRICK GALE
THE antidote to life's current grimness: a shrewd, witty, inventive, feminist comedy you should all race to read

PATRICK GALE
THE antidote to life's current grimness: a shrewd, witty, inventive, feminist comedy you should all race to read

PATRICK GALE
THE antidote to life's current grimness: a shrewd, witty, inventive, feminist comedy you should all race to read

PATRICK GALE
THE antidote to life's current grimness: a shrewd, witty, inventive, feminist comedy you should all race to read

PATRICK GALE
THE antidote to life's current grimness: a shrewd, witty, inventive, feminist comedy you should all race to read

PATRICK GALE
I adored this confident, witty portrait of an unforgettable woman and her time

DAILY MAIL, Summer reading recommendations
I adored this confident, witty portrait of an unforgettable woman and her time

DAILY MAIL, Summer reading recommendations
I adored this confident, witty portrait of an unforgettable woman and her time

DAILY MAIL, Summer reading recommendations
I adored this confident, witty portrait of an unforgettable woman and her time

DAILY MAIL, Summer reading recommendations
I adored this confident, witty portrait of an unforgettable woman and her time

DAILY MAIL, Summer reading recommendations
I adored this confident, witty portrait of an unforgettable woman and her time

DAILY MAIL, Summer reading recommendations
I adored this confident, witty portrait of an unforgettable woman and her time

DAILY MAIL, Summer reading recommendations
I adored this confident, witty portrait of an unforgettable woman and her time

DAILY MAIL, Summer reading recommendations
I adored this confident, witty portrait of an unforgettable woman and her time

DAILY MAIL, Summer reading recommendations
I adored this confident, witty portrait of an unforgettable woman and her time

DAILY MAIL, Summer reading recommendations
One of the smartest and funniest novels to appear this year

THE NEW EUROPEAN
One of the smartest and funniest novels to appear this year

THE NEW EUROPEAN
One of the smartest and funniest novels to appear this year

THE NEW EUROPEAN
One of the smartest and funniest novels to appear this year

THE NEW EUROPEAN
One of the smartest and funniest novels to appear this year

THE NEW EUROPEAN
One of the smartest and funniest novels to appear this year

THE NEW EUROPEAN
One of the smartest and funniest novels to appear this year

THE NEW EUROPEAN
One of the smartest and funniest novels to appear this year

THE NEW EUROPEAN
One of the smartest and funniest novels to appear this year

THE NEW EUROPEAN
One of the smartest and funniest novels to appear this year

THE NEW EUROPEAN
We guarantee you will love this charming debut

HELLO MAGAZINE
We guarantee you will love this charming debut

HELLO MAGAZINE
We guarantee you will love this charming debut

HELLO MAGAZINE
We guarantee you will love this charming debut

HELLO MAGAZINE
We guarantee you will love this charming debut

HELLO MAGAZINE
We guarantee you will love this charming debut

HELLO MAGAZINE
We guarantee you will love this charming debut

HELLO MAGAZINE
We guarantee you will love this charming debut

HELLO MAGAZINE
We guarantee you will love this charming debut

HELLO MAGAZINE
We guarantee you will love this charming debut

HELLO MAGAZINE
This smart, uproarious, emotional page-turner...has been the year's runaway hit. Rightly so

SUNDAY TIMES, Books of the Year
This smart, uproarious, emotional page-turner...has been the year's runaway hit. Rightly so

SUNDAY TIMES, Books of the Year
This smart, uproarious, emotional page-turner...has been the year's runaway hit. Rightly so

SUNDAY TIMES, Books of the Year
This smart, uproarious, emotional page-turner...has been the year's runaway hit. Rightly so

SUNDAY TIMES, Books of the Year
This smart, uproarious, emotional page-turner...has been the year's runaway hit. Rightly so

SUNDAY TIMES, Books of the Year
This smart, uproarious, emotional page-turner...has been the year's runaway hit. Rightly so

SUNDAY TIMES, Books of the Year
This smart, uproarious, emotional page-turner...has been the year's runaway hit. Rightly so

SUNDAY TIMES, Books of the Year
This smart, uproarious, emotional page-turner...has been the year's runaway hit. Rightly so

SUNDAY TIMES, Books of the Year
This smart, uproarious, emotional page-turner...has been the year's runaway hit. Rightly so

SUNDAY TIMES, Books of the Year
This smart, uproarious, emotional page-turner...has been the year's runaway hit. Rightly so

SUNDAY TIMES, Books of the Year
Irresistible, a gorgeous tribute to resilience and the many types of love that sustain us

OPRAH DAILY
Irresistible, a gorgeous tribute to resilience and the many types of love that sustain us

OPRAH DAILY
Irresistible, a gorgeous tribute to resilience and the many types of love that sustain us

OPRAH DAILY
Irresistible, a gorgeous tribute to resilience and the many types of love that sustain us

OPRAH DAILY
Irresistible, a gorgeous tribute to resilience and the many types of love that sustain us

OPRAH DAILY
Irresistible, a gorgeous tribute to resilience and the many types of love that sustain us

OPRAH DAILY
Irresistible, a gorgeous tribute to resilience and the many types of love that sustain us

OPRAH DAILY
Irresistible, a gorgeous tribute to resilience and the many types of love that sustain us

OPRAH DAILY
Irresistible, a gorgeous tribute to resilience and the many types of love that sustain us

OPRAH DAILY
Irresistible, a gorgeous tribute to resilience and the many types of love that sustain us

OPRAH DAILY
Sharp and deliciously readable. Brings bite as well as charm to the tale of a super-rational scientist navigating sexism in early 60s America.

GUARDIAN, Books of the Year
Sharp and deliciously readable. Brings bite as well as charm to the tale of a super-rational scientist navigating sexism in early 60s America.

GUARDIAN, Books of the Year
Sharp and deliciously readable. Brings bite as well as charm to the tale of a super-rational scientist navigating sexism in early 60s America.

GUARDIAN, Books of the Year
Sharp and deliciously readable. Brings bite as well as charm to the tale of a super-rational scientist navigating sexism in early 60s America.

GUARDIAN, Books of the Year
Sharp and deliciously readable. Brings bite as well as charm to the tale of a super-rational scientist navigating sexism in early 60s America.

GUARDIAN, Books of the Year
Sharp and deliciously readable. Brings bite as well as charm to the tale of a super-rational scientist navigating sexism in early 60s America.

GUARDIAN, Books of the Year
Sharp and deliciously readable. Brings bite as well as charm to the tale of a super-rational scientist navigating sexism in early 60s America.

GUARDIAN, Books of the Year
Sharp and deliciously readable. Brings bite as well as charm to the tale of a super-rational scientist navigating sexism in early 60s America.

GUARDIAN, Books of the Year
Sharp and deliciously readable. Brings bite as well as charm to the tale of a super-rational scientist navigating sexism in early 60s America.

GUARDIAN, Books of the Year
Sharp and deliciously readable. Brings bite as well as charm to the tale of a super-rational scientist navigating sexism in early 60s America.

GUARDIAN, Books of the Year
The idiosyncratic wit of this year's blockbuster debut is instantly appealing, but it's also a narrative with real bite. Uplifting and irresistibly zany

THE MAIL, Books of the Year
The idiosyncratic wit of this year's blockbuster debut is instantly appealing, but it's also a narrative with real bite. Uplifting and irresistibly zany

THE MAIL, Books of the Year
The idiosyncratic wit of this year's blockbuster debut is instantly appealing, but it's also a narrative with real bite. Uplifting and irresistibly zany

THE MAIL, Books of the Year
The idiosyncratic wit of this year's blockbuster debut is instantly appealing, but it's also a narrative with real bite. Uplifting and irresistibly zany

THE MAIL, Books of the Year
The idiosyncratic wit of this year's blockbuster debut is instantly appealing, but it's also a narrative with real bite. Uplifting and irresistibly zany

THE MAIL, Books of the Year
The idiosyncratic wit of this year's blockbuster debut is instantly appealing, but it's also a narrative with real bite. Uplifting and irresistibly zany

THE MAIL, Books of the Year
The idiosyncratic wit of this year's blockbuster debut is instantly appealing, but it's also a narrative with real bite. Uplifting and irresistibly zany

THE MAIL, Books of the Year
The idiosyncratic wit of this year's blockbuster debut is instantly appealing, but it's also a narrative with real bite. Uplifting and irresistibly zany

THE MAIL, Books of the Year
The idiosyncratic wit of this year's blockbuster debut is instantly appealing, but it's also a narrative with real bite. Uplifting and irresistibly zany

THE MAIL, Books of the Year
The idiosyncratic wit of this year's blockbuster debut is instantly appealing, but it's also a narrative with real bite. Uplifting and irresistibly zany

THE MAIL, Books of the Year
I fell for Elizabeth Zott immediately. A wonderfully entertaining and empowering read

GOOD HOUSEKEEPING, Books of the Year
I fell for Elizabeth Zott immediately. A wonderfully entertaining and empowering read

GOOD HOUSEKEEPING, Books of the Year
I fell for Elizabeth Zott immediately. A wonderfully entertaining and empowering read

GOOD HOUSEKEEPING, Books of the Year
I fell for Elizabeth Zott immediately. A wonderfully entertaining and empowering read

GOOD HOUSEKEEPING, Books of the Year
I fell for Elizabeth Zott immediately. A wonderfully entertaining and empowering read

GOOD HOUSEKEEPING, Books of the Year
I fell for Elizabeth Zott immediately. A wonderfully entertaining and empowering read

GOOD HOUSEKEEPING, Books of the Year
I fell for Elizabeth Zott immediately. A wonderfully entertaining and empowering read

GOOD HOUSEKEEPING, Books of the Year
I fell for Elizabeth Zott immediately. A wonderfully entertaining and empowering read

GOOD HOUSEKEEPING, Books of the Year
I fell for Elizabeth Zott immediately. A wonderfully entertaining and empowering read

GOOD HOUSEKEEPING, Books of the Year
I fell for Elizabeth Zott immediately. A wonderfully entertaining and empowering read

GOOD HOUSEKEEPING, Books of the Year
A wonderful novel - polished, pacy, funny, witty, warm, life-affirming, and thought-provoking

SUNDAY MAIL, SCOTLAND
A wonderful novel - polished, pacy, funny, witty, warm, life-affirming, and thought-provoking

SUNDAY MAIL, SCOTLAND
A wonderful novel - polished, pacy, funny, witty, warm, life-affirming, and thought-provoking

SUNDAY MAIL, SCOTLAND
A wonderful novel - polished, pacy, funny, witty, warm, life-affirming, and thought-provoking

SUNDAY MAIL, SCOTLAND
A wonderful novel - polished, pacy, funny, witty, warm, life-affirming, and thought-provoking

SUNDAY MAIL, SCOTLAND
A wonderful novel - polished, pacy, funny, witty, warm, life-affirming, and thought-provoking

SUNDAY MAIL, SCOTLAND
A wonderful novel - polished, pacy, funny, witty, warm, life-affirming, and thought-provoking

SUNDAY MAIL, SCOTLAND
A wonderful novel - polished, pacy, funny, witty, warm, life-affirming, and thought-provoking

SUNDAY MAIL, SCOTLAND
A wonderful novel - polished, pacy, funny, witty, warm, life-affirming, and thought-provoking

SUNDAY MAIL, SCOTLAND
A wonderful novel - polished, pacy, funny, witty, warm, life-affirming, and thought-provoking

SUNDAY MAIL, SCOTLAND
Enchanting, clever, funny and packed with deeply engaging characters. I still think about it a lot

INDIA KNIGHT's Book of the Year, SUNDAY TIMES
Enchanting, clever, funny and packed with deeply engaging characters. I still think about it a lot

INDIA KNIGHT's Book of the Year, SUNDAY TIMES
Enchanting, clever, funny and packed with deeply engaging characters. I still think about it a lot

INDIA KNIGHT's Book of the Year, SUNDAY TIMES
Enchanting, clever, funny and packed with deeply engaging characters. I still think about it a lot

INDIA KNIGHT's Book of the Year, SUNDAY TIMES
Enchanting, clever, funny and packed with deeply engaging characters. I still think about it a lot

INDIA KNIGHT's Book of the Year, SUNDAY TIMES
Enchanting, clever, funny and packed with deeply engaging characters. I still think about it a lot

INDIA KNIGHT's Book of the Year, SUNDAY TIMES
Enchanting, clever, funny and packed with deeply engaging characters. I still think about it a lot

INDIA KNIGHT's Book of the Year, SUNDAY TIMES
Enchanting, clever, funny and packed with deeply engaging characters. I still think about it a lot

INDIA KNIGHT's Book of the Year, SUNDAY TIMES
Enchanting, clever, funny and packed with deeply engaging characters. I still think about it a lot

INDIA KNIGHT's Book of the Year, SUNDAY TIMES
Enchanting, clever, funny and packed with deeply engaging characters. I still think about it a lot

INDIA KNIGHT's Book of the Year, SUNDAY TIMES
As with all the best stories, there is a timelessness to this book. One senses it will be read in ten or twenty years' time

IRISH TIMES
As with all the best stories, there is a timelessness to this book. One senses it will be read in ten or twenty years' time

IRISH TIMES
As with all the best stories, there is a timelessness to this book. One senses it will be read in ten or twenty years' time

IRISH TIMES
As with all the best stories, there is a timelessness to this book. One senses it will be read in ten or twenty years' time

IRISH TIMES
As with all the best stories, there is a timelessness to this book. One senses it will be read in ten or twenty years' time

IRISH TIMES
As with all the best stories, there is a timelessness to this book. One senses it will be read in ten or twenty years' time

IRISH TIMES
As with all the best stories, there is a timelessness to this book. One senses it will be read in ten or twenty years' time

IRISH TIMES
As with all the best stories, there is a timelessness to this book. One senses it will be read in ten or twenty years' time

IRISH TIMES
As with all the best stories, there is a timelessness to this book. One senses it will be read in ten or twenty years' time

IRISH TIMES
As with all the best stories, there is a timelessness to this book. One senses it will be read in ten or twenty years' time

IRISH TIMES
Biting and cheering in exactly the right measure

JOJO MOYES
Biting and cheering in exactly the right measure

JOJO MOYES
Biting and cheering in exactly the right measure

JOJO MOYES
Biting and cheering in exactly the right measure

JOJO MOYES
Biting and cheering in exactly the right measure

JOJO MOYES
Biting and cheering in exactly the right measure

JOJO MOYES
Biting and cheering in exactly the right measure

JOJO MOYES
Biting and cheering in exactly the right measure

JOJO MOYES
Biting and cheering in exactly the right measure

JOJO MOYES
Biting and cheering in exactly the right measure

JOJO MOYES
The TV cook bit hooked me right in and it did not disappoint. This book is Charming, witty and clever

NADIYA HUSSAIN
The TV cook bit hooked me right in and it did not disappoint. This book is Charming, witty and clever

NADIYA HUSSAIN
The TV cook bit hooked me right in and it did not disappoint. This book is Charming, witty and clever

NADIYA HUSSAIN
The TV cook bit hooked me right in and it did not disappoint. This book is Charming, witty and clever

NADIYA HUSSAIN
The TV cook bit hooked me right in and it did not disappoint. This book is Charming, witty and clever

NADIYA HUSSAIN
The TV cook bit hooked me right in and it did not disappoint. This book is Charming, witty and clever

NADIYA HUSSAIN
The TV cook bit hooked me right in and it did not disappoint. This book is Charming, witty and clever

NADIYA HUSSAIN
The TV cook bit hooked me right in and it did not disappoint. This book is Charming, witty and clever

NADIYA HUSSAIN
The TV cook bit hooked me right in and it did not disappoint. This book is Charming, witty and clever

NADIYA HUSSAIN
The TV cook bit hooked me right in and it did not disappoint. This book is Charming, witty and clever

NADIYA HUSSAIN
Witty and sometimes hilarious. The CATCH-22 of early feminism

STEPHEN KING
Witty and sometimes hilarious. The CATCH-22 of early feminism

STEPHEN KING
Witty and sometimes hilarious. The CATCH-22 of early feminism

STEPHEN KING
Witty and sometimes hilarious. The CATCH-22 of early feminism

STEPHEN KING
Witty and sometimes hilarious. The CATCH-22 of early feminism

STEPHEN KING
Witty and sometimes hilarious. The CATCH-22 of early feminism

STEPHEN KING
Witty and sometimes hilarious. The CATCH-22 of early feminism

STEPHEN KING
Witty and sometimes hilarious. The CATCH-22 of early feminism

STEPHEN KING
Witty and sometimes hilarious. The CATCH-22 of early feminism

STEPHEN KING
Witty and sometimes hilarious. The CATCH-22 of early feminism

STEPHEN KING