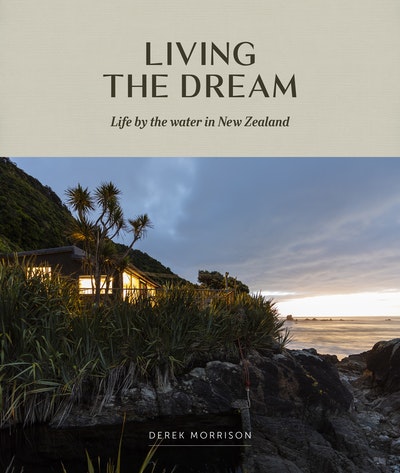 Published:

2 November 2021

ISBN:

9780143774723

Imprint:

Random House NZ

Format:

Hardback

Pages:

272

RRP:

$55.00
Living the Dream
Life by the Water in New Zealand
Extract
Introduction 
There's a craving for escape within all New Zealanders. It thrives in that gap between our work lives and where we indulgeour passions, relax and play. It's woven into our lifestyle, and the value we place on it trumps nearly everything else in our lives. For those people whose lives are connected to the coast, our rivers or our lakes, then finding a place to anchor that passion is the ultimate.
Baches — or cribs, as they are called in the south — have always been a part of the New Zealand way of life, a static embodiment of the Kiwi way. Often, they've passed through generations remarkably unchanged. Or the dwelling reaches a point of such disrepair that one generation bites the bullet and renovates from the ground up to renew the cycle. Others move in permanently to immerse themselves fully in their lifestyle. Mostly, the buildings are functional and homely, but almost never viewed from the perspective of an investment.
Fiordland's west coast,near Big Bay.
They're often gathering places for extended families — places where whānau come together and share experiences, relax, and regale each other with old stories. Places that fill with laughter and create moments and traditions that endure well beyond the time spent within them.
The walls reference the history, past journeys and the lives of those who have called these places home. Each has a story that links it to its location, the environment and its people. And whether the bach is opulent, rustic or barely standing, the result does not change — money has little value when you're sharing experiences with loved ones in a part of the world that has won your heart.
Physically, the dwellings in this book vary vastly in scale and quality, but the essence of them is consistent. They capture the passion of their occupants and afford them direct access to their adventures.
While putting together the Millars of Monkey Rock chapter for this book, I met Carolyn Gundy, a celebrated architect living in a beautifully styled, near-original bach onthe beachfront at North Piha. She shares it with her husband Stu and two girls, Leia and Portia. When I visited them, we met around a table that disguised a stairwell. It lay between the kitchen and the living room. It's not a huge space, but Caro's worked her magic on it. She shared something with me that resonates with each of the dwellings in this book.
Left: Rustic, makeshift and ultimately illegal.Jason Searle's hut was dismantled and shipped out in containers in 2012.
Middle: Jason's hut had a view to one of the best surf reefs in Big Bay.
Right: Jason's Big Bay hut, complete with wash basin and hammock bed.
'The heart of the home is that space where everybody comes together. The sun shines in and you've got those moments where people are enjoying themselves and connected to the environment. That's my biggest thing in architecture — capturing that appreciation and awareness of where you are and your sense of place. If I can achieve that, then for me that's success.'
In the context of the homes and baches throughout this book, her words echo off every page. These are places where families build traditions, memories and togetherness— often on a regular basis. They span many generations and shelter multiple generations within the same timeframe.
They're designed to expand and contract to absorb family members and friends as needed.They feature bunkrooms and sleep-outs or camping areas to accommodate the growing tribes. They're about inclusiveness and come with very few rules, but a lot of games, books and moments.
To put Caro's insightful lens on it, if the heart of a home is the space where everybody comes together, then the humble New Zealand bach is the heart of a family. It's a focal point for friends and family to meet — a base camp for adding another chapter to their shared experiences.
In many of these chapters, a Robinson Crusoe-esque theme emerges. It has filaments through all the stories — places so remoteand isolated that they seem to be the stuff of childhoood dreams. They're exciting and frightening at the same time, but ultimately hitch themselves to your imaginaton.
One example, at the extreme end of thespectrum, existed for a short time nearBig Bay in Fiordland. A friend of mine,Jason Searle, had found himself trappingpossums in the remote bushland of the areaaround 2010. Searley had a permit from theDepartment of Conservation and he trapped possums on a semi-regular basis — going in for anywhere from five days to two weeks —depending on the weather.
Jason catches some dinner to go with a freshly killed deer he shot a day earlier.
His campsite grew as he recovered resources from the rocks or ferried the odd component in, until he had something that resembled a very basic hut. Each addition made his space more comfortable, and he survived on crayfish, possums, venison and whatever he could bring in. With each trip,he became sharper at the game, until he was harvesting 10 kilos of fur in a good week, for a market that was paying $140/kilo. He reinvested the income in traps and honed his survival skills . . . and surfed the local breaks when time and conditions allowed.
From the outside, it was idyllic, the ultimate for any surfer with a dream of escape. But in reality, it was harsh: sand fliesin thick clouds and weather that often swiped at his hut's very foundations. He's told me of near-misses for himself and colleagues at almost every turn and the good dose of luck that followed him.
Searley got to a point where he had wrestled with all that was thrown at him and found a wild existence, disconnected from society, but drawing from it all the same.
With time authorities deemed his hut to bemore permanent than a campsite and orderedit to be removed. He broke the hut into piecesand shipped it out of Big Bay in 2012. Nothing was left behind except, for Searley at least, the knowledge not just that he could live in the wild, but that he could thrive in it. Kernels of Searley's dream and ambition exist within each of the people featured within this book.
Baylin Klein Ovink paddles towards the rising sun for asurf at Papamoa with her family.
The place where we unwind and interact with nature always begins with the location. From fishing to surfing, diving to waka ama to simply exploring the coastline, it is our love for these coastal, river and lake environments that enriches our lives. They are what first attract us to a landscape and sustain that relationship throughout the years. We thrive in being immersed in these places andconnecting with them.
Our memories are hinged to weather events, outstanding swells, enduring sunshine and plentiful time in the water. The promise of adventure occupies our minds, like a familiar friend guiding you to a place of happiness. Sharing that with your loved ones only serves to intensify the excitement and the experience.
Evenings are spent laughing together as you recount the day's events around a barbeque, with today's catch the star attraction.
Layer upon layer of moments are etched ever deeper into your relationship with a place. Eventually, it becomes a part of who you are. A lucky charm, a world to escape to, a welcoming friend, a tranquil retreat when the rest of your life becomes too intense. It's simple. It demands nothing of you but your presence.
It's home. It's where your heart is. This is your happy place.
---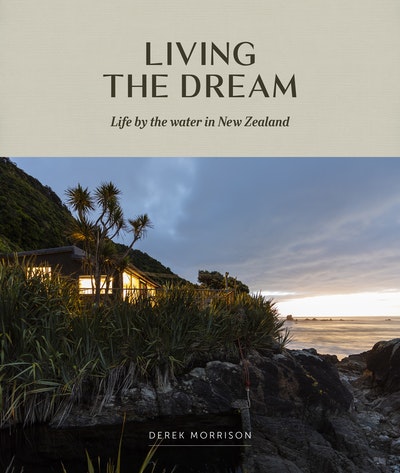 Dream lifestyles around New Zealand's coastlines and waterways - stories and sensational images of people who have made these enviable life choices, and what it has taken them to get there.
Buy now
Buy now
---