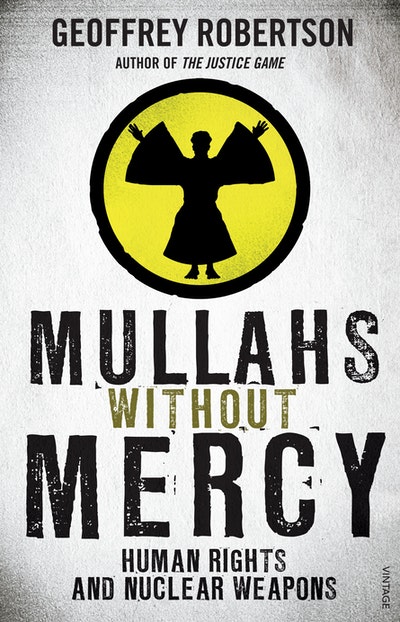 Published:

19 November 2012

ISBN:

9781742758213

Imprint:

Vintage Australia

Format:

Trade Paperback

Pages:

400

RRP:

$42.99
Mullahs Without Mercy
Human Rights and Nuclear Weapons
---
---
---
The book that proves why Iran cannot be trusted with nuclear weapons.
In Mullahs Without Mercy Geoffrey Robertson QC demonstrates, with chilling examples, why Iran cannot be trusted with nuclear weapons. This timely and authoritative book makes clear how international law must be deployed to stop Iran from developing a nuclear strike capability.
A dramatic account of how Iran's leaders have committed, without compunction, a series of crimes against humanity and a sinister campaign of targeted assassinations, Mullahs Without Mercy makes clear that the perpetrators remain in positions of power and are conspiring to commit a greater crime - the possession and use of nuclear weapons.
Using his unique access to the Boroumand Foundation files, Geoffrey Robertson makes the case that the consequences of a nuclear-armed Iran will be catastrophic for peace and justice for everyone. No scenario can avoid the serious risk that by design or even miscalculation, the bomb will be used and will trigger a regional, and possibly global, war.
Published:

19 November 2012

ISBN:

9781742758213

Imprint:

Vintage Australia

Format:

Trade Paperback

Pages:

400

RRP:

$42.99
Praise for Mullahs Without Mercy
In a beautifully argued book, the QC with a stellar track record on human rights suggests one solution would be for the United Nations to regulate the disarmament of existing nuclear stockpiles. And he wants the international Court of Justice to rule that using a nuclear weapon in any circumstance would be an international crime. Legal sanctions are all very well, but history shows you can't legislate against madness. Read it and weep.

Frances Rand, South Coast Register, Nowra