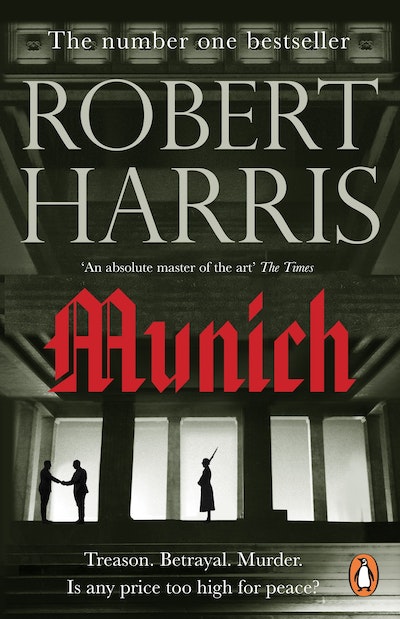 Published:

18 June 2018

ISBN:

9781784751852

Imprint:

Arrow

Format:

Paperback

Pages:

448

RRP:

$26.00
Munich
Now a major NETFLIX movie starring Jeremy Irons
---
---
---
A new spy thriller set over the four days of the 1938 Munich Conference, as the world waits for war, from the Sunday Times bestselling author of Fatherland, Conclave and An Officer and a Spy.
Soon to be a major Netflix film starring Jeremy Irons
_________________________
MUNICH, SEPTEMBER 1938
Hitler is determined to start a war. Chamberlain is desperate to preserve the peace.
They will meet in a city which forever afterwards will be notorious for what is about to take place.
As Chamberlain's plane judders over the channel and the Fuhrer's train steams south, two young men travel with their leaders. Former friends from a more peaceful time, they are now on opposing sides.
As Britain's darkest hour approaches, the fate of millions could depend on them - and the secrets they're hiding.
Spying. Betrayal. Murder. Is any price too high for peace?
_________________________
'A brilliantly constructed spy novel' Observer
'Grips from start to finish ... Superb' Mail on Sunday
_________________________
Now available: V2, Robert Harris's latest historical thriller
Published:

18 June 2018

ISBN:

9781784751852

Imprint:

Arrow

Format:

Paperback

Pages:

448

RRP:

$26.00
A brilliantly constructed spy novel set amid the politicking of Chamberlain's last-ditch negotiations with Hitler

Ben East, Observer
Harris's cleverness, judgment and eye for detail are second to none . . . his research is so impeccable that he could have cut all the spy stuff and published Munich as a history book. Harris's treatment of Britain's most maligned prime minister is so powerful, so persuasive, that it ranks among the most moving fictional portraits of a politician that I have ever read

Dominic Sandbrook, Sunday Times
Atmospheric and fast-paced literary thriller . . . [it] grips from start to finish . . . Superb

Mail on Sunday
Unputdownable to the point of being dangerous: the house could have been on fire while I was reading and I wouldn't have noticed

Jake Kerridge, Sunday Express
A tantalising addition to the inexhaustible game of "what if"?

Anthony Quinn, Guardian
Exerts a powerful grip

Jasper Reese, The Arts Desk
Taut and finely paced novel . . . superbly observed . . . it is hard not to break out in a cold sweat just reading it..The details of railway carriages, hotel rooms, 10 Downing Street and even the Fuhrerbau in Berlin are faultless . . . an utterly compelling and fantastically tense historical thriller by a writer at the very top of his game.

James Holland, Literary Review
Fascinating . . . Seamlessly weaving his fictional tale into the real events of September 1938.Harris has once again shown himself to be a master storyteller

Nick Rennison, BBC History Magazine
A novel of ideas and a gripping thriller. Harris is a marvellously compelling story-teller

Scotsman
With moral subtlety as well as storytelling skill, Harris makes us regret the better past that never happened - while mournfully accepting the bitter one that did

Boyd Tonkin, Financial Times
A fantastically entertaining historical novel that you won't want to put down until you finish . . . For me, this is a better novel than Fatherland, which posited the 'what if Hitler was still Fuhrer in 1964?' scenario. It is altogether more grounded and serious, but equally enjoyable

Nudge
It's hard to imagine how history can be told better

Sport Newspaper
What distinguishes Munich is the subtlety with which it uses the formulaic elements of the genre to explore the ethics of information and functions of bureaucracy

New Statesman
Harris makes the reader gasp at every turn, with a truly moving portrayal of Chamberlain as a man who did the wrong thing for the right reason

Daily Express, BOOKS OF THE YEAR
A wonderful tale of personal relationships and political drama.This is a very, very good read

Vince Cable, Spectator, BOOKS OF THE YEAR
I enjoyed romping through Robert Harris' Munich

Nick Curtis, Evening Standard, BOOKS OF THE YEAR
An intelligent thriller . . . with exacting attention to historical detail

The Times, BOOKS OF THE YEAR
Grips from start to finish . . . Munich captures the mood of the times: the suspicion and the fear, the political intrigue, the swagger of the Nazi machine and the widespread elation at the mistaken belief that war has been averted. Superb.

Simon Humphreys, Mail on Sunday
Lovely details. Clever Twists. Superb.

Evening Standard
Video
Munich by Robert Harris
A new spy thriller from the Sunday Times bestselling author of Fatherland, Conclave and An Officer and a Spy. Learn more https://penguin.com.au/books/munich-9780091959203