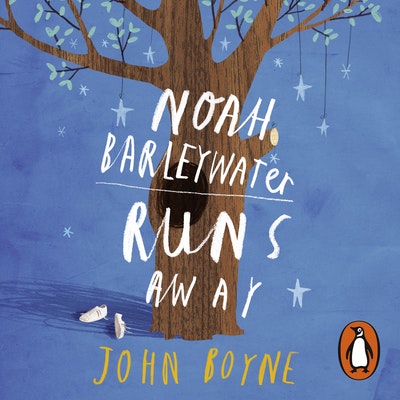 Published:

14 May 2020

ISBN:

9781787620803

Imprint:

Penguin Audio

Format:

Audio Download

Length:

4 hr 26 min
Noah Barleywater Runs Away
---
---
---
From the author of The Boy in the Striped Pyjamas; a magical story about the choices we make.
Brought to you by Penguin.
In Noah Barleywater Runs Away, bestselling author John Boyne explores the world of childhood and the adventures that we can all have there.
Noah is running away from his problems, or at least that's what he thinks, the day he takes the untrodden path through the forest. When he comes across a very unusual toyshop and meets the even more unusual toymaker he's not sure what to expect. But the toymaker has a story to tell, a story full of adventure, and wonder and broken promises. And Noah travels with him on a journey that will change his life for ever.
A thought-provoking fable for our modern world from the author of the bestselling and critically acclaimed Boy in the Striped Pyjamas.
©John Boyne 2010 (P) Penguin Audio 2020
Published:

14 May 2020

ISBN:

9781787620803

Imprint:

Penguin Audio

Format:

Audio Download

Length:

4 hr 26 min
Praise for Noah Barleywater Runs Away
This delightful, bittersweet 'fairytale' is a flight of fantasy with playful use of language . . . a joy from start to finish. Noah's heartbreaking emotional journey is lightened by a rich vein of absurd humour and eccentric characters

Sally Morris, Daily Mail
With goodly dollops of magic and wonderful surrealism, [the book] has a fable-like quality. If they like magical stories, and if they like to deal with serious issues in a metaphorical way, they will love this sweet, funny and kindly book. I certainly did

Jill Murphy, Bookbag
Noah Barleywater Runs Away is a carefully crafted whimsical gem, a story to share with others and to discuss at book clubs, a true publishing event. I would recommend this unusual, life-affirming tale to adult readers, and as a read-aloud for thoughtful children of age eight or nine-plus

Irish Independent (Eire)
The style and language is accessible to children but Boyne is still able to create a story of great subtlety, imagination and compassion. The ending, while extremely moving, is neither trite nor contrived . . . Boyne succeeds because he set out to write a great book which could be enjoyed by children, and naturally, as with all great books, by adults also

Alec McAllister, Sunday Business Post (Eire)
Noah Barleywater Runs Away is a lovely story wrapped in magic and fairytale, and has reminded me how much I love John Boyne's writing. Readers of all ages will find something charming about this story, and it'll make you think about your own actions and how time moves a lot quicker than we think. I highly recommend it to everyone, whether you're old, young or just an 8-year-old boy looking for an adventure

Wondrous Reads
Destined to become somthing of a children's classic

Charlie Higson, Mail On Sunday
Lovingly and movingly told

Enid Stephenson, Carousel
The message that 'life's too short' is carefully imparted by John Boyne. Eloquent and gentle, the author again shows he has a knack for storytelling

Fife Leader
With illustations throughout from Oliver Jeffers, this is a beautiful and wonderfully written fairytale. Poignant, fantastical and charming: Noah Barleywater Runs Away is a must read

David O'Callaghan, Sunday Business Post
This is an unusual, poignant story with as many surprises as the shop itself

Debbie, Primary Times
A fantasy grounded in its own logical world, like Alice in Wonderland

Jan Lee, Oxford Times
Watch out for the heart-warming twist at the end, guaranteed to take adults back to childhood. When Noah Barleywater ran away, I went with him

Kimberley Hylton, Books Quarterly
The way the two strands of narratives entwine is skillfully and sensitively done. Boyne has interesting things to say about identity, self knowledge and how we cope with life's travails and the book really does benefit from a second reading. Oliver Jeffers has produced beautiful cover artwork and his line drawings are suitably enigmatic helping to make this both an attractive and desirable package

John Newman, School Librarian
The end of the story is particularly glorious as the reader finds out why Noah chose to run . . . Beautiful, haunting and a book that can be enjoyed by adults

Stacia Briggs, Norwich Evening News
A journey that will change [Noah's] life. And it could change yours too

Woking News and Mail
Boyne has written a magical new story that will melt the hearts of children everywhere

Lancashire Evening Post
Boyne's is no simple fairy tale. Enchantment is intertwined with realism, and while a suspension of disbelief will stand readers in good stead, so will the inevitable recognition that sadness is the flip side of joy, and death an inevitable part of life

Bernie Goedhart, Montreal Gazette