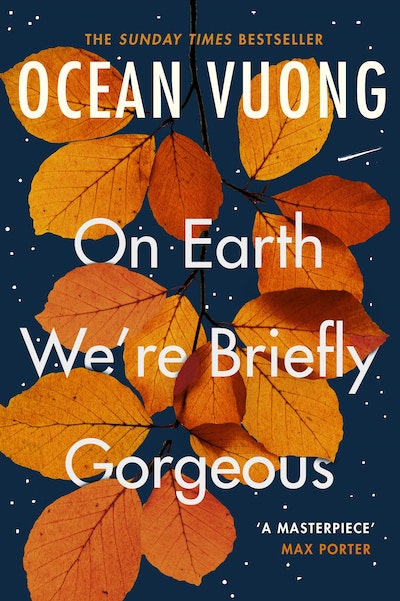 Published:

15 September 2020

ISBN:

9781529110685

Imprint:

Vintage

Format:

Paperback

Pages:

256

RRP:

$24.00
On Earth We're Briefly Gorgeous
---
---
---
The Sunday Times bestselling debut novel from the prize-winning prodigy

** Sunday Times Bestseller **
Brilliant, heartbreaking and highly original, Ocean Vuong's debut novel is a shattering portrait of a family, and a testament to the redemptive power of storytelling.
'A marvel' Marlon James
This is a letter from a son to a mother who cannot read. Written when the speaker, Little Dog, is in his late twenties, the letter unearths a family's history that began before he was born. It tells of Vietnam, of the lasting impact of war, and of his family's struggle to forge a new future. And it serves as a doorway into parts of Little Dog's life his mother has never known - episodes of bewilderment, fear and passion - all the while moving closer to an unforgettable revelation.
'A masterpiece' Max Porter
'Luminous, shattering, urgent, necessary' Celeste Ng
Published:

15 September 2020

ISBN:

9781529110685

Imprint:

Vintage

Format:

Paperback

Pages:

256

RRP:

$24.00
Praise for On Earth We're Briefly Gorgeous
Ocean Vuong runs up against the limits of language-this book is addressed to a mother who cannot read it-and expands our sense of what literature can make visible, thinkable, felt across borders and generations and genres. This is a courageous, embodied inquiry into the tangle of colonial and personal histories. It is also a gorgeous argument for astonishment over irony-for the transformative possibilities of love.

Ben Lerner
This book - gorgeous is right there in the title - finds incredible, aching beauty in the deep observation of love in many forms. Ocean Vuong's debut novel contains all the power of his poetry, and I finished the book knowing that we are seeing only the very beginning of his truly magnificent talent.

Emma Straub
On Earth We're Briefly Gorgeous is a masterpiece: a staggeringly beautiful book, full of wisdom and pain. It seems obvious now, though it didn't before, that a young gay poet born in Saigon would write the Great American Novel. I really think it's that. A huge gift to the world.

Max Porter
On Earth We're Briefly Gorgeous will be described - rightly - as luminous, shattering, urgent, necessary. But the word I keep circling back to is raw: that's how powerful the emotions here are, and how you'll feel after reading it - scoured down to bone. With a poet's precision, Ocean Vuong examines whether putting words to one's experience can bridge wounds that span generations, and whether it's ever possible to be truly heard by those we love most.

Celeste Ng
One is not often given the chance to apply words like "brilliant" and "remarkable" to any novels, certainly not first novels. Thank you, Ocean Vuong, for this brilliant and remarkable first novel.

Michael Cunningham
A bruised, breathtaking love letter never meant to be sent. A marvel.

Marlon James
Look out: here's a new, beautiful, battering ram of fiction. Vuong is rewriting what fiction is supposed to be and it is a privilege to watch.

Daisy Johnson
This is one of the best novels I've ever read. Ocean Vuong is a master. This book is a masterpiece.

Tommy Orange
This is a stunning, sensuous novel that paints a portrait of a mother and her child struggling to work out how to live in a new land. There is fear and anger but the boy's love for his mother - and for the world that surrounds him - sings off the page.

Monocle
Vuong is a mightily gifted observer. Some lines have the almost hallucinatory exactness of his best poems. moving and rarely less than excellent. [On Earth We're Briefly Gorgeous is] unleashed in every regard.

Dwight Garner, New York Times
Vuong is surely a literary descendant of the author of Leaves of Grass. Emerging from the most marginalized circumstances, he has produced a lyrical work of self-discovery that's shockingly intimate and insistently universal. Not so much briefly gorgeous as permanently stunning.

Ron Charles, Washington Post
A candid meditation on masculinity, art, and the inescapable pull of opioids... Vuong peels apart phrases and reconfigures them into new, surprising ideas.

Elle
An epistolary masterpiece... Fearless, revelatory, extraordinary.

Library Journal (starred review)
Disarmingly frank, raw in subject matter but polished in style and language, On Earth We're Briefly Gorgeous reveals the strengths and limitations of human connection and the importance of speaking your truth.

BookPage
[Vuong's] first foray into fiction is poetic in the deepest sense - not merely on the level of language, but in its structure and its intelligence... The result is an uncategorizable hybrid of what reads like memoir, bildungsroman, and book-length poem. More important than labels, though, is the novel's earnest and open-hearted belief in the necessity of stories and language for our survival. A raw and incandescently written foray into fiction by one of our most gifted poets.

Kirkus (starred review)
Casting a truly literary spell, Vuong's tale of language and origin, beauty and the power of story, is an enrapturing first novel.

Booklist (starred review)
Sometimes a writer comes along and stops your breath. I'm reading On Earth We're Briefly Gorgeous and there is so little air moving through my body as I read. When writing is this good, who needs air?

Jacqueline Woodson, author of Red at the Bone
A poignant exploration of a family history, a celebration of maternal love and an unflinching examination of race and class. Vuong's novel is one of the most anticipated of the year.

Rupert Hawksley, National
Vuong as a writer is daring. He goes where the hurt is, creating a novel saturated with yearning and ache. He transforms the emotional, the visceral, the individual into the political in an unforgettable - indeed, gorgeous - novel.

Viet Thanh Nguyen, Time Magazine
[A] marvel of a book.[with] exquisite language.

Refinery29
One of American's most noteworthy poets. His poems are beautiful and unpredictable, and the same goes for this, his debut novel. brilliantly raw.

Sharmaine Lovegrove, Sunday Times
On Earth We're Briefly Gorgeous is one of the most anticipated novels of the year. a piece of autobiographical fiction that avoids all the traps of that genre. The book has a poetic density that is at once elliptical and unflinching in its gaze, a testimony to the endlessly complicated dynamics of damage.

Emma Brockes, Observer
Utterly captivating writing.

Anthony Cummins, Daily Mail
As an evocation of the tragic underside of American life, there's no denying its [On Earth We're Briefly Gorgeous] poetic power.

Anthony Gardner, Mail on Sunday
Vuong's material is gripping even in precis. Vuong's determination to see well-trodden ground afresh, with unremitting complexity, is extremely rare... In these authenticity-hungry times, Vuong could have let his sensational biography simply "speak for itself". There is a great deal to admire: that he was able to give such personal material novelistic treatment; that he had the patience to wait until that was possible; that he only had wait until he was 30. [an] exciting talent.

Claire Lowdon, Sunday Times
[Vuong] mines his extraordinary family story with passion and beauty. Vuong writes wonderfully.

Tessa Hadley, Guardian
This is some of the most moving writing I've read. The tenderness of the prose feels like a triumph against a world hellbent on embittering the tenderhearted. the truths arrived at in this book are valuable precisely because they are steeped in feeling.

Justin Torres, New York Times
Ocean Vuong's novel is a profound consideration of identity, as well as a work of sensuous, poetic detail... we are made aware of his sense of invisibility as a Vietnamese-American while becoming totally immersed in his world. This tension between voice and silence is what lends the novel its gentle, dignified attack.

New Statesman
Everything is beautiful in this debut. Vuong has originality running through his veins, and a good deal of humour and impish charm. This impressive debut hints at even greater things to come.

Melissa Katsoulis, The Times
Ocean Vuong is a magician with words, when he writes, it's as if language itself is dancing. On Earth We're Briefly Gorgeous. [is] a brutally honest exploration of race, class and masculinity. This debut novel is a luminous, mesmerising gift. Extraordinary.

Uli Lenart, attitude, *Book of the Month*
This moving, powerful debut from prizewinning poet Ocean Vuong. [is] a graceful exploration of race, class, and masculinity.

Eithne Farry, Sunday Express
A stunning, beautiful book... His writing is phenomenal... Simply brilliant.

BBC Radio 4 Saturday Review
Vuong can write with exceptional beauty and precision... [On Earth We're Briefly Gorgeous] is a deeply moving book - I welled up roughly every 40 pages. one of the great strengths of this book is the way it elevates the personal into the political. Little Dog's story is the story of modern America.

Tristram Fane Saunders, Daily Telegraph
Readers who are familiar with Vuong's poetry will recognise in this book the same lyricism, the same skill in turning a beautiful and poignant phrase which renders many of Vuong's pronouncements timeless, lending them the quality of adages and deeply-earned wisdom. This is certainly a courageous work; some of the details of the young narrator's relationship (particularly his sexual relationship) with Trevor seem new to fiction. This is a work that has much to say, and is in many respects worthy of attention.

Seán Hewitt, Irish Times
Vuong solidifies the epistolary as an insurrectionary American form, offering it as a means of the States' oppressed to voice their discontents with unrelenting eloquence. Vuong writes from a site of pain and compassion, for himself, for his mother, and for everyone else.

Stephanie Sy-Quia, The Arts Desk
A moving, glittering letter from a son to a mother. direct, touching, stunningly wrought, [On Earth We're Briefly Gorgeous is] staggeringly good.

Ella Walker, UK Press Syndication
Vuong is a prodigious talent, his handling of words and images both brutal and delicate, his treatment of violence, sex and the body radically clear-eyed.

Melissa Harrison, Financial Times
A brutally honest exploration of race, class, and masculinity, as well as a discovery of how immersed we are in addiction, violence, and trauma, but undergirded by compassion and tenderness.

SCAN, *Summer reads of 2019*
Unforgettable. Asking questions central to the American moment, immersed as it is in addiction, violence and trauma, but undergirded by compassion and tenderness, On Earth We're Briefly Gorgeous is as much about the power of telling one's own story as it is about the obliterating silence of not being heard.

SheerLuxe, *Summer reads of 2019*
Vuong's gambit is to make the reader reckon not only with difficult subjects, but also pay generous, open attention to the world. This consummately American novel both documents the nation's wounded psyche while giving its protagonist a path to healing.

Rebecca Liu, Prospect
Vuong.[is] a keen anthropologist of the contemporary American experience.

Jessica Loudis, Times Literary Supplement
A beautiful novel full of raw feelings.

Laura Waddell, Scotsman
Ocean Vuong's fantastic new novel On Earth We're Briefly Gorgeous reminded me that every word can be an incantation, and that beauty does hard and important work.

Rebecca Solnit, New Statesman
A stunning, frankly unforgettable debut novel. It's not surprising that novels by poets often include some of the loveliest prose, but Vuong's is especially luminous. On Earth We Are Briefly Gorgeous is so many things; a love story from a son to his mother; an exploration of masculinity and race; and a series of limpid thoughts about the world. Everything about this book makes me feel glad to live in an era when the novel still matters, when the human ability to bring together words and sentences can lead to such scintillating, poignant language.

James Robertson, Herald Scotland
[A] phosphorescent debut novel. Vuong layers past and present brilliantly in a shifting series of brief episodes and striking mood-musings from within the mind of his protagonist. the hyperreality of Little Dog's self-awareness is always a delight.

Mark Hudson, Tablet
Staggering, sensual and poetic

Pandora Sykes
[A] stunning debut. Ocean Vuong crafts lyrical, masterful prose in this emotionally-powerful piece of story telling. On Earth We're Briefly Gorgeous is sure to stay with readers long after they have put the novel down.

Eastern Daily Press
A brutally honest exploration of race, class, and masculinity.

Asian Art Newspaper, *Books of the Year*
A tender exploration of violence, migration and language.

Justine Jordan, Guardian, *Books of the Year*
This romantic, lusciously written debut lingers over kisses.

Robbie Millen and James Marriot, The Times, *Books of the Year*
A magical synthesis of memoir, fiction and poetry.

Joyce Carol Oates, Times Literary Supplement, *Books of the Year*
So very full of beauty and power. Also, grace.

Tommy Orange, Observer, *Books of the Year*
Ocean Vuong's On Earth We're Briefly Gorgeous confirms him as a master of inventive language that has its roots in the spoken word but reaches shimmering heights of lyricism, too.

Joseph O'Connor, Sunday Independent *Books of the Year*
On Earth We're Briefly Gorgeous by Ocean Vuong is a stunning, relentless work of pure passion and I was captivated from the go.

Úna-Minh Kavanagh, Sunday Independent *Books of the Year*
A story that is deeply relatable, understandable and can find common currency with us all. He uses his differences to connect us, to show the links that bind us, to explore violence, masculinity, poverty and yearning. you'll quickly get carried away by his undercurrents into spaces and places you'd perhaps never thought of exploring or even realised existed.

Gscene
Vuong's gift lies in his ability to write with beautiful specificity while digging into the wounds of immigration, culture, queerness and memory. I've read many very good books in 2019 but none have obliterated me like On Earth We're Briefly Gorgeous.

Katie Goh, Skinny, *Books of the Year*
Ocean Vuong is a magician with words. When he writes, it's as if language itself is dancing. On Earth We're Briefly Gorgeous is. a brutally honest exploration of race, class and masculinity. This debut novel is a luminous, mesmerising gift.

attitude, *Books of the Year*
Astounding.

Malin Hay, Upcoming
Vuong jettisons the prose for poetic verse, with Roland Barthes, Duchamp's Fountain and queer love all collapsing into splintering lines of verse. Vuong's sentences are so beautiful, sometimes I would say them over and over again in my head, hoping I might be able to trap them in there.

Annie Lord, Independent
[Vuong is] brilliant and so flexible with language and has such an understanding of what an emotion incarnate is, he is able to not condense it but to heighten it across languages, across countries, across codes as characters speak to one another. He's peerless.

Bryan Washington, Observer
[A] triumphant debut novel... On Earth We're Briefly Gorgeous felt like a true masterpiece being crafted before my eyes, and I was devastated to see the novel draw to a close. I truly can't recommend this book highly enough - I don't remember the last time I was so floored after reading something that I had to take the rest of the day off speaking to family... a passionate, eye-opening journey, and is most certainly one to be added to your lockdown reading list.

Rebecca Scott, Glasgow Guardian
Beautifully written... Unlike anything I have read before

Ellie Down, Exeposé
An engrossing coming-of-age story.

Mariella Frostrup, Sunday Times
Video
Ocean Vuong, Poet and Fiction Writer | 2019 MacArthur Fellow
Ocean Vuong is a poet and fiction writer. His is carrying folkloric traditions with linguistic experimentation in works that explore the effects of intergenerational trauma, the refugee experience, and the complexities of identity and desire with eloquence and clarity. The MacArthur Fellowship is a $625,000, no-strings-attached grant for individuals who have shown exceptional creativity in their work and the promise to do more. Explore their stories on social media with the hashtag #MacFellow, and check out all of the 2019 MacArthur Fellows, 26 creative people who inspire us all: www.macfound.org/macfellow.