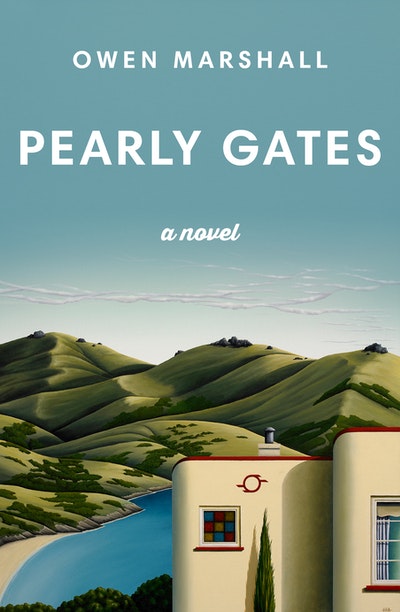 Published:

5 February 2019

ISBN:

9780143773160

Imprint:

RHNZ Adult ebooks

Format:

EBook

Pages:

288
Pearly Gates
---
---
---
Comeuppance comes from unexpected directions.
This entertaining and insightful novel both skewers and celebrates small-town New Zealand.
Pat `Pearly' Gates has achieved a lot in his life and evinces considerable satisfaction in his achievements. He has a reputation as a former Otago rugby player and believes he would have been an All Black but for sporting injuries. He runs a successful real-estate agency in a provincial South Island town, of which he is the second-term mayor. Popular, happily married, well established, he cuts an impressive figure, especially in his own eyes.
But will his pride and complacency come before a fall?
Published:

5 February 2019

ISBN:

9780143773160

Imprint:

RHNZ Adult ebooks

Format:

EBook

Pages:

288
At its core, Pearly Gates surveys the human mindset, particularly sensibilities which are restricted by ambition, curtailed career, ageing and geography. Marshall's prose, which is as unadorned as the book's everyday lead, perfectly suits this careful cerebral uncovering. . . Pearly Gates offers us rural "mainland" life, its people and psychologies, the foibles and fortes. . . .As Marshall examines the good and bad sides of humanity, a gentle paced, deceptively dark novel ensues.

Siobhan Harvey, Weekend Herald
As with the big Canterbury sky, the shifts in Owen Marshall's world are slow and subtle. . . . Pearly Gates is a slow burn, utterly proficient in its characterisation, undramatic in its demonstration of the chinks in Pearly's homespun armour. . . . Pearly's self-regard is undone as Marshall's seventh novel takes the threads of his character's self assumption and gently pulls.

Sally Blundell, NZ Listener
Although there is much sharp-eyed and droll observation of small-town folk and foibles, this is really the story of a man on a journey towards understanding himself. . . . There is a lot of wisdom in these pages on all sorts of matters . . .

Paul Little, North & South
Owen Marshall carefully and with quietly dignified humour outlines life in a provincial Otago town. Marshall incrementally builds up small-town life, and the bustle, supposition, speculation, and all that it encompasses. Pearly is a gentle and affable if stuck-in-his-ways main character. While not holding the keys to heaven, he knows he is gatekeeper of the smooth running of the town and its people, and it is up to him, with his benevolent smile, to figure out how to do this, faltering as he strides on.

Jessie Neilson, Otago Daily Times
Owen Marshall pokes gentle fun at provincial New Zealand, while exploring the personalities, with all their strengths and weaknesses, of those people at the heart of our communities. . . . While Marshall gently prods Pearly's inner self, his vanities, foibles and sins, his regrets and kindnesses, what is revealed is a picture of a man who is not just good or bad, but a mixture of those traits. . . . While this novel doesn't provide any murders to be solved, or romances to swoon over, it does paint us a picture of a Kiwi town and its people that is as exquisite as that used for the cover, Lemon Meringue Pie, by Christchurch artist Hamish Allan.

Diane McCarthy, Eastern Bay Life
The story is written in his characteristic cool, dry, aphoristic prose . . . There is humour, in the form of gentle satire . . And, of course, there is the psychological precision which has made Marshall one of this country's finest writers both of sort and long form. . . The work of bringing Pearly alive is masterfully done . . .

John McCrystal, NZ Books
Nobody can draw out the essence of a character better than Owen Marshall, and in Pat (nicknamed Pearly) Gates, he has magically brought to life a quintessential provincial Kiwi fellow, with all his quirks and flaws. . . . consequences make Pearly take a long overdue look at his ethics and self-awareness. It's a delightful slow build towards realisation, as he reveals his inner-most thoughts; it draws out the nature of the people who touch his life and it defines his relationships with them. Marshall has the perfect light and, at times witty touch, to fully engage us with the sort of people and places we feel we know already, because he makes them so very real.

Felicity Price, Stuff
Ockham New Zealand Book Awards
Longlisted • 2020 • Acorn Foundation Fiction Prize
Article
Pearly Gates - book club guide
NZ author and poet Owen Marshall shares with us some questions to get the ball rolling in a book club discussion for his latest Novel, Pearly Gates.