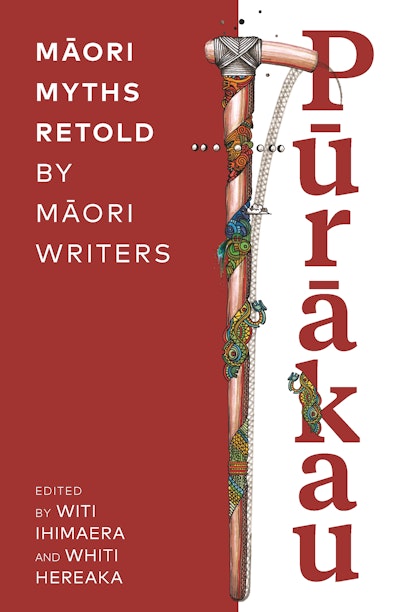 Published:

7 May 2019

ISBN:

9780143772965

Imprint:

RHNZ Vintage

Format:

Trade Paperback

Pages:

400

RRP:

$38.00
Purākau
Māori Myths Retold by Māori Writers
Ed. Witi Ihimaera and Whiti Hereaka
---
---
---
Ranginui, Papatuanuku, Maui, Tawhaki . . . our enduring stories retold.
A lively, stimulating and engaging retelling of purakau - Maori myths - by contemporary Maori writers.
Ka mua, ka muri . . .
Ancient Maori creation myths, portrayals of larger-than-life heroes and tales of engrossing magical beings have endured through the ages. Some hail back to Hawaiki, some are firmly grounded in New Zealand and its landscape. Through countless generations, the stories have been reshaped and passed on. This new collection presents a wide range of traditional myths that have been retold by some of our best Maori wordsmiths. The writers have added their own creativity, perspectives and sometimes wonderfully unexpected twists, bringing new life and energy to these rich, spellbinding and significant taonga.
Take a fresh look at Papatuanuku, a wild ride with Maui, or have a creepy encounter with Ruruhi-Kerepo, for these and many more mythical figures await you.
Explore the past, from it shape the future . . .
The contributors are: Jacqueline Carter, David Geary, Patricia Grace, Briar Grace-Smith, Whiti Hereaka, Keri Hulme, Witi Ihimaera, Kelly Joseph, Hemi, Kelly, Nic Low, Tina Makereti, Kelly Ana Morey, Paula Morris, Frazer Rangihuna, Renee, Robert Sullivan, Apirana Taylor, Ngahuia Te Awekotuku, Clayton Te Kohe, Hone Tuwhare, Briar Wood.
Published:

7 May 2019

ISBN:

9780143772965

Imprint:

RHNZ Vintage

Format:

Trade Paperback

Pages:

400

RRP:

$38.00
. . . it is a rewarding collection of re-examinations, re-interpretations and, of course, re-creations. It begins in darkness with creation myths and gradually lights up a whole world of ancestors, gods and monsters. . . There is more humour here than you might find in a collection of myths from many other cultures. . . "A collection of Maori myths in updated versions" is one of those ideas that seems blindingly obvious when someone finally gets around to having it. The editors and publishers have brought it to fruition with energy and skill.

North & South
Ihimaera and Hereaka have created an anthology of pre-existing versions and newly commissioned works. At 400 pages, it is the most comprehensive recent encounter with the characters and stories of Maori oral culture, reconfigured for a new world. The updates can be startling. In Maui Goes to Hollywood, David Geary takes the archetypal trickster, and couples him with Elvis and Marilyn Monroe, Santa Monica beach, ATMs, the Warriors, cocaine, and the Manly Sea Eagles. It is an audacious revision, which captures perfectly the mythic hero's personality and energy in a bright pop-art, post-modern explosion. . . Recontextualisation is an important feature of the anthology and a vivid tradition is revealed by juxtaposition.

David Herkt, Dominion Post
This is a modern keepsake to treasure and find a new way to connect with myth and legend.

Kapiti News
. . . this excellent collection of foundational stories of Maori mythology, which are mostly set in strikingly modern or everyday contexts. . . . Witi Ihimaera and Whiti Hereaka have assembled a dream team of mostly well-known Maori writers who have taken to their brief with vigour and imagination. . . . Each of the stories, in its own way, shines a new light on another facet of te ao Maori and reminds us of how special this land is.

Peter Calder, NZ Listener
These myths retold bend and blend genres, from the supernatural and fantasy to science fiction, ghost stories and magical realism - all this, the reclaiming and the repurposing, a far cry from the bowdlerised, even infantalised, interpretations found in the versions of A W Reed, Antony Alpers and other 20th-century Pakeha anthologists. . . . Indigenous stories are never idle; they are a means of integrating past with present and activating elemental motifs of resonant power to assert the continuum of identity. . . . All in all, lush, but also harsh and brash and often brassy, this anthology is made up of a kaleidoscope of colourful fragments, most of them satisfyingly charged with psychic energy and loyal to the legends they are based on. . . . But what gives the best of these short takes on the ways of the gods their moral heft, in these decentred, internet-enabled times, is their stubborn insistence on Maori essentialism as a potent mystery.

David Eggleton, NZ Books
The twenty authors in this book flex their linguistic muscles to give a modern tone to these histories. These are not tidy children's stories that render the world comprehensible and straightforward. They address complex questions and take different perspectives in their interpretations of the 'pu' of our knowledges handed down. The prowess of these renowned Maori writers is well known and it is exciting that they are able to bring their considerable minds to bear on recontextualising our histories. . . . Again and again, the tokotoko is raised and this cast of immense orators weave their tales.

Anahera Gildea, Landfall
This pukapuka helped me become a bit less racist. I had vaguely assumed that Maori purakau (myths) had no real application to the present. Not only was I wrong, but this assumption betrayed my Eurocentric misunderstanding of te ao Maori (the Maori world). Witi Ihimaera and Whiti Hereaka say in their introduction that there is no separation of the "real from the imagined, rational from the irrational, or what can be believed in and what cannot". "Maori do not make those distinctions". This anthology opened up a new ara (pathway) for me to know my own country, as writers from many different iwi across the motu retell how the world came to be. . . . I started to dimly grasp the aliveness of the landscapes we all live in. The purakau tell not only of the past and present, but also of the future.

Elizabeth Heritage, Sunday Star-Times
A terrific book I'm enjoying enormously.

Neil Gaiman, Twitter
NZ Heritage Book Awards
Awarded • 2019 • NZ Heritage Book Awards
Article
James Ormsby decodes his tokotoko form
The drawing of a tokotoko, the walking–talking stick held by speakers on the marae, depicts the versions of the creation myth that tells of Tāne separating Ranginui and Papatūānuku.