Emily Writes tells us why her assumptions were intensely wrong.
The top five assumptions I had about second children that were intensely wrong — like the most wrong thing that ever was wrong:
1. MY SECOND PREGNANCY WILL BE EASIER THAN THE FIRST.
I puked even more. How is that possible? I was so sick the first time. The second time destroyed me. One morning I looked in the mirror and I literally thought 'I think The Walking Dead is back on TV soon', based on my appearance. Once someone made a comment about how sick I was and then said they'd heard it was harder for parents who were in their forties when they had their first child. I was 28! I don't know why I thought it would be easier. There was no reason at all why it should have been — I'd just decided that it would be. It wasn't.
2. I AM USED TO NOT SLEEPING, SO IT WON'T MATTER IF I DON'T SLEEP FOR A BIT LONGER . . .
A bit longer? A bit longer? How about no sleep for a year-and-a-half and counting? What was I thinking? Nobody gets used to not sleeping! You keep sort of being alive, but it doesn't get easier! It gets harder! Instead of going two years without sleeping you're now on three years. And you might be used to just a few wake-ups a night, but you're not dealing with 20-plus wake-ups. For the longest time. Which leads me to . . .
3. MY FIRST CHILD IS SLEEPING THROUGH NOW SO I'LL ONLY BE WAKING UP TO MY SECOND . . .
Yeah, sure, OK . . . *laughs hysterically* My first-born was waking up fairly regularly when we started talking about having another child. We decided that it would take a long time for me to get pregnant, so he would be five when we would probably be pregnant again. He was not even two when we got pregnant. And he slept most nights in bed with me when I was pregnant, yet I still believed that when the baby came he would miraculously sleep through the night in his own bed. I am not a smart person. The worst thing ever was having a baby who I had to feed every three hours through the night and a toddler who woke up in between that. In between, dear reader. IN BETWEEN THE BITS WHERE YOU WOULD USUALLY HAVE A TINY BIT OF SLEEP THERE WAS NO SLEEP.
4. I WILL KNOW WHAT I'M DOING, SO IT WILL BE EASIER.
I was getting good at parenting my first-born. I was in a good rhythm. My second baby is a totally different baby, who does everything differently, and I have no idea what I am doing all over again. I mean, there are definitely things I didn't do this time around — no baby sensory (sorry kid, but it's expensive and I could just wave my keys in your face and buy a bottle of wine instead, which I need because I have two kids), no tummy time (I don't really want you to be mobile), no pumping (I was done after having a more intimate relationship with my pump than I did with my husband — I literally saw that horrible pump more than I saw anyone else), less worrying about things like whether you're getting enough food or sleep. The first time around I kept a ridiculous schedule that noted every feed and for how long, every poo (I didn't weigh them but I, umm, got close to that brand of crazy), every sleep. This time around I am too busy. I feed the baby when he is hungry, try to get him to sleep when he is sleepy. If he doesn't poop for a few days — to be honest, I don't notice. This has made everything way more chill, and reader — I recommend it. But . . . I still can't figure out how to get him to sleep (at night or during the day). I worry about his crying — does he cry too much? And I don't know if he is meeting his milestones . . . It isn't easier. It is different. And in some ways it is harder — because you have two babies. This is simple math. Two = harder than one because there is one more. MATH.
5. I DON'T KNOW IF I WILL HAVE ENOUGH LOVE FOR TWO BABIES.
My big fear when I was pregnant was that I wouldn't have enough love. When I would lean against my big boy's bunk, my hips throbbing and my boobs sore and my baby kicking me to remind me he was coming soon, I would close my eyes and think — what have I got left to give? I would look at my little boy and stroke his golden hair and think, you're too perfect, there's no way another baby could compete with you. And then I held my second son in my arms and my heart just exploded. You have enough love. Your heart gets bigger and bigger and you love so much, so much. You have these reserves — more love, more energy, more everything. They're there, and without even realising it you draw on them. And you love your babies even more. Having another baby doesn't divide your love, it multiplies it. You have even more to give because you have to give more. And you love even more than you ever did. Because that's what you need to get through the hard days and nights ahead. More love, more love, more love.
---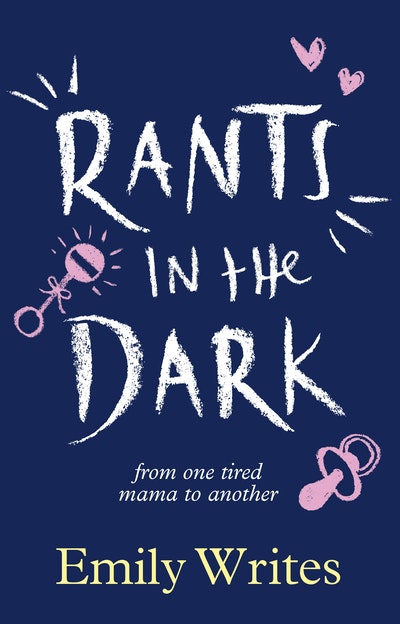 Popular blogger Emily Writes gives words of encouragement to sleep-deprived parents everywhere.
Buy now
Buy now
---