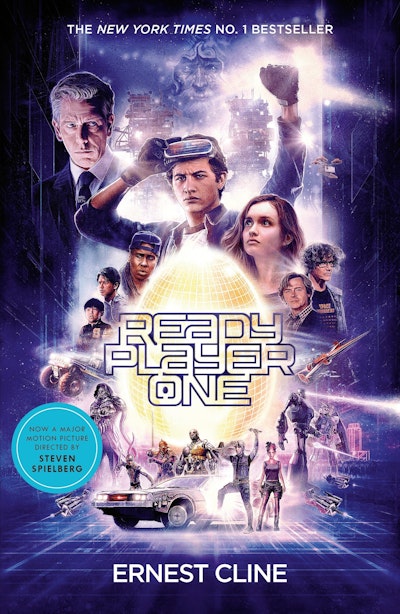 Published:

1 October 2011

ISBN:

9781446493830

Imprint:

Cornerstone Digital

Format:

EBook

Pages:

384
Ready Player One
---
---
---
NOW A MAJOR MOTION PICTURE DIRECTED BY STEVEN SPIELBERG
PRE-ORDER NOW - READY PLAYER TWO: THE SEQUEL
______________________
THE BOOK BEHIND THE MAJOR MOTION PICTURE DIRECTED BY STEVEN SPIELBERG
Now available for the first time in a beautiful hardback edition, perfect for hardcore fans and collectors
A world at stake. A quest for the ultimate prize. Are you ready?
It's the year 2044, and the real world has become an ugly place. We're out of oil. We've wrecked the climate. Famine, poverty, and disease are widespread.
Like most of humanity, Wade Watts escapes this depressing reality by spending his waking hours jacked into the OASIS, a sprawling virtual utopia where you can be anything you want to be, where you can live and play and fall in love on any of ten thousand planets. And like most of humanity, Wade is obsessed by the ultimate lottery ticket that lies concealed within this alternate reality: OASIS founder James Halliday, who dies with no heir, has promised that control of the OASIS - and his massive fortune - will go to the person who can solve the riddles he has left scattered throughout his creation.
For years, millions have struggled fruitlessly to attain this prize, knowing only that the riddles are based in the culture of the late twentieth century. And then Wade stumbles onto the key to the first puzzle.
Suddenly, he finds himself pitted against thousands of competitors in a desperate race to claim the ultimate prize, a chase that soon takes on terrifying real-world dimensions - and that will leave both Wade and his world profoundly changed.
____________________________________
If you loved READY PLAYER ONE and can't wait for more, check out ARMADA, Ernest Cline's geek masterpiece!
'Wildly original and stuffed with irresistible nostalgia, Ready Player One is a spectacularly genre-busting, ambitious, and charming debut' Independent
'Part intergalactic scavenger hunt, part romance, and all heart' CNN
'Ernest Cline's novel deserves to be a modern classic' SciFiNow
'Gorgeously geeky, superbly entertaining, this really is a spectacularly successful debut' Daily Mail
Published:

1 October 2011

ISBN:

9781446493830

Imprint:

Cornerstone Digital

Format:

EBook

Pages:

384
Praise for Ready Player One
This non-gamer loved every page of Ready Player One.

Charlaine Harris, #1 New York Times bestselling author
Ready Player One expertly mines a copious vein of 1980s pop culture, catapulting the reader on a light-speed adventure in an advanced but backward-looking future. If this book were a living room, it would be wood-paneled. If it were shoes, it would be high-tops. And if it were a song, well, it would have to be Eye of the Tiger. I really, really loved it.

Daniel H. Wilson, author of How to Survive a Robot Uprising and Robopocalypse
The pure, unfettered brainscream of a child of the 80s, like a dream my 13-year-old self would have had after bingeing on Pop Rocks and Coke...I couldn't put it down.

Charles Ardai, Edgar Award-winning author and producer of Haven
Pure geek heaven. Ernest Cline's hero competes in a virtual world with life-and-death stakes -- which is only fitting, because he's fighting to make his dreams into reality. Cline blends a dystopic future with meticulously detailed nostalgia to create a story that will resonate in the heart of every true nerd.

Chris Farnsworth, author of Blood Oath
I was blown away by this book...Ernie Cline has pulled the raddest of all magic tricks: he's managed to write a novel that's at once serious and playful, that is as fun to read as it is harrowing. A book of ideas, a potboiler, a game-within-a-novel, a serious science-fiction epic, a comic pop culture mash-up-call this novel what you will, but READY PLAYER ONE will defy every label you try to put on it. Here, finally, is this generation's NEUROMANCER.

Will Lavender, New York Times bestselling author of Obedience
Completely fricking awesome...This book pleased every geeky bone in my geeky body. I felt like it was written just for me.

Patrick Rothfuss, #1 New York Times Bestselling author of The Wise Man's Fear
Ready Player One is a fantastic adventure set in a futuristic world with a retro heart. Once I started reading, I didn't want to put it down and I couldn't wait to pick it back up.

S.G. Browne, author of Breathers and Fated
Cline's novel is a nerdcore odyssey; engaging and fun, this Gen-X popcult thrillride drew me in like a Galaxian machine set to free play.

James Swallow
The first thing I thought when I finished Ernest Cline's Ready Player One was, "My God, it's the grown-up's Harry Potter." Now this is from a mega "HP" fan, so I mean business, here. The mystery and fantasy in this novel weaves itself in the most delightful way, and the details that make up Mr. Cline's world are simply astounding. Ready Player One has it all

Huffington Post
Pleasingly geeky novel ... No wonder there are plans to make into a film.

Shortlist
The strength of Cline's first novel, other than its geeky referencing of 1980s pop culture, is the characterisation of the Candide-like Wade and his redemptive quest in both VR and the real world.

Guardian
If you grew up with an Atari or maybe had a Commodore 64 back in the day, you are going to really enjoy this one. Cline really captures the feeling of those good old days in Ready Player One.

Wired.com
Cline [crafts] a fresh and imaginative world from our old toy box ... Cline strikes the nerves of nerd culture as expertly as Andy played that skeleton organ in The Goonies.

Entertainment Weekly
Fascinating and imaginative...It's non-stop action when gamers must navigate clever puzzles and outwit determined enemies in a virtual world in order to save a real one. Readers are in for a wild ride.

Terry Brooks, #1 New York Times bestselling author
Article
Spotify playlists for your reading adventures
We've all been there. . . reading the perfect book, completely invested in a fictional world, only to be disturbed by a neighbour mowing their lawns or the distant sound of dogs barking. Suddenly you're pulled back to reality wondering what on earth happened.