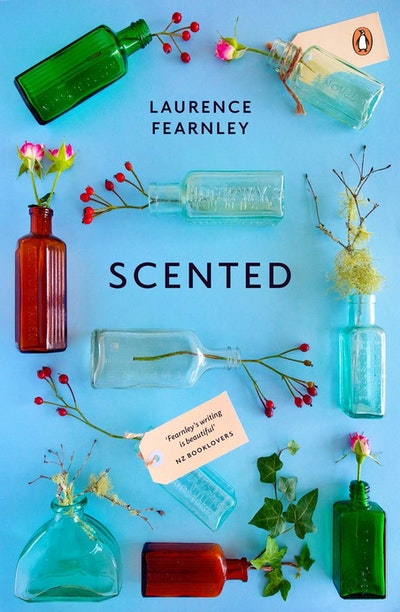 Published:

17 September 2019

ISBN:

9780143773283

Imprint:

Penguin

Format:

Trade Paperback

Pages:

256

RRP:

$38.00
Scented
---
---
---
A fascinating novel about following one's nose . . .
A compelling and poignant search for identity through perfume.
Granny Seren told me I had a natural talent for perfume making, and I believed her because she seemed to know what she was talking about and she never lied. It was Seren who introduced me to the idea of a signature scent.
As a university lecturer, Siân didn't need a signature scent to know who she was. But, prompted by her job loss following restructuring of the humanities – and the effect this has on her identity – she begins to construct a perfume of herself. Note by perfume note, referencing scent memories and recent events, she rebuilds herself, Scented.
Published:

17 September 2019

ISBN:

9780143773283

Imprint:

Penguin

Format:

Trade Paperback

Pages:

256

RRP:

$38.00
. . . it's a story well told, elevated by the author's typically elegant prose and accurate, unassuming protagonist. . . . The kind of deeply mulled, rich characterisation that creates Sian is Scented's strongest element. . . . In Sian's acuity and sensitivity, pluck and survival, she is crafted with utter credibility by Fearnley. . . . At its best, Scented will dazzle you with its rich, remarkable story experienced by everywoman, Sian.

Siobhan Harvey, Weekend Herald
. . . a rich, layered, surprising story . . . Structured like a multilayered perfume, Scented is divided into base notes, heart notes and top notes. Fearnley's book is an ode to creativity, connection, independence, and, surprisingly, the capacity of smells to open our minds and hearts to all that is around us.

Maggie Trapp, NZ Listener
The passages describing scents, the mixing of perfumes and the beautiful bottles in which they reside are a treat - slow, sensual, conjuring scent memories in the reader, blending our personal experience with Sian's. Sian is the epitome of the modern middle aged woman, carving an identity through what she knows best. Scented is lovely - unique, thoughtful, a story with the gift of letting the reader light up a sense we give little thought to.

Louise Ward, Napier Courier
Pick up this book and it's odds on your olfactory senses will shoot into overdrive. It's by no means the first novel about a scent maker, there have been a heap of them, but what makes this one stand out from the crowd is that, to the best of this reviewer's knowledge, it's the first to be dedicated to the fragrance of the flora native to this country. But this is no handbook portraying the perfumes produced by our flowers, ferns and volcanic pumice. Fearnley uses them as the backdrop for a cleverly crafted story of Sian, a woman seeking to reinstate her identity by creating perfumes. . . . This is a book with the sweet smell of a successful story lying between its 250 pages.

Jill Nicholas, Kapiti News
Reviewers often criticise Fearnley for the exactness and quietness of her writing. It is certainly true that her work is finely controlled and crafted, but I don't find this to be a disadvantage. The self-contained-ness of Fearnley's writing left lots of room for my own emotional responses, which I felt I was pouring over this pukapuka in great waves. Having felt initially that Siân was in some mysterious way giving me the cold shoulder, I ended up respecting and rooting for her. . . . Scented ends on a feeling of hope. If you're after a deep dive into the feeling of smelling, I recommend it.

Elizabeth Heritage, Landfall
Article
Laurence Fearnley's signature perfume
In Scented, our protagonist Siân, fascinated by the art of perfumery from childhood and recently made redundant from her job, decides to build her signature scent note by note in an effort to better understand her identity. 
Article
Scented - book club guide
Laurence Fearnley shares her process for writing Scented along with discussion points, ideas and questions for your next book club meeting.