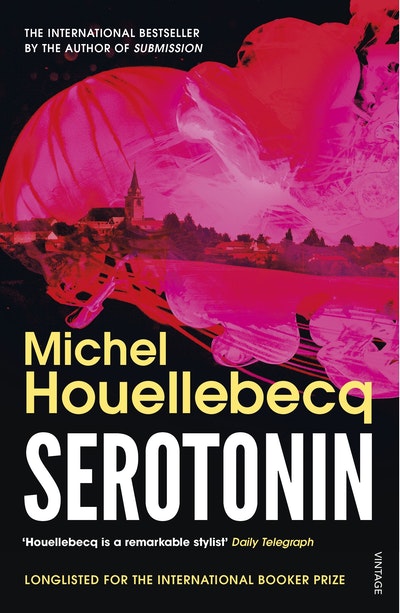 Published:

17 November 2020

ISBN:

9781529111712

Imprint:

Vintage

Format:

Paperback

Pages:

320

RRP:

$24.00
Serotonin
---
---
---
LONGLISTED FOR THE INTERNATIONAL BOOKER PRIZE 2020
LONGLISTED FOR THE INTERNATIONAL BOOKER PRIZE 2020
Florent-Claude Labrouste is dying of sadness. Despised by his girlfriend and on the brink of career failure, his last hope for relief comes in the form of a newly available antidepressant that alters the brain's release of serotonin.
When he returns to the Normandy countryside in search of serenity, he instead finds a rural community left behind by globalisation and red-tape agricultural policies, with local farmers longing for an impossible return towhat they remember as a golden age.
Serotonin is at once a devastating story of solitude, longing and suffering, and a powerful criticism of modern life by one of the most provocative and prophetic writers of our age.
Published:

17 November 2020

ISBN:

9781529111712

Imprint:

Vintage

Format:

Paperback

Pages:

320

RRP:

$24.00
Exhilarating in its nihilism, often very funny and always enjoyable… Serotonin burns with anger… [Michel Houellebecq is] the most interesting novelist of our times'

Evening Standard
Houellebecq has once again managed to put his finger on modern French (and Western) society's wounds, and it hurts

Economist
Any new book by Houellebecq is guaranteed to make waves, and Serotonin is no exception ... A bleak, uncompromising novel. But it also feels like an important one, asking some necessary questions in characteristically mordant fashion

Mail on Sunday
A cautionary tale about dissipated manhood… Houellebecq may be, in certain respects, a man for our times

Literary Review
While Houellebecq is provocative and at times deliberately controversial, his success is not based solely on his ability to shock. He also has a beautiful fluid writing style…and an uncanny ability to evoke the spleen that for him is at the core of existence

Irish Times
The author's prescience has certainly proved as eerie as his reported politics are contentious, yet Serotonin's brilliance far exceeds its accuracy as a cultural barometer… Houellebecq is a disarmingly rich and nuanced writer; Serotonin is mordant, haunting but never (quite) embittered

Lisa Hilton, TLS
Despite its provocations, this is a novel of romantic and sorrowful ideas: Houellebecq as troubadour, singing lost loves

Rachel Kushner
Houellebecq has a sociological curiosity few other novelists possess... The agony and rage of the demoted, the discarded, the "deplorable" (a segment of them, if not the whole basket), laid bare. What other novelist would have the willingness to go there, let alone the wherewithal

Guardian
To some, he is the only serious writer prepared to look at disagreeable aspects of the modern world – sex tourism, radical Islam, airports, free markets, pornography ... [Houellebecq's] novels have a journalistic knack of chiming with events

Sunday Times
Houellebecq's disdain for the emptiness of modern western life often leaves him spookily ahead of the game ... The satirist carves up the branded ghastliness of restaurants, hotels, supermarkets and the like with a steady butcher's hand

Financial Times
Houellebecq is a supreme chronicler of the psyche of modern European man

Spiked
Houellebecq's vision in his new novel, Serotonin, is blacker and sharper than ever…in Shaun Whiteside's English translation, Houellebecq has never sounded more fluent

i