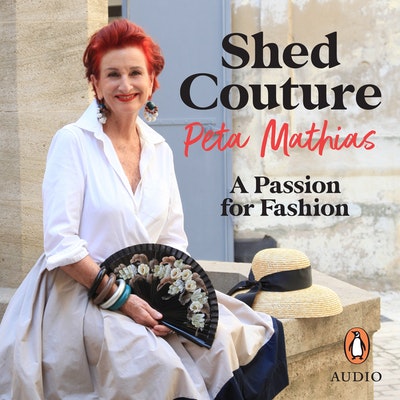 Published:

1 February 2022

ISBN:

9780143778356

Imprint:

Penguin Random House New Zealand Audio

Format:

Audio Download

Length:

6 hr 11 min

Narrator:

Peta Mathias

RRP:

$35.00
Shed Couture
A Passion for Fashion
---
---
---
An entertaining celebration of sustainable fashion, buying well and finding your style in the twenty-first century.
'The point of this book is to explore my ideas for sartorial satisfaction, to tell the stories associated with my love of clothes and fashion, and to share the message of accidental sustainability.'
When Peta Mathias dug through the clothes she had stored away for twenty years in her shed, she realised it was full of valuable, beautiful items that were crying out to be worn again:
'Fashion is mysterious, irresistible and alluring . . . they are not just frocks — they are beauty, art, history, emotion, memory, identity and, above all, joy.'
From this arose a new appreciation of buying well but cannily, so your clothes will not bankrupt you nor go out of fashion. Reviving her neglected wardrobe, Peta revelled in mixing fabrics, colours and patterns, considering how to make an impact and how that dull pair of shoes can be transformed into something just a little bit fabulous.
Published:

1 February 2022

ISBN:

9780143778356

Imprint:

Penguin Random House New Zealand Audio

Format:

Audio Download

Length:

6 hr 11 min

Narrator:

Peta Mathias

RRP:

$35.00
My favourite line of the book is one that nails the point: "If we stop buying crap clothes, then companies will stop making them." Shed Couture is the compelling story of Mathias' rediscovery of clothes stored in her garden shed, and her accidental journey to sustainability.She makes a case against over-adherence to fashion trends, and celebrates the joy and constant companionship of beautiful, but durable, well-made items. It's a personal tale that will resonate with lovers and collectors of fashion.

Karlya Smith, Stuff
Her latest book, Shed Couture, tells the story of her life through a passion for fashion. She has always loved dressing up and that hasn't changed just because she is older now. . . . Peta is outspoken and funny about fashion – she thinks pink lipstick is a cry for help, white leggings make you look like a slug that has lost its colour and black is not a colour but an absence of light – but she is also very serious. She shops carefully and cleverly, buying clothes that she will keep and wear for decades, and has some garments still in use that date back to the '80s and '90s.

Nicky Pellegrino, NZ Herald