The tagine, with its balance of sweet and savoury flavours, is an impressive culinary gift from Morocco.
The tagine, with its balance of sweet and savoury flavours , is an impressive culinary gift from Morocco. The joining of sweet flavours such as quince, rosewater and honey with savoury ingredients including herbs, onion, garlic and meat – most often lamb and chicken, though beef, duck and rabbit are more modern and Western friends – creates memorable stews that you'll fall in love with. The tagine normally has a thin sauce, soaked up with steamed baby couscous beads – the traditional starch of the region. Grilled well-buttered flat breads and roasted pumpkin make excellent accompaniments to this tagine, which can be made with almost any cut of lamb, though shanks and shoulder, with their marbled fat, are the best.
Serves: 6
Preparation time: 20 minutes
Cooking time: low 6–7 hours, high 4–5 hours
½ cup sultanas
½ cup dry-style sherry or white wine
2 large onions, peeled and finely diced
4 cloves garlic, crushed, peeled and finely chopped
¾ cup crystallised ginger, finely chopped
2 teaspoons ground coriander
¼–½ teaspoon saffron threads
1 cinnamon stick or a scant
½ teaspoon ground cinnamon
6 lamb shanks or 1 lamb shoulder on the bone
2 cups lamb, chicken or vegetable stock
1 lemon
2 teaspoons salt
Turn the slow cooker on to low to pre-warm while preparing and gathering the ingredients.
Soak the sultanas in the sherry or white wine for about 30 minutes.
Into the pre-warmed slow cooker put the onion, garlic, ginger, coriander, saffron and cinnamon and toss well to mix evenly.
Heat a dash of oil in a large frying pan and brown the lamb shanks or shoulder well. Transfer to the slow cooker, arranging the lamb on the bed of onions and flavourings. Pour over the sultanas with the sherry or wine and the stock. Season well with salt and pepper and cover.
Cook on low for 6–7 hours or on high for 4–5 hours. I like the meat to fall from the bones so you may find that you need an extra hour's cooking time.
While the lamb is cooking, finely slice the lemon and sprinkle with the salt. Cover with boiling water and set aside until the lamb is cooked, then drain.
Remove the lamb from the slow cooker and keep warm. Discard the cinnamon stick. Put about a third to half the cooking juices in a blender or food processor and blend well. Return the lamb to the slow cooker with the lemon slices.
The lamb shanks or shoulder can be served whole or the meat can be pulled from the bone and returned to the sauce. Either way, serve with couscous and garnish with pinenuts.
---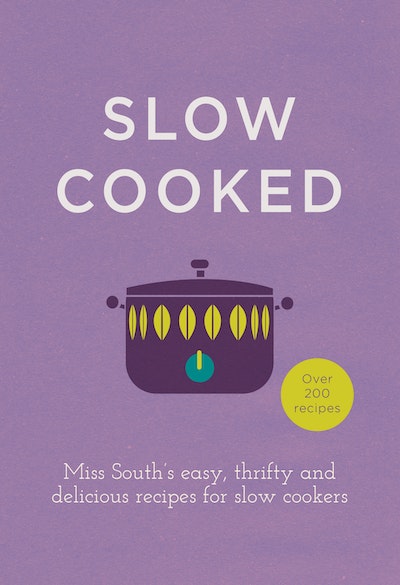 The new bible for slow-cooking - 200 mouth-watering recipes for your slow cooker.
Buy now
Buy now
---