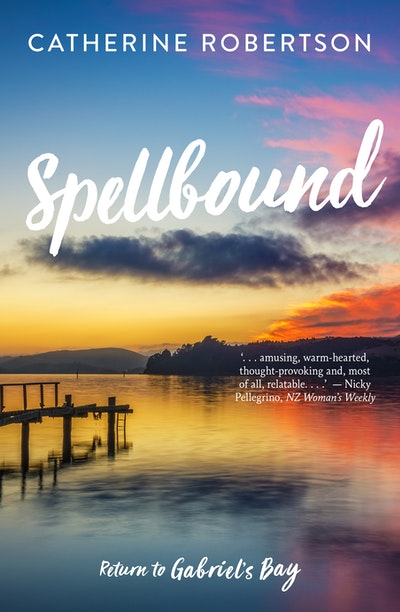 Published:

30 March 2021

ISBN:

9780143775744

Imprint:

RHNZ Black Swan

Format:

Trade Paperback

Pages:

368

RRP:

$36.00
Spellbound
---
---
---
Dive back into the captivating world of Gabriel's Bay.
The delightful third novel in the bestselling Gabriel's Bay series.
Big trouble is brewing, secrets are coming out, threatening reputations and even lives. Outsiders are in town with questionable motives. Power and privilege are casting a seductive but ominous spell. And the Love Bus is completely munted.
All your favourite characters are back: Mac, down-to-earth as ever; Sidney, eight months pregnant and feeling it; Dr Ghadavi, anxious to do right; Patricia, quietly determined; Bernard, who must face his nemesis; and young Barrett, unable to face the truth.
It's crunch time for Gabriel's Bay, and nothing less than magic might be needed to protect this close-knit community and its future.
Published:

30 March 2021

ISBN:

9780143775744

Imprint:

RHNZ Black Swan

Format:

Trade Paperback

Pages:

368

RRP:

$36.00
Spellbound is full of humour and honesty, with all the drama and comfort of a rural New Zealand soap opera. . . . It's a special type of book that can tackle large issues such as white supremacy, misogyny and domestic harm and wrap them up in a rural and domestic setting that still feels cosy and sweet. It's a testament to Robertson's clever and gentle touch that this is an engaging and funny read, even given the occasional intensity of the subject matter. . . . Robertson's salt-of-the-earth characters are fully formed and appealing, more than capable of withstanding the weight of complicated storylines that a lesser writer may struggle to do without resorting to screeds of didactic exposition. Spellbound is also about the dynamics that make up a small town. Robertson's writing flows with confidence and the occasional burst of bombast. The language is vivid, fresh and playful. She jumps from jokes to drama within the same paragraph without losing momentum. Spellbound is dense and economical, the swift-moving story racing along, and no plot thread is left unfinished. The novel's dramatic moments are written with aplomb: everything you expect to happen does happen without the novel falling prey to kitsch or cliche. If there's one quibble, it might be with the dialogue - it seems impossible that every person in the town could be quite this eloquent and witty, always ready with the perfect riposte. Spellbound is a gorgeous read, engrossing yet undemanding, cleverly both complex and uncomplicated.

Josie Shapiro, NZ Listener
The novel includes Robertson's characteristic humour and insight, and also the darker subject matter she's unafraid to embrace. Spellbound explores the use, misuse and impact of power, both political and personal. . . . Spellbound manages to be a warm, funny book that also dares to cross social, racial, and political lines, exploring various forms of abuse of power. Patricia Weston, who fancies herself the town's Miss Marple, observes that families in town - as in the rest of New Zealand "could conceal a mass of destructive secrets and lies." In Gabriel's Bay, it's only "the small acts of kindness and love that keep the darkness at bay".

Rosetta Allan, Weekend Herald
all the fabulous characters from Catherine Robertson's earlier novel are back. . . . This is an affectionate look at small town New Zealand and its larger than life characters.

Mahurangi Matters
. . . set in a fictitious New Zealand seaside town full of engaging, convincing characters . . . Relatable, authentic, humorous – all the community life, town politics and scandal that will keep you amused. Some characters you will cheer on and others you will fi nd prickly…all the perfect ingredients for your next book choice as the winter nights close in or for Mum for Mother's Day on the 9thMay! If you're a fan of Sophie Green or Fiona Lowe then you will love this series too.

Sue's Reviews, Wairarapa Times-Age Weekend
It's good to be back in Gabriel's Bay. . . . You don't have to have read the previous novels, Gabriel's Bay and What You Wish For, to become immediately immersed in the story. There is so much going on and Robertson has the ability to introduce you to her characters as old friends. . . . The narrative weaves its way over the hill in and out Gabriel's Bay with humour and sharp dialogue. These are not just characters in a book, but people we know. Robertson is a smart observer of human nature, one eye on the ridiculous and the other on the burning questions facing our society right now. Spellbound is the best combination of bookish things: funny, thoughtful, heart-wrenching, worrying, clever and, most importantly of all, entertaining.

Louise Ward, Hastings Leader
Another satisfying read from this Kiwi author . . . Catherine Robertson's strength as a writer is creating and building characters. Characters of depth that are easy to get inside of.

Tony Nielsen, Bay of Plenty Times