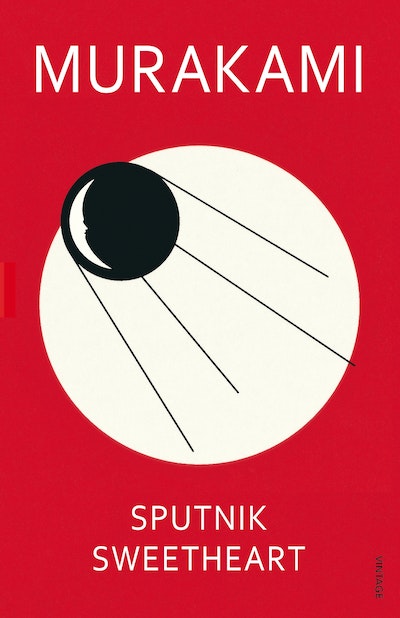 Published:

10 October 2011

ISBN:

9781448104765

Imprint:

Vintage Digital

Format:

EBook

Pages:

240
Sputnik Sweetheart
---
---
---
Lost in space or a loser in love?
Twenty two year old Sumire is in love for the first time with a woman seventeen years her senior. But whereas Miu is a glamorous and successful older woman with a taste for classical music and fine wine, Sumire is an aspiring writer who dresses in an oversized second hand coat and heavy boots like a character in a Jack Kerouac novel. Surprised that she might, after all, be a lesbian, Sumire spends hours on the phone talking to her best friend K. about the big questions in life: what is sexual desire and should she ever tell Miu how she feels about her?
K, a primary school teacher, is used to answering questions, but what he most wants to say to Sumire is "I love you." He consoles himself by having an affair with the mother of one of his pupils. But when a desperate Miu calls him out of the blue from a sunny Greek island and asks for his help, he soon discovers that all is not as it seems and something very strange has happened to Sumire.
Published:

10 October 2011

ISBN:

9781448104765

Imprint:

Vintage Digital

Format:

EBook

Pages:

240
Praise for Sputnik Sweetheart
Sputnik Sweetheart has touched me deeper and pushed me further than anything I've read in a long time

Julie Myerson, Guardian
How does Murakami manage to make poetry while writing of contemporary life and emotions? I am weak-kneed with admiration

Independent on Sunday
A beautiful novel, as light as a feather, and yet enduringly sad... a captivating book from one of the world's most interesting authors

Sunday Herald
Murakami has been compared to everyone from Raymond Carver to Raymond Chandler - which should tell you only one thing: he's unique

Independent
Confirms Murakami as a master of his craft... Out of this world

Time Out
Grabs you from its opening lines. . . . [Murakami's] never written anything more openly emotional.

Los Angeles Magazine
Murakami is a genius.

Chicago Tribune
Murakami has an unmatched gift for turning psychological metaphors into uncanny narratives. -

The New York Times Book Review
An agonizing, sweet story about the power and the pain of love. . . . Immensely deepened by perfect little images that leave much to be filled in by the reader's heart or eye.

The Baltimore Sun
[Murakami belongs] in the topmost rank of writers of international stature.

Newsday
Murakami's true achievement lies in the humor and vision he brings to even the most despairing moments.

The New Yorker
Perhaps better than any contemporary writer, [Murakami] captures and lays bare the raw human emotion of longing.

BookPage
Murakami . . . has a deep interest in the alienation of self, which lifts [Sputnik Sweetheart] into both fantasy and philosophy.

San Francisco Chronicle
Not just a great Japanese writer but a great writer, period.

Los Angeles Times Book Review