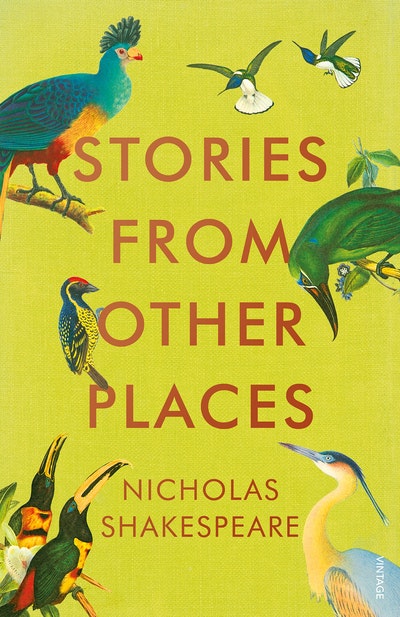 Published:

3 September 2015

ISBN:

9781473521728

Imprint:

Vintage Digital

Format:

EBook

Pages:

288
Stories from Other Places
---
---
---
A wonderful collection of short stories taking the reader around the world: from a dramatic First World War encounter in Australia to the faded glamour of ex-pat 1960s Bombay and an epic quest beginning in 1908 Bolivia.
Nicholas Shakespeare's collected stories take us around the globe and into the intimate lives of his characters and the dilemmas and temptations they face.
The opening novella, 'Oddfellows', tells the little-known history of the only enemy attack on Australian soil during the Great War, when, in January 1915, the outback town of Broken Hill was rocked by horrifying events.
From this dramatic First World War encounter, we are taken to the faded glamour of 1960s Bombay, to a Bolivian mining town in 1908 where civic folly is running amok, and to an Argentinian farm presided over by a former air stewardess and her husband.
Across ocean and continents, these are stories of connection and disconnection, misunderstanding and missed opportunities, identity and displacement.
Published:

3 September 2015

ISBN:

9781473521728

Imprint:

Vintage Digital

Format:

EBook

Pages:

288
Praise for Stories from Other Places
One of the best English novelists of our time

Alan Massie, Wall Street Journal
A world writer

Sunday Herald
Nicholas Shakespeare is one of those writers who can do anything

Sydney Morning Herald
A tremendous and captivating writer

The Independent
One of our best and truest novelists

The Times
A master craftsman

Los Angeles Times
He tells a story like an angel

The Observer
One of our dozen or so best

Literary Review
Shakespeare captures this historical moment beautifully and in elegant prose...It's a fascinating story... skilfully told. It is also timely. Because the story Shakespeare tells resonates so deeply with current tensions it is weightier than its length might suggest.

Praise for the story 'Oddfellows', The Saturday Paper
Riveting...one of Britain's finest writers...I do not expect to read a more formidable piece of short fiction this year.

Praise for the story 'Oddfellows', Sydney Morning Herald
[A] fantastic story...one of the most superb literary gems I have read in recent times. Facts and fiction merge in this riveting and relevant work. In a word - brilliant!

Praise for the story 'Oddfellows', Hobart Mercury
In each story Shakespeare brilliantly transports us to other places, times, cultures and communities, but for all their differentness and exotic heat and dust, in essence they are places we know only too well

Katie Law, Evening Standard
Eight nuggets of pure, bold storytelling

Holly Kyte, Sunday Telegraph
transports the reader to different places around the globe, and frequently back in time as well

UK Press Syndication
Accomplished and craftsmanlike

Phil Baker, Sunday Times
'Oddfellows' [the novella that begins the collection] is a sublimely sparse and economically elegant powder keg of a story. Shakespeare's shape of the story is sheer craftsmanship and the precision of his prose is a shimmering peak of imagination and imagery.

Sydney Arts Guide