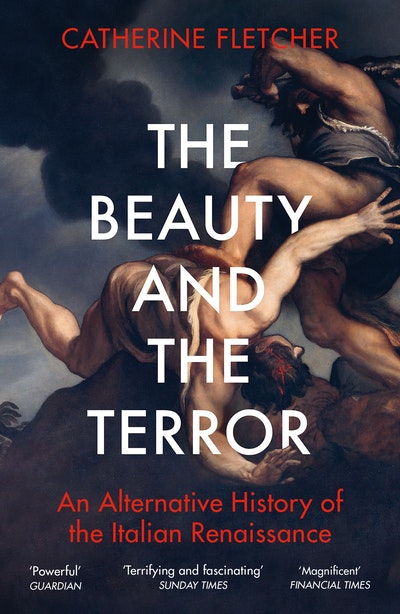 Published:

5 March 2020

ISBN:

9781473553156

Imprint:

Vintage Digital

Format:

EBook

Pages:

432
The Beauty and the Terror
An Alternative History of the Italian Renaissance
---
---
---
A thrilling exploration of the Italian Renaissance, from squalor to glamour, dungeons and courts, through to the birth of modern Western culture.
The Italian Renaissance was not just a period of astonishing artistic and cultural flourishing. It was a period of bloody warfare and power struggle that re-shaped Europe entirely.
In this vivid and expansive narrative history, the world of Michelangelo and Leonardo, Machiavelli and Savonarola, the Medicis and the Borgias comes dramatically to life in a new and unexpected way. In the midst of a war between France and Spain, between the Christian West and the Ottoman East, between the Catholic south and the newly Protestant north, for almost a hundred years the Italian peninsula hosted conflicts of immense and often brutal significance. Through the lives of the major figures who inhabited and thrived in this tumultuous era, we see how the most fundamental aspects of European society – government and power, the role of women and weaponry, ideas of Christianity and sexuality – were transformed, showing the icons of Western art in a new and different light.
From the dungeons of Rome's Castel Sant'Angelo to the glamorous summer palace of the Mantuan court, from the terror of the battlefield to the artist's workshop, the courtesan's chambers and the explorer's cabin, The Crucible of Europe delivers a vivid new perspective on the emergence of the modern West, with lessons for how the West might rethink itself today.
Published:

5 March 2020

ISBN:

9781473553156

Imprint:

Vintage Digital

Format:

EBook

Pages:

432
Praise for The Beauty and the Terror
Terrifying and fascinating ... If you thought the Renaissance was all about beautiful pictures and the 'rediscovery' of Classical writing, you are quite wrong … The Beauty and the Terror dismantles our assumptions about the Renaissance with the precision of a wheellock arquebus … an ambitious, multifocal book, encompassing more than 150 years [that] shine[s] a light on figures often forgotten in conventional histories

Mary Wellesley, Sunday Times
Impressive and lucid … Fletcher's narration excels in such colourful details … a scholarly, but vivid history that shows the impact that the machinations of the great, good and not so good had on the insignificant … a persuasive account of how Italy was brought low even as the culture floated high

Michael Prodger, The Times
Richly well-informed and admirably well-written, containing material of real interest on every page ... has added a wealth of information that will be new to most of us

Noel Malcolm, Sunday Telegraph
A story of alliances, betrayals, sacks, sieges, famines, assassinations and gruesomely ingenious tortures … Fletcher navigates this difficult terrain with great skill. She creates atmosphere and drama without any surrendering of clarity... A powerful book

Charles Nicholl, Guardian
Fletcher's expertise is enviable … she knows better than anyone else just how treacherous a time and place it was. At its best, The Beauty and the Terror is as enlightening as you might hope: a chapter tracing early modern ambivalence about the rise of handguns … is exactly the alternative history you might wish for, as are the sections on slavery, sexual mores and pornography

Tim Smith-Laing, Daily Telegraph
[A] magnificent introduction to the history of the era … Fletcher's book covers not just the wars and Renaissance art but also Italy's political systems, courtly ceremonies, the Protestant Reformation and Catholic renewal, anti-Semitism, European colonialism, slavery, military techno­logies, early efforts at gun control, women's poetry and even pornography … Fletcher shows how digging below the artistic and commercial riches of Renaissance Italy can reveal strong connections between culture, business, religion and violence

Financial Times
Brilliant and gripping, here is the full true Renaissance in a history of compelling originality and freshness, revealing the filth and thuggery, slavery, sex, slaughter and skulduggery behind the exquisite art of Leonardo and Michelangelo

SIMON SEBAG MONTEFIORE, author of Jerusalem and The Romanovs
Leading us into the world of the high Italian Renaissance in all its rich, blood-soaked glory, Catherine Fletcher shows us how the violent energies of war gave birth to some of the greatest art ever seen. Devastating in its detail, The Beauty and the Terror is a powerful, intimate and deeply humane portrait of this age of extreme destruction and exceptional creativity

THOMAS PENN, author of Winter King and Brothers York
A wonderfully dark, gritty, hard-edged tour behind the scenes of the Italian Renaissance. Catherine Fletcher is an expert and eloquent guide through the fire, blood and steel that inspired some of the greatest art in the world

JESSIE CHILDS, author of God's Traitors
Catherine Fletcher's eye for the skewering detail makes the citizens of renaissance Florence live again

Hilary Mantel, on The Black Prince of Florence
Astonishing … gripping and original … a compelling portrait

Financial Times on The Black Prince of Florence
Packed with intrigue … Fletcher describes with cool menace the plotting and politicking … rought splendidly to life in this excellent book

Dan Jones, Sunday Times on The Black Prince of Florence
An approach that enables her to touch on many aspects of this complex time … Above all, it is the women who interest Fletcher, whether painters, poets, politicians or prostitutes … an absorbing read

Mary Hollingsworth, Literary Review
A finely-written, engaging and clear essay… The force of Fletcher's narrative is not so much in offering a radical new evaluation of Italian Renaissance civilisation as in insisting that we see it as a cluster of cultural strategies and techniques within an exceptionally turbulent political milieu

Rowan Williams, New Statesman