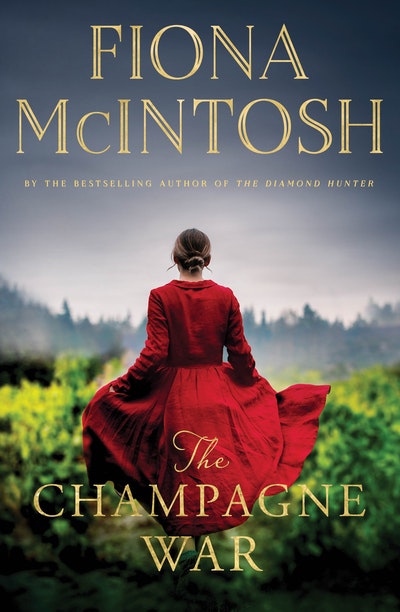 Published:

3 November 2020

ISBN:

9780143795452

Imprint:

Michael Joseph Australia

Format:

Trade Paperback

Pages:

432

RRP:

$37.00
The Champagne War
---
---
---
From the killing fields of Ypres to the sun-kissed vineyards of rural France, The Champagne War is a heart-stopping adventure about the true power of love and hope to light the way during war.
The heart-stopping new blockbuster by the bestselling author of The Diamond Hunter.
In the summer of 1914, vigneron Jerome Méa heads off to war, certain he'll be home by Christmas. His new bride Sophie, a fifth generation and rebellious champenoise, is determined to ensure the forthcoming vintages will be testament to their love and the power of the people of Épernay, especially its strong women. But as the years drag on, authorities advise that Jerome is missing, considered dead.
When poison gas is first used in Belgium by the Germans, British chemist Charles Nash jumps to enlist. After he is injured, he is brought to Reims, where Sophie has helped to set up an underground hospital to care for the wounded. In the dark, ancient champagne cellars, their stirring emotions take them both by surprise.
While Sophie battles to keep her vineyard going through the bombings, a critical sugar shortage forces her to strike a dangerous bargain with an untrustworthy acquaintance – but nothing will test her courage more than the news that filters through to her about the fate of her heroic Jerome.
Published:

3 November 2020

ISBN:

9780143795452

Imprint:

Michael Joseph Australia

Format:

Trade Paperback

Pages:

432

RRP:

$37.00
Praise for The Champagne War
Set in France during the first world war, among the trials and tribulations of those left behind – the women, children and elderly – who kept the country running as best they could. But they kept going – and Sophie's strength of character, her fortitude, shone through. A superb read, which I highly recommend, from an author who never disappoints.

Goodreads
It's always a treat when a new Fiona McIntosh book hits the shelves. Her ability to lift us out of the ordinary and into her extraordinary settings is something that I've come to love when reading her novels. With bestsellers like The Pearl Thief and The Lavender Keeper, it's no secret that Fiona is a master of her craft.

Better Reading
This is a strikingly original story that captures themes of love, loss, hope and resilience. It's a must-read for anyone looking for a sweeping historical fiction novel. With its polished prose and splendid character work, The Champagne War is another spectacular read from Fiona McIntosh. Pour a glass of bubbly and curl up with this today.

Better Reading
It was refreshing to find a book set during World War I when so many authors at the moment are choosing World War II. But that's not where the joy of this book ends; it has so much more... It's a story about hope, about courage in the face of danger and about trusting our instincts, but above all it's a beautiful love story that will absorb you with its wonderfully scripted plot and rich characters.

Mercedes Maguire, Cairns Post
A poignant new novel that blends fact and fiction while exploring the alchemy behind champagne and the heartbreaking realities of war.

Who Weekly
Combining powerful drama and moving romance with dark snapshots of the war, McIntosh crafts an excellent narrative.

Canberra Weekly
This heart-stopping story by master storyteller Fiona McIntosh displays the true power of love and hope, even in the toughest of times.

Family Circle
Article
Article
A Champagne sojourn
Fiona McIntosh shares five surprising facts she learned while researching The Champagne War.
Article