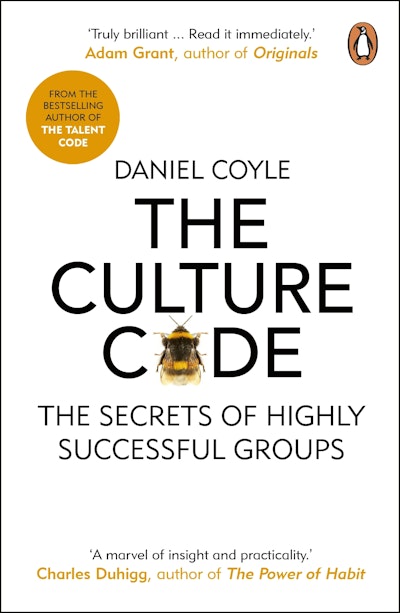 Published:

25 January 2018

ISBN:

9781448185948

Imprint:

Cornerstone Digital

Format:

EBook

Pages:

304
The Culture Code
The Secrets of Highly Successful Groups
---
---
---
A ground-breaking exploration of how successful groups operate - whether in sport, business or society as a whole - and what we can learn from them
THE NEW YORK TIMES BESTSELLER
'A marvel of insight and practicality' Charles Duhigg, author of The Power of Habit
____________________________
How do you build and sustain a great team?
The Culture Code reveals the secrets of some of the best teams in the world - from Pixar to Google to US Navy SEALs - explaining the three skills such groups have mastered in order to generate trust and a willingness to collaborate. Combining cutting-edge science, on-the-ground insight and practical ideas for action, it offers a roadmap for creating an environment where innovation flourishes, problems get solved, and expectations are exceeded.
____________________________
'There are profound ideas on every single page, stories that will change the way you work, the way you lead, and the impact you have on the world. Highly recommended, an urgent read.' Seth Godin, author of Linchpin
'Truly brilliant . . . Read it immediately' Adam Grant, author of Originals
'Well told stories, with actionable lessons' Financial Times

Published:

25 January 2018

ISBN:

9781448185948

Imprint:

Cornerstone Digital

Format:

EBook

Pages:

304
Praise for The Culture Code
A relevant mix of solid academic research along with practical advice and not-quite-usual . . . anecdotes from the trenches.

Max Levichin, co-founder of Paypal, Books of the Year, Bloomberg
I've been waiting years for someone to write this book – I've built it up in my mind into something extraordinary. But it is even better than I imagined. Daniel Coyle has produced a truly brilliant, mesmerising read that demystifies the magic of great groups. It blows all other books on culture right out of the water. Read it immediately.

Adam Grant, author of Originals
The Culture Code is the perfect leadership manifesto for entrepreneurial startups, established enterprises and all manner of businesses in between.

Business Insider
If you want to understand how successful groups work – the signals they transmit, the language they speak, the cues that foster creativity – you won't find a more essential guide than The Culture Code. This is a marvel of insight and practicality.

Charles Duhigg, author of The Power of Habit
It's great . . . Dan went inside incredibly successful organisations like Pixar, the San Antonio Spurs, and SEAL Team Six to uncover how diverse groups learn to function with a single mind.

Inc.
Coyle's book examines how successful groups of people – from the U.S. Navy's SEAL Team Six to the San Antonio Spurs – work together so well . . . Promises to "demystify" the murky topic of organisational culture by examining the key skills that prompt group cooperation.

Leadership Books to Read in 2018, Washington Post
The Culture Code is a step-by-step guidebook to building teams that are not just more effective, but happier. Whether you lead a team or are a team member, this book is a must-read.

Laszlo Bock, former SVP of People at Google and author of Work Rules!
There are profound ideas on every single page, stories that will change the way you work, the way you lead, and the impact you have on the world. Highly recommended, an urgent read.

Seth Godin, author of Linchpin
Shares the simple changes you can make to work better with others . . . Coyle spent four years researching military units, professional basketball teams, comedy troupes and even a gang of jewel thieves to better understand how groups thrive, along with what doesn't work.

Entrepreneur
Pop science meets a business pep talk in a useful primer on building better organisations . . . Useful throughout.

Kirkus Reviews
Well-told stories, with actionable lessons . . . The Culture Code yields some useful findings.

Business Books of the Month, Financial Times
The author of the bestselling 2009 The Talent Code focuses on how ongoing learning, genuine collaboration, thoroughgoing trust, and sustainable change can contribute to better innovation and problem-solving.

Recommended Books For Creative Leaders, Forbes
An essential book that unlocks the secrets of highly successful groups and provides readers with a toolkit for building a cohesive, innovative culture.

Business Insider
A masterfully written book.

Yorkshire Post
The Culture Code examines the dynamics of company culture through stories of success and failure, offering valuable insights on leadership through change.

Anthony Noto, CEO of Sofi, Books of the Year, Bloomberg