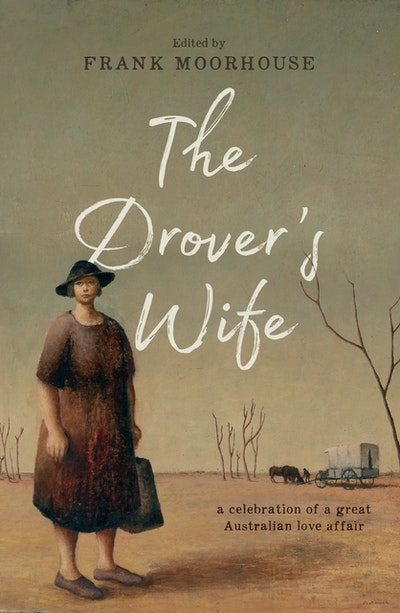 Published:

30 October 2017

ISBN:

9780143784838

Imprint:

Random House Australia

Format:

EBook

Pages:

336
The Drover's Wife
A Collection
---
---
---
A celebration of a great Australian love affair, 'The Drover's Wife' in the Australian imagination: stories, performances and images.
Since Henry Lawson wrote his story 'The Drover's Wife'in 1892, Australian writers, painters, performers and photographers have created a wonderful tradition of drover's wife works, stories and images.
The Russell Drysdale painting from 1945 extended the mythology and it, too, has become an Australian icon.
Other versions of the Lawson story have been written by Murray Bail, Barbara Jefferis, Mandy Sayer, David Ireland, Madeleine Watts and others, up to the present, including Leah Purcell's play and Ryan O'Neill's graphic novel.
In essays and commentary, Frank Moorhouse examines our ongoing fascination with this story and has collected some of the best pieces of writing on the subject. This remarkable, gorgeous book is, he writes, 'a monument to the drovers' wives'.
Published:

30 October 2017

ISBN:

9780143784838

Imprint:

Random House Australia

Format:

EBook

Pages:

336
Praise for The Drover's Wife
The creation of the book was motivated by his "curiosity about the unique survival of The Drover's Wife". Over all hovers the fertile mind, the guiding hand, not to say elegant prose, of Moorhouse. Nobody in the book uses the word enchantment in reference to Lawson's story, but I couldn't help seeing the story as having cast a kind of spell, as Australia being in thrall to The Drover's Wife. This Moorhouse fiction, included in this book, is one of the most dazzling Australian short stories ever written. The great thing about this story is its naive, reasonable and flawless tone. Many of the storie­s here are very funny, one of my favourites being The Drover's Wife Club by the hilarious James Roberts. If you want to read an engrossing book that is "a celebration of a great Australian love affair­", here's your chance.

Carmel Bird, The Australian
This book is a curate's egg, but one that charts a changing Australia. It is in turn annoying and engaging, which is no doubt precisely the intent.

Lucy Sussex, The Sydney Morning Herald