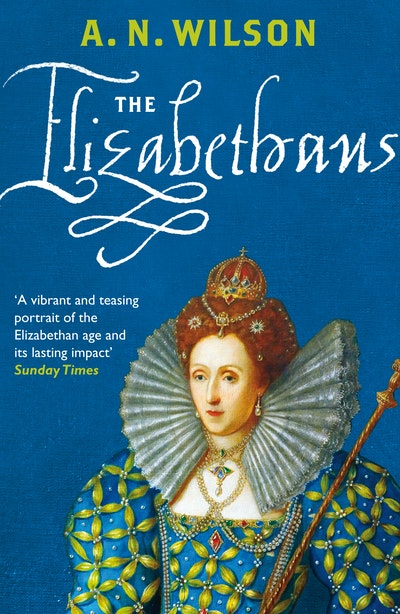 Published:

1 November 2011

ISBN:

9781409038276

Imprint:

Cornerstone Digital

Format:

EBook

Pages:

464
The Elizabethans
---
---
---
The acknowledged master of the all-encompassing single volume of history demonstrates the profound impact the Elizabethan age has had on contemporary Britain.
With all the panoramic sweep of his bestselling study The Victorians, A. N. Wilson relates the exhilarating story of the Elizabethan Age. It was a time of exceptional creativity, wealth creation and political expansion.
It was also a period of English history more remarkable than any other for the technicolour personalities of its leading participants.
Apart from the complex character of the Virgin Queen herself, we follow the story of Francis Drake and political intriguers like William Cecil and Francis Walsingham, so important to a monarch who often made a key strategy out of her indecisiveness. Favourites like Leicester and Essex skated very close to the edge as far as Elizabeth's affections were concerned, and Essex made a big mistake when he led a rebellion against the crown.
There was a Renaissance during this period in the world of words, which included the all-round hero and literary genius, Sir Philip Sidney, playwright-spy Christopher Marlowe and that 'myriad-minded man', William Shakespeare.
Life in Elizabethan England could be very harsh. Plague swept the land. And the poor received little assistance from the State. Thumbscrews and the rack could be the grim prelude to the executioner's block. But crucially, this was the age when modern Britain was born, and established independence from mainland Europe. After Sir Walter Raleigh established the colony of Virginia, English was destined to become the language of the great globe itself, and the the foundations were laid not only of later British imperial power but also of American domination of the world.
With The Elizabethans, Wilson reveals himself again as the master of the definitive, single-volume study.
Published:

1 November 2011

ISBN:

9781409038276

Imprint:

Cornerstone Digital

Format:

EBook

Pages:

464
Praise for The Elizabethans
With The Elizabethans, AN Wilson returns to his winning formula of a single-volume work in which he aims to paint "a portrait of an age." Like The Victorians, it's not exactly narrative history but still includes all the best anecdotes, while the gaps are filled with some broad-brush social background. Wilson retains his eye for amusing detail and at the same time skates impressively over swathes of intellectual history. It's easy to digest and it's stirring stuff.

Evening Standard
The England Wilson describes is one of perennial fascination to readers of both history and fiction. It continues to draw scholars because this is where modern Britain was forged . . . This is a book written in the style of Wilson's enormously successful The Victorians and will give pleasure to people who like a general overview history of a period . . . for those who are content to revisit some well-known scenes, and encounter some surprises, there is much to treasure.

Financial Times
These vignettes and their loving depiction of people and episodes are its strength. Wilson collects his material from impressively diverse sources . . . there is no doubt about the overall power of the pictures he draws. Particularly when he is considering the great literary figures - Sidney, Spencer, Marlowe, Shakespeare - there is genuine excitement and empathy. Nor is there any doubt about the author's insight and capacity to make fruitful and original connections.

Literary Review
The Elizabethans is Wilson's latest foray into narrative history. It follows hot on the heels of The Victorians, which earned him the title "master of the panoramic sweep". To go from one iconic, long-reigning queen to another is in a sense a natural progression and he proves equal to the task. His witty conversational style and eye for period detail bring the brilliance and spectacle of the Elizabethan age vividly to life.

Sunday Express
With The Elizabethans, AN Wilson returns to his winning formula of a single-volume work in which he aims to paint "a portrait of an age." Like The Victorians, it's not exactly narrative history but still includes all the best anecdotes, while the gaps are filled with some broad-brush social background. Wilson retains his eye for amusing detail and at the same time skates impressively over swathes of intellectual history. It's easy to digest and it's stirring stuff.

Evening Standard
The England Wilson describes is one of perennial fascination to readers of both history and fiction. It continues to draw scholars because this is where modern Britain was forged . . . This is a book written in the style of Wilson's enormously successful The Victorians and will give pleasure to people who like a general overview history of a period . . . for those who are content to revisit some well-known scenes, and encounter some surprises, there is much to treasure.

Financial Times
These vignettes and their loving depiction of people and episodes are its strength. Wilson collects his material from impressively diverse sources . . . there is no doubt about the overall power of the pictures he draws. Particularly when he is considering the great literary figures - Sidney, Spencer, Marlowe, Shakespeare - there is genuine excitement and empathy. Nor is there any doubt about the author's insight and capacity to make fruitful and original connections.

Literary Review
The Elizabethans is Wilson's latest foray into narrative history. It follows hot on the heels of The Victorians, which earned him the title "master of the panoramic sweep". To go from one iconic, long-reigning queen to another is in a sense a natural progression and he proves equal to the task. His witty conversational style and eye for period detail bring the brilliance and spectacle of the Elizabethan age vividly to life.

Sunday Express