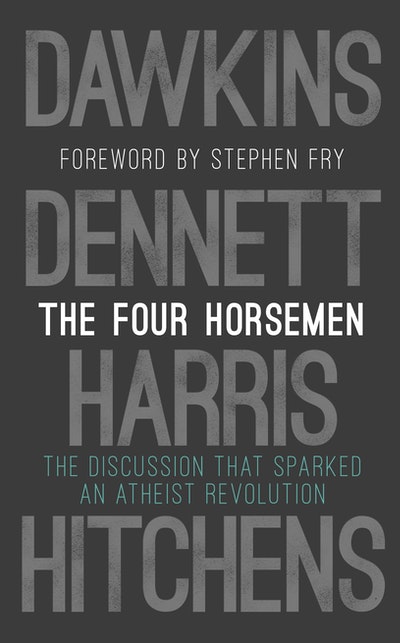 Published:

21 February 2019

ISBN:

9781473559004

Imprint:

Transworld Digital

Format:

EBook

Pages:

160
The Four Horsemen
The Discussion that Sparked an Atheist Revolution Foreword by Stephen Fry
---
---
---
The transcript of the one and only conversation between 'the four horsemen' of New Atheism, with new introductions from Dawkins, Dennett and Harris and a sparkling foreword by Stephen Fry.

Featuring the controversial bestselling author of The God Delusion with a foreword by Stephen Fry
_________________
"Do you believe in God?"
_________________
What readers are saying:
***** 'Awe inspiring . . . I read it in almost one sitting.'
***** 'Thought provoking . . . fascinating.'
***** 'An excellent read. Short, insightful and to the point.'
_________________
Known as the 'four horsemen' of New Atheism, these four thinkers of the twenty-first century met only once. Their electrifying examination of ideas on this remarkable occasion was intense and wide-ranging. Questions they asked of each other included:
Is it ever possible to win a war of ideas?
Is spirituality the preserve of the religious?
Is it acceptable to criticize someone's belief?
Can you argue someone out of their faith?
Can you reform a religion to make it acceptable?
The dialogue was recorded, and is now transcribed and presented here with new introductions from the surviving three horsemen.
Essential reading for anyone interested in exploring the tensions between faith and reason.
Published:

21 February 2019

ISBN:

9781473559004

Imprint:

Transworld Digital

Format:

EBook

Pages:

160
Praise for The Four Horsemen
This transcript is of historical significance and belongs in the library of all thinking people. A classic for our time...and all time.

Michael Shermer, Publisher Skeptic magazine, monthly columnist Scientific American, Presidential Fellow Chapman University, author of Heavens on Earth, The Moral Arc, The Believing Brain, and Why People Believe Weird Things
I was gripped. Throughout this erudite conversation the humility and openness of science shines against religion's arrogance, hypocrisy and sheer gall in just 'making stuff up'. How refreshing it is.

Professor Susan Blackmore
One to watch: electrifying

Caroline Sanderson, The Bookseller
If you had to pick a place for our pop culture to change, Sun Records on December 4, 1956 at a jam session with Jerry Lee Lewis, Johnny Cash, Carl Perkins and Elvis Presley is a pretty good symbolic spot. This conversation on September 30th, 2007 with Daniel, Sam, Richard, and Elvis . . . I mean Hitch at Hitch's pad is as good a place as any to mark the start of the Atheist revolution.

Penn Jillette, author of God, No!
We are slowly losing the hard-won right, gained by brave heroes of the enlightenment such as Voltaire and Hume, to be free to criticise religion without persecution and prosecution; the crime of blasphemy is creeping back. The words of Hitchens, Dawkins, Harris and Dennett are needed more than ever. These are the heirs to Voltaire.

Matt Ridley, author of The Evolution of Everything
What a gift to be able to eavesdrop on this conversation! These four are the kinds of thinkers we don't get enough of anymore; unapologetic, uncompromising, and deeply generous with one another as well as anyone who happens to be listening in. You needn't be an atheist or a horseman to relish every word of this delightful book. You just need to be hungry for genuine intellectual inquiry and open debate. And, let's face it, you're probably starving.

Meghan Daum, author of The Unspeakable: And Other Subjects Of Discussion
I have a short list of intellectual heroes, and Sam Harris, Christopher Hitchens, Richard Dawkins, and Daniel Dennett each have a place on it-not because I always agree with their views, but because I'm in awe of the way they form, express, and defend their views. If thinking were a sport, these four would be national superstars-and reading The Four Horsemen feels like having a front row seat at the all-star game. This is more than a book about atheism and religion-it's a lesson in how to use our intellect to cut through the haze of delusion and misconception inherent in any human society.

Tim Urban, author of the blog 'Wait But Why'
Reading this book is like to getting to spend a profound afternoon with some of our greatest intellectuals. Blasphemous, erudite, devastatingly truthful, slyly hilarious. I gasped, I laughed, I nodded, and sometimes had to stop and just think for a moment about what they'd dared to say.

Julia Sweeney, author of Letting Go of God
For people inclined to disbelieve supernatural explanations -- in America, we few, we happy few, we band of brothers and sisters -- The Four Horsemen is a smart, fun, funny, seriously provocative primer.

Kurt Anderson
Thrilling...Challenging...This bracing exchange of ideas crackles with energy...an invigorating example of what happens when astute, inquisitive minds engage together on deep questions.

Andy Norman, Pittsburgh Post-Gazette
I was gripped. Throughout this erudite conversation the humility and openness of science shines against religion's arrogance, hypocrisy and sheer gall in just 'making stuff up'. How refreshing it is.

Professor Susan Blackmore