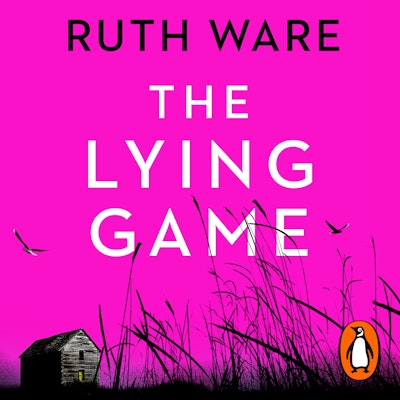 Published:

15 June 2017

ISBN:

9781473548732

Imprint:

Vintage Digital

Format:

Audio Download

Length:

13 hr 39 min

Narrator:

Imogen Church
The Lying Game
---
---
---
The third novel from international bestseller, Ruth Ware: an unexpected discovery forces 4 school friends to confront a dark secret from their childhood. Can we trust them? And can they trust one another?
Random House presents the unabridged, downloadable audiobook edition of The Lying Game by Ruth Ware, read by Imogen Church.
How much can you trust your friends....
The text message is just 3 words: I need you.
Isa Leigh drops everything, packs up her baby daughter and heads straight to Salten where she and her 3 best friends attended prestigious boarding school, Salten House. Only Kate still lives in the area, at the crumbling Tide Mill she inherited when her disgraced art tutor father vanished when she was just 17.
Each of the women is running from something, from an act that has haunted them for many years but which they have tried their best to bury: in work, in alcohol, in family, faith and routine.
At school together, the girls used to play a game – the lying game – in which they competed to tell the most outrageous stories to fool tourists. But for some, did the boundaries between fact and fantasy become too blurred?
....and how much can you trust one another?
Published:

15 June 2017

ISBN:

9781473548732

Imprint:

Vintage Digital

Format:

Audio Download

Length:

13 hr 39 min

Narrator:

Imogen Church
Praise for The Lying Game
Ruth Ware is one of the best suspense writers out there and The Lying Game is her strongest book yet. A gripping, unpredictable narrative that shifts like sand underfoot, and a plot that turns like the tide.

Erin Kelly, bestselling author of HE SAID, SHE SAID
A brilliantly original and atmospheric book

Closer
You have to know what happens next even if it means missing out on sleep

Sarra Manning, Red Online
Thank goodness for Ruth Ware, a contemporary crime writer who's successfully extracted the integral elements of the genre's classics… and repackaged them for the modern reader… Ware weaves a nicely knotty, and more importantly, plausible mystery that as well as delivering the expected twists, turns and tension readers will be looking for, also showcases the thorny tensions and loyalties at work in the friendships between her main characters… a book that's gripping enough to be devoured in a single sitting

Lucy Scholes, Independent
Ruth Ware has done it again! In this exceptional thriller, we are in marshland, where nothing is certain and the deadly secrets we kept with our best childhood friends may be about to resurface. Intriguing to the very last page, this is a superb exploration of friendship, family and a page-turning top-notch mystery that is guaranteed to keep you reading into the wee small hours. I loved it!

Liz Nugent, bestselling author of LYING IN WAIT
Both better written and more subtle than her previous two bestsellers… To read this novel is to have your nerves slowly but inexorably shredded as, over and again, the tension builds and then evaporates until the final, unexpected denouement

Metro
Missing Big Little Lies? Dig into this psychological thriller about whether you can really trust your nearest and dearest

Cosmopolitan
You will zip through this well-written tale of friendship, guilt and betrayal

Charlotte Heathcote, Daily Express
The revelation of just how different the girls have become is as psychologically riveting as the surprising twists of the plot. The quiet unease that pervades the story never lets up

Christina Appleyard, Daily Mail
Wholly original. Four friends conceive...a game of lies with dire repercussions

Marie Claire
Ruth Ware is not just a great suspense writer but one with an unremittingly keen eye for the intricacies of female friendships and the ghastly things otherwise sane women can do to each other

Alexandra Heminsley, The Pool
There can be no complaints about the fizzy present-day narrative, with the interplay between the women particularly well-handled.

John Dugdale, The Sunday Times
Well drawn, complex characters and the delicate, merciless filleting of tensions and loyalties will keep you turning the pages

Guardian
Atmospheric, mysterious, gripping.

Marian Keyes on THE LYING GAME
Another heart-stopping belter of a thriller from an epic talent

Isabelle Broom, Heat on THE LYING GAME
Cancel your plans for the weekend when you sit down with this book, because you won't want to move until it's over.

Kirkus, Starred Review
A light but suspenseful read

UK Press Syndication
A brilliant read

Nina Pottell, Prima
Ruth Ware has established herself as queen of the twisty, psychological thriller… Her third book delves into the caustic side of female friendship and opens with an unexpected invitation to revisit the secrets of the past… If you're after a book that's impossible to put down, look no further

Alexandra Newson, Upcoming
Pacy and claustrophobic... Ware perfectly captures the overwhelming, heart-wrenching intensity of female teenage friendships, which lie at the very core of the of the novel, as well as the universal experience of love, betrayal and grief

UK Press Syndication
Can you imagine something you did as a teenager coming back to haunt you 17 years later? That's the journey The Lying Game takes you on. Four friends from high school bound together by a dark secret get pulled back together with one cryptic text. Will someone find out the truth? Will one of the women break the pact? So many questions... Until the very last page! Needless to say, I could not put this book down.

Reese Witherspoon