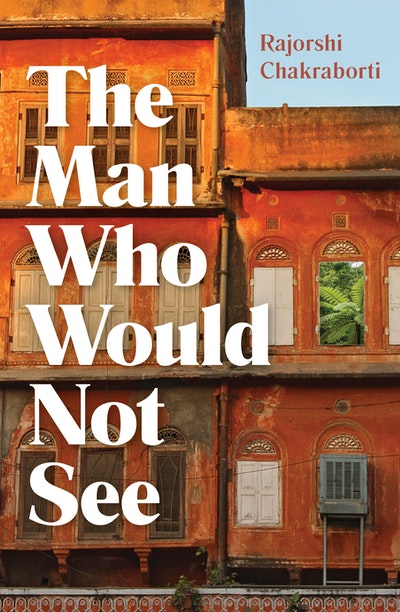 Published:

26 February 2018

ISBN:

9780143771784

Imprint:

Penguin

Format:

Trade Paperback

Pages:

336

RRP:

$38.00
The Man Who Would Not See
---
---
---
An intriguing novel set in India and New Zealand; the past and the present . . .
When family suddenly becomes your greatest challenge, mystery, rediscovery.
As children in Calcutta, Ashim and Abhay made a small mistake that split their family forever. Thirty years later, Ashim has re-entered his brother's life, with blame and retribution on his mind. It seems nothing short of smashing Abhay's happy home will make good the damage from the past.
At least, this is what Abhay and his wife Lena are certain is happening. A brother has travelled all the way from small-town India to New Zealand bearing ancient — and false — grudges, and with the implacable objective of blowing up every part of his younger brother's life. Reconciliation was just a Trojan horse.
But is Ashim really the villain he appears to be, or is there a method to his havoc?
Published:

26 February 2018

ISBN:

9780143771784

Imprint:

Penguin

Format:

Trade Paperback

Pages:

336

RRP:

$38.00
Praise for The Man Who Would Not See
In his fifth novel, Indian-born, New Zealand-based author Rajorshi Chakraborti skilfully amps up the tension, showing how easily fear can shove reason out the window, even in smart, seemingly self-aware people. . . . It's an absorbing, gripping read that is ultimately about the importance of family and the emotional labour required to create deep, honest connections.

Catherine Robertson, NZ Listener
"Exile," philosopher Edward Said wrote, "is strangely compelling 'to think about but terrible to experience. It is the unhealable rift forced between a human being and a native place, between the self and its true home." Migrant New Zealand author Rajorshi Chakraborti's new novel, The Man Who Would Not See, beautifully examines this "unhealable rift" between the "self" separated from its home. . . . If this is a novel about dislocation from event and homeland, it's also a book which wonderfully synergises the disparate perspectives of its diverse cast. . . . Thematically, the narrative and its conflicting voices produce another rich element to The Man Who Would Not See. For these aspects expand concepts of migration beyond the physical and environmental to the philosophical, familial and spiritual. . . . The Man Who Would Not See is a compelling book about the dislocation of belonging, geography, culture and, ultimately, memory.

Dominion Post Weekend, Siobhan Harvey
I thoroughly enjoyed Chakraborti's first-person narration . . . Chakraborti skilfully hinges his narrative on the central question: what does it mean to truly "see"? A startling question that, after reading The Man Who WouldNot See, might find an answer.

Azariah Alfante, Booksellers NZ
Chakraborti is a Wellington based Indian writer of five novels and a book of short stories. I like the way Indian culture has become more mainstream in movies and music, so this novel was right up my alley, as he brings Indian culture to New Zealand. A good story, with many unpredictable twists and turns and insights into various viewpoints of the same series of events, as, interestingly, each chapter is written from a different character's point of view. This adds to the multiple layers of the plot. I'd like to know his trick of so smoothly switching his writing from a man's perspective to a woman's point of view, chapter by chapter. I give this novel a 4 out of 5.

Jamie Trower, M2 Magazine
The resident expert liked this one: "Well-written, well-constructed, well-disguised. Always coherent. Emotions credible and carefully rendered." I finished the final page and felt pleasantly complete. Then I realised I'd finished, and felt a bit bereft. That's success for any author.

David Hill, NZ Books
Chakraborti, an Indian national now living in Wellington, beautifully describes the charms of Wellington and the New Zealand way of life while subtly drawing attention to the modern malaise of the middle class. The novel clips along at pace, but with the robust characterisation and philosophical dialogue in which talented observers of human dynamics excel.

Chris Barrow, Wanganui Midweek
While The Man Who Would Not See explores notions of home, masculinity and cultural differences, at heart it's an investigation into guilt and family conflict. A close and unrelenting examination of such uncongenial subject matter requires something special to work as fiction, and the novel delivers that in the form of Abhay. Chakraborti's detailed and realistic evocation of Abhay's blindness is extraordinary given that he is not only the main narrator but a writer, empathetic, intelligent, and prone to earnest self-analysis on the page at the drop of a hat. While the pressing moral issues of our age aren't an issue for the characters – whose houses are metaphorically on fire – this wise and moral novel offers plenty of valuable insights on personal conflict and resolution and, by extension perhaps, something towards peaceful resolution of political and institutional conflict. Chakraborti suggests that intelligence and hard work alone aren't the key. The courage to reconsider foundational beliefs, along with a kind of familial love towards the other, are what's required.

James McNaughton, Landfall
Chakraborti expertly explores the emotions any expat with family back home will understand: guilt at leaving a family behind, the dangers of the "out of sight, out of mind" mentality and how to balance those feelings with a new life in a new home. . . . An honest reflection on the complicated trifecta of relationships, distance and time.

Fiona Thomas, New Zealand Doctor
Ockham New Zealand Book Awards
Longlisted • 2019 • Acorn Prize
Article