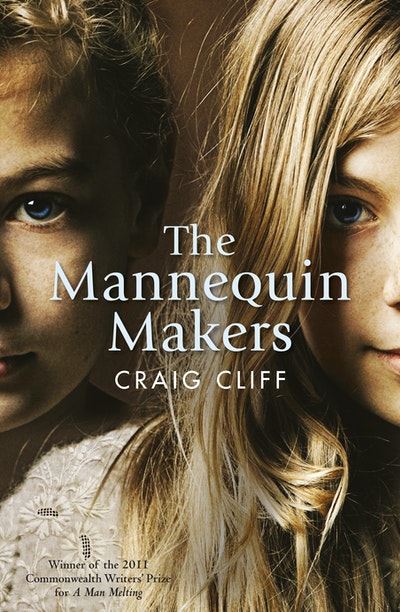 Published:

2 August 2013

ISBN:

9781775533849

Imprint:

RHNZ Vintage

Format:

Trade Paperback

Pages:

336

RRP:

$37.99
The Mannequin Makers
---
---
---
'New Zealander Cliff makes a stunning American debut with a story about obsession gone horribly wrong. . . . This is a spellbinding and original tale, rife with perilous journeys, fascinating historical detail, and memorable characters.' - Publishers Weekly
From the winner of the Commonwealth Writers' Prize Best First Book, this strikingly original novel is at turns a gothic tale of a father's obsession, a castaway story worthy of a Boy's Own adventure and a thorny remembrance of past tragedies.
"The skin was smooth and bright as porcelain, but looked as if it would give to the touch. What manner of wood had he used? What tools to exact such detail? What paints, tints or stains to flush her with life?"
So wonders the window dresser Colton Kemp when he sees the first mannequin of his new rival, a man the inhabitants of Marumaru simply call The Carpenter. Rocked by the sudden death of his wife and inspired by a travelling vaudeville company, Kemp decides to raise his children to be living mannequins. What follows is a tale of art and deception, strength and folly, love and transgression, which ranges from small-town New Zealand to the graving docks of the River Clyde, from an inhospitable rock in the Southern Ocean to Sydney's northern beaches. Along the way we meet a Prussian strongman, a family of ship's carvers with a mysterious affliction, a septuagenarian surf lifesaver and a talking figurehead named Vengeance.
Published:

2 August 2013

ISBN:

9781775533849

Imprint:

RHNZ Vintage

Format:

Trade Paperback

Pages:

336

RRP:

$37.99
Praise for The Mannequin Makers
In his debut novel, the New Zealand writer Craig Cliff adds to the canon, but with such ambition, creativity and sheer energy that he shows there's still something new to say about a national narrative that can seem, at times, to hold no surprises.

Charlotte Graham, The New York Times
New Zealander Cliff makes a stunning American debut with a story about obsession gone horribly wrong. . . . This is a spellbinding and original tale, rife with perilous journeys, fascinating historical detail, and memorable characters.

Publishers Weekly
This is an engaging and deadly smart novel, one that wears a great deal of historical research lightly and that nicely plays out one engrossing theme: the human compulsion to produce ideal images of humanity, and the way those images and illusions are written back onto living bodies and lives. As a debut novel . . . The Mannequin Makers lives up to its cover blurb billing Cliff as a talent to watch - it's tremendous, darkly entertaining and original from start to finish.

Sam Finnemore, NZ Listener
It is a story that is at once fantastical and deeply human. Reminiscent of the likes of Peter Carey's Oscar and Lucinda or Tim Winton's Cloud Street, there is something delightfully off-kilter, imaginative and original in Craig Cliff's storytelling that is a reminder that storytelling can be anything it chooses to be . . . This is a superb novel of parental obsession, the lure of the unattainable and the tragedy inherent within human nature.

Meredith Jaffé, thehoopla.com.au
Cliff has crafted a brilliantly structured and evocative story that bravely explores the most complex issue of the relationship between life and art. A hymn to the vitality of life, it's also a reminder of the extraordinary power of art.

Paul Little, North & South
I was hooked in the first chapter and found it extremely difficult to put down.

Naida Mulligan, Southland Times
Cliff vividly evokes small-town New Zealand's journey through the 20'" century, grounding a surreal story in realism with vivid descriptions of urban and rural landscapes. . . . Thematically, The Mannequin Makers is bold and dark. Bodybuilders and carvers are prominent among the large cast of characters, all thematically united by their doomed struggle for absolute control over the human body. The Mannequin Makers of the title are ultimately the human race, fighting to create an ideal image out of a messy reality, with devastating and inevitable consequences for such hubris. The novel packs a great deal of plot into just over 300 pages; the story is, by turns, an adventure on the high seas, a family drama, a magic realist tale and a literary exploration of what it means to be human.

Eleanor Toland, NZ Books
Cliff's short-fiction background looms large: each of the tale's four sections takes place in a different era, features a different point-of-view character, and unfolds in a unique manner. Despite this unconventional structure, the book's plot is tight, the senses of time and place are strong, and Cliff's core themes resonate throughout. A grim and glorious meditation on the cruelty of fate.

Kirkus
refreshingly odd

Paul Robinson, Qantas The Australian Way,