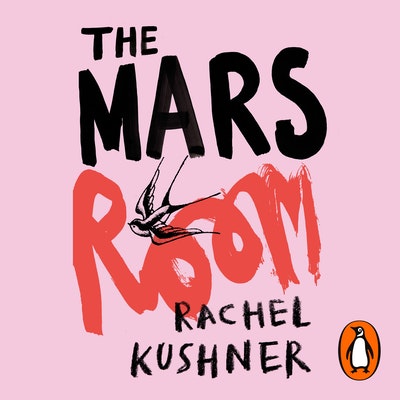 Published:

26 July 2018

ISBN:

9781473565616

Imprint:

Vintage Digital

Format:

Audio Download

Length:

9 hr 42 min

Narrator:

Rachel Kushner
The Mars Room
---
---
---
From the author of internationally acclaimed The Flamethrowers – a fearless and heartbreaking novel about love, friendship and incarceration.
Random House presents the audiobook edition of The Mars Room, written and read by Rachel Kushner.
**SHORTLISTED FOR THE MAN BOOKER PRIZE 2018**
**A NEW YORK TIMES BESTSELLER**
'An unforgettable novel.' DAILY TELEGRAPH
'More knowing about prison life [than Orange Is The New Black]... so powerful.' NEW YORK TIMES
'One of America's finest writers.' VOGUE
Romy Hall is at the start of two consecutive life sentences, plus six years, at Stanville Women's Correctional Facility. Outside is the world from which she has been permanently severed: the San Francisco of her youth, changed almost beyond recognition. The Mars Room strip club where she once gave lap dances for a living. And her seven-year-old son, Jackson, now in the care of Romy's estranged mother.
Inside is a new reality to adapt to: thousands of women hustling for the bare essentials needed to survive. The deadpan absurdities of institutional living, which Kushner details with humour and precision. Daily acts of violence by guards and prisoners alike. Allegiances formed over liquor brewed in socks, and stories shared through sewage pipes.
Romy sees the future stretch out ahead of her in a long, unwavering line – until news from outside brings a ferocious urgency to her existence, challenging her to escape her own destiny and culminating in a climax of almost unbearable intensity. Through Romy – and through a cast of astonishing characters populating TheMars Room – Rachel Kushner presents not just a bold and unsentimental panorama of life on the margins of contemporary America, but an excoriating attack on the prison-industrial complex.
Published:

26 July 2018

ISBN:

9781473565616

Imprint:

Vintage Digital

Format:

Audio Download

Length:

9 hr 42 min

Narrator:

Rachel Kushner
It is an unforgettable novel, and leaves the reader in no doubt that Kushner is one of America's greatest living authors.

Daily Telegraph
One of the greatest novels I have read in years. Her prior novel, The Flamethrowers, was expansive and thrilling, but this is richer and deeper, more ambitious in its moral vision… an exhilarating, always surprising read.

Irish Times
When I finished reading The Mars Room, I immediately reread it because I didn't want to leave its world… The Mars Room teems with quick and distinctive voices.

Max Liu, Financial Times
Cements [Kushner's] status as one of America's finest writers.

Vogue, **Must-Read Books of 2018**
I've been bowled over by Rachel Kushner's The Mars Room [about life in a women's prison]. It's astounding – very difficult to read but so beautifully done, and with such knowledge, although it doesn't feel like a "researched" book.

Anne Tyler, Observer
If you haven't heard of Rachel Kushner yet, you soon will. The American novelist has earned comparisons to Jennifer Egan and Jonathan Franzen… [The Mars Room] makes for a compelling read. Imagine a darker version of "Orange Is The New Black".

Sunday Times Style
[A] grainy and persuasive novel... This is a brooding book, one that dwells on Dostoyevskian notions of innocence and evil. It moves like a muscle car, oozing down the side roads of your mind.

Dwight Garner, New York Times **Critics' Top Books of 2018**
Kushner, a two-time National Book Award finalist, slowly and deliciously unfolds the tapestry of Romy's backstory – infusing mystery and humor in unlikely places – while interrogating the harsh realities of the U.S. prison system.

Lucy Feldman, Time Magazine **The Best of Culture 2018**
Rachel Kushner's The Mars Room shows what happens when a smart writer gets truly serious. It is a necessary and compelling book, and this year's must read.

Anne Enright
It's her best book yet, another big step forward.

Jonathan Franzen
Gritty, empathetic, finely rendered, no sugary toppings, and a lot of punches, none of them pulled.

Margaret Atwood, on Twitter
This unflinching and immersive portrait of prison life is a worthy follow-up to The Flamethrowers… Kushner's prose fizzes as dangerously as the electric fence around Stanville, her observations spiky as barbed wire, her humour desert-sky dark… [The Mars Room] marks you like a tattoo.

Guardian
A jail novel every bit as brutal as those of Edward Bunker or Stephen King… The prose is beautifully composed and the narrative never goes where you expect it. Kushner thinks herself startlingly well into the minds of warped men. The ending is stunning.

Evening Standard
A portrait of contemporary America from one of the literary world's most exciting emerging writers.

Evening Standard
Manages to be a novel with its own worldview and its own textures, as much as a chronicle of a system that holds more prisoners per head of population than any other country in the world.

Colm Tóibín
Ambitious, astute, serious and profound, The Mars Room catapults Kushner into the American major league, along with Jonathan Franzen, Annie Proulx and Joyce Carol Oates.

iNews
Both more blackly comic and more knowing about prison life [than "Orange Is The New Black"]… It's one of those books that enrage you even as they break your heart… so powerful.

New York Times
Kushner is a young master. I honestly don't know how she is able to know so much and convey all of this in such a completely entertaining and mesmerizing way.

George Saunders
Kushner is going to be one we turn to for our serious pleasures and for the insight and wisdom we'll be needing in hard times to come. She is a novelist of the very first order.

Robert Stone
Rachel Kushner's third, extraordinarily accomplished novel, The Mars Room, glows with… authentic hyper-detail… She succeeds beautifully.

Spectator
You sense early in this novel that you're entering Mary Gaitskill, Denis Johnson and Charles Bukowski territory… Kushner offers a great, subversive portrait of… life inside the women's prison… grainy and persuasive.

Dwight Garner, New York Times
Urgent, terrifying and fascinating... Told with unswerving precision... Kushner is one of our most outstanding modern writers.

Stylist
[Kushner] uses the novel as a place to be flamboyant and funny, and to tell propulsive stories, but mainly as a capacious arena for thinking... Like [Don DeLillo], she is good at conjuring mayhem.

Dana Goodyear, New Yorker
The Mars Room, Rachel Kushner's masterly new novel, infiltrates a California prison and the American criminal-justice system with breathtaking intimacy and propulsion.

Vogue
The Mars Room is so sensually convincing it leaves its imprint of steel mesh on your forehead, while its compassion embraces baby-killer and brutal cop alike in the merciless confines of the American justice system. An extraordinary literary achievement.

Adam Thorpe
The Mars Room is uniquely informed ... empathetic. An addictive novel, laced throughout with bracing intelligence.

Joshua Ferris
I had to brace myself as I did for Hanya Yanagihara's A Little Life ... An unforgettable portrait of a life lived on the margins in contemporary America.

Alice O'Keeffe, Bookseller *Editor's Choice*
The Mars Room offers a rare combination of admirably sure-footed sentences and a character and plot that made me stay up far too late. Romy's situation is unbearable, and almost unbearably realised, but the writing is so very good and the ideas so expertly handled that it's a great pleasure to read in all its devastation.

Sarah Moss
Written with the absorbing specificity and scope that have established Kushner as one of the most celebrated contemporary novelists in the country... A novel of great urgency and devastation.

Los Angeles Times
The Mars Room is mysterious and irreducible. The writing is beautiful -- from hard precision to lyrical imagery, with a flawless feel for when to soar and when to pull back.

Dana Spiotta
In smart, determined, and vigilant Romy, Kushner, an acclaimed writer of exhilarating skills, has created a seductive narrator of tigerish intensity… This is a gorgeously eviscerating novel of incarceration writ large… Rooted in deeply inquisitive thinking and executed with artistry and edgy wit, Kushner's dramatic and disquieting novel investigates with verve and compassion societal strictures and how very difficult it is to understand each other and to be truly free.

Booklist *Starred Review*
Heartbreaking and unforgettable… [The Mars Room] deserves to be read with the same level of pathos, love, and humanity with which it clearly was written.

Publishers Weekly *Starred Review*
Any book by literary darling Rachel Kushner will be highly anticipated, and The Mars Room is no exception... a bleak, affecting read.

Refinery29
A searing look at life on the margins… This is, fundamentally, a novel about poverty and how our structures of power do not work for the poor, and Kushner does not flinch… gripping.

Kirkus Reviews
Stunning… The Mars Room follows a woman, separated from her young son, who is serving two consecutive life sentences in a women's correctional facility in California. A gorgeously written depiction of survival and the absurd and violent facets of life in prison.

Buzzfeed
Utterly convincing… the fictions [Kushner] creates have the certainty of fact.

New York Review of Books
Kushner is a masterful world-creator, and her accomplishment here is unparalleled.

Nylon
Kushner's great gift is for the evocation of a scene, a time and place, and the atmosphere.

Harpers Bazaar
The Mars Room is the darkly comic, tragically poignant tale of a stripper turned convict and the life that awaits her behind bars.

Marie Claire
Kushner creates immersive histories of frayed lives from the criminal demi-monde.

Jeffrey Burke, Mail on Sunday
While Rachel Kushner's latest book doesn't pull any punches, her prose is so witty and surreal that I couldn't help tearing through... I loved it.

Pool
Spiked with gallows humour from Romy's cell mates, [The Mars Room] is a seamy snapshot of life behind bars, served with a full-throated gusto.

Metro
Placing culturally marginalised voices centre stage to explode open a world many of us know little about... [The Mars Room] left me in tears.

Claire Allfree, Daily Mail
Crushing... A powerful, tragic novel.

Alastair Mabbott, Herald Scotland
[A] visceral portrait of prison life

James Cann, UK Press Syndication
The charm and wit of the incarcerated people in The Mars Room shines in Kushner's prose

Irish Independent
A mysterious portrait of contemporary America and life on its margins... for fans of "Orange Is The New Black".

Marta Bausells, Elle
A very compelling read… hilarious and depressing and rage-inducing in equal measures.

Valerie O'Riordan, Bookmunch
Absorbing.

The Week - Novel Of The Week
Lyrical, bleakly comic and, ultimately, intensely affecting

Stephanie Cross, The Lady
It is a necessary and compelling book, and this year's must read

Anne Enright, Guardian
Rachel Kushner's exhaustive research into what goes on within these walls

Strong Words
Kushner's high-definition, high-impact prose is as electrifying as it is daring

Anthony Cummins, Daily Mail
The momentum of the novel resides in its prose, the spring and sass of a voice so vivid it can largely dispense with the mechanics of plot

Nat Segnit, Times Literary Supplement
A salty and hilarious novel from one of America's best living novelists.

Daily Telegraph
Rachel Kushner's The Mars Room should be a favourite [to win the Man Booker Prize]. If you like your escapism as gritty as it gets, prepare to be hooked by this unflinching account of a female prisoner serving a double life sentence... The Mars Room is rarely easy reading, but the furore of voices and violence and injustice throws you right into the story and keeps you immersed there.

Culture Whisper
Kushner's novel is a timely reminder that a country's authoritarian tendencies can be most easily measured by the number of people it deems unworthy of freedom

Emily Witt, London Review of Books
Rachel Kushner knows how to sniff out a good character.

Sunday Times
Rachel Kushner's The Mars Room immerses you in the life of a high-security women's prison in California, its central character Romy – accused of killing her stalker – both gritty and fragile. This was not a subject I thought would grip me, but in Kushner's firm hands I was entranced. Much of the book is autobiographical – while never in prison herself, Kushner was the daughter of Beatniks and allowed to roam the dodgier areas of San Francisco as a teenager. The characters range from bullet-headed killers to a well-meaning male teacher whose ambiguities are brilliantly done. Romy's trans friend Conan, "shoulders as broad as the aisle, and a jawline beard", is delightfully free of the politically correct, while the style veers excitingly from straight narrative to scribbled lists like whimpers of despair.

Adam Thorpe, Times Literary Supplement **Books of the Year 2018**
Rachel Kushner's The Mars Room was a hot favourite on this year's Booker shortlist, and it's easy to see why… Kushner's atmospheric writing is compelling to the last.

Irish Independent, *The best reads of 2018: Our critics name their top picks*
Kushner's writing is the most marvellous I read this year… time and again I found myself rereading paragraphs of The Mars Room for her perfectly turned sentences, the music of her prose

Neil D. A. Stewart, Civilian, **Books of the Year**
[A] brilliantly compelling read

Sunday Times