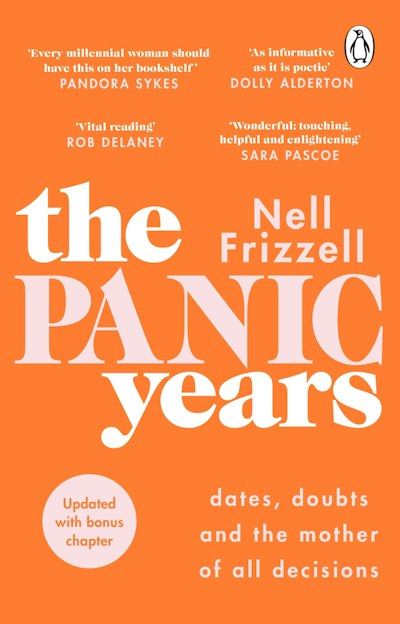 Published:

11 February 2021

ISBN:

9781473573994

Imprint:

Transworld Digital

Format:

EBook

Pages:

336
The Panic Years
---
---
---
Nell Frizzell - renowned journalist - shares her experience and the experiences of the women around her to help others navigate the tricky time when a woman starts to ask herself: Should I have a baby?
What happens when a woman begins to ask herself: Should I have a baby?
Women go through adolescence, menopause, some have a mid-life crisis, some might even have a quarter-life crisis, but there is another time of profound change and it doesn't have a name. Nell Frizzell is calling it The Flux. For most women it happens between the ages of twenty seven and forty but it isn't actually about age at all.
The Flux is characterised by a preoccupation with one major question: Should I have a baby? And of course with the questions that inevitably follow: Do I want a baby? How do I know? Will I ever be ready?
The Flux occurs when a woman realises that the options she's taken for granted throughout her teens and twenties are not available to her for ever. Every decision she makes in this time will have an impact; partner, holidays, job, postcode, savings, friendships - never mind your sense of self - nothing is off limits.
Raw, hilarious and beguilingly honest, Nell Frizzell's account of The Panic Years is an arm around the shoulder and a call to arms. We are none of us alone in this, but we must share our experiences and those of the women around us - as Nell does - to lessen the struggle with one of life's biggest questions.
Published:

11 February 2021

ISBN:

9781473573994

Imprint:

Transworld Digital

Format:

EBook

Pages:

336
Praise for The Panic Years
Nell Frizzell's thoughts on womanhood and motherhood are as informative as they are poetic. Writing that challenges and enlightens you just as much as it entertains and stimulates you is rare, this book confidently does both on an important and complicated topic for modern women

</i>Dolly Alderton
Searingly honest, witty and moving. For anyone who knows what it's like to simultaneously want to weep with joy and throw your child out of the window, Frizzell is a very welcome voice in the conversation on motherhood.

Vogue
There is so much about womanhood that feels indefinable. And yet with her definitions of the flux, and the panic years, Nell manages to define the indefinable - as well as uniting childfree women and mothers, where the two are so often pitted against one another. Lyrical, moving and thorough, this is a memoir, a feminist text and a piece of social commentary. Every millennial woman should have it on her bookshelf.

</i>Pandora Sykes
Heartening, eye-opening, hilarious. I'm glad Nell has given this weird time a term we can all use.

Emma Gannon
A wonderful, candid memoir about the personal and political implications of motherhood, full of humour and fizzing prose. I loved it.

</i>Luiza Sauma, author of <i>Flesh and Bone </i>and <i>Everything You Ever Wanted
Lively, informative… Nell uses her own experience generously and the effect is inclusive, reassuring and funny, She articulates feelings I've had but never quite explored – it's excellent

</i>Amy Liptrot
The Panic Years made me laugh and it made me cry. There's a rare tenderness to this book that comes from not having felt seen before. It's for our generation, and Nell gets it. She understands and respects us.

</i>Rhiannon Cosslett
For someone older, in a different set of panic years altogether, part of the pleasure of this book lies in reminiscence, reflecting and reframing. But it's also galvanising, engaging and enraging. The personal is political, philosophical, emotional, and very funny. I resisted the urge to highlight everything that made me laugh, or think, or fired me up, because the whole thing would have been one big neon block

</i>Jenny Landreth
Breathtakingly good

</i>Lauren Bravo
Informs, educates, entertains... This book will resonate with so many readers.

Red</i>'s top picks of 2020
Brilliant

Grazia
A must-read... sharp, funny, it chronicles all of the big decisions a woman is expected to make between the ages of 25-40: where to live, if they should marry, what to do with one's career. And that other biggie: to have a baby or not.

Culture Whisper