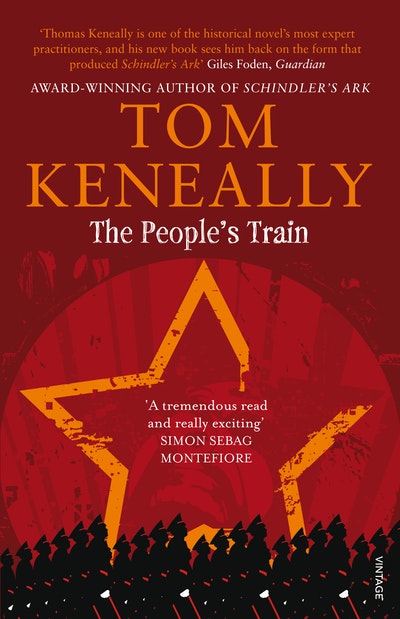 Published:

1 July 2010

ISBN:

9781741667455

Imprint:

Vintage Australia

Format:

Paperback

Pages:

416

RRP:

$29.99
The People's Train
---
---
---
'Thomas Keneally is one of the historical novel's most expert practitioners, and his new book sees him back on the form that produced SCHINDLER'S ARK' Giles Foden, Guardian
Artem Samsurov, a charismatic protege of Lenin and an ardent socialist, reaches sanctuary in Australia after escaping his Siberian labour camp and making a long, perilous journey via Japan. But Brisbane in 1911 turns out not to be quite the workers' paradise he was expecting, or the bickering local Russian emigres a model of brotherhood.
As Artem helps organise a strike and gets dangerously entangled in the death of another exile, he discovers that corruption, repression and injustice are almost as prevalent in Brisbane as at home. Yet he finds fellow spirits in a fiery old suffragette and a distractingly attractive married woman, who undermines his belief that a revolutionary cannot spare the time for relationships. When the revolution dawns and he returns to Russia, will his ideals hold true?
Based on a true story, THE PEOPLE'S TRAIN brings the past alive and makes it resonate in the present. With all the empathy and storytelling skills that he brought to bear in SCHINDLER'S ARK, Tom Keneally takes us to the heart of the Russian Revolution through the dramatic life of an unknown, inspiring figure. Like Schindler, Samsurov was no saint, but he was an individual who played a vital role in world-changing events.
Published:

1 July 2010

ISBN:

9781741667455

Imprint:

Vintage Australia

Format:

Paperback

Pages:

416

RRP:

$29.99
Praise for The People's Train
"Thomas Keneally is one of the historical novel's most expert practitioners, and his new book sees him back on the form that produced Schindler's Ark, which won the Booker Prize in 1982. .. This change of narrator is another inspired stroke of Keneally's, as it enacts structurally the relation between the individual and society, which couldn't have happened if he had stuck with the "monorail" of Artem in the first person. As it is, we see Artem move away from us, as if diminishing in a lens of a telescope held at the wrong end. Our sense of the past is like that, too, but we are lucky in having authors such as Keneally who know how to dramatise the telescope's turning around from time to time, bringing "there" and "then" into the here and now.
Giles Foden, The Guardian
"The People's Train takes its time rewardingly. ... It is a mellow triumph of what one might call - at some risk of being confounded - his late period."
Peter Pierce, the Age
John Clare, The Sun Herald
"SCHINDLER'S ARK won the Booker Prize for Keneally in 1982; THE PEOPLE'S TRAIN is every bit as well-wrought and moving as that classic."
"The novel is able to capture the ordinary things that happen during war, flirting, love and as Paddy observes, the continued workings of the lower end of government - mail, lamplighting, trams - even while the tsar is being toppled. We are privy to conversations that range from the political to the petty.
Fortunately, it is in Paddy's stories that Keneally rescues his novel from becoming an idealised account of socialist aspirations. We experience episodes of the arbitrary violence that punctuates the history of Russian communism. These depictions are sharp, surprising and brutal. They need to be there."
Francesca Beddie, The Australian
" ... brilliantly done ..."
David Wood, Waterstone's Hereford
"Keneally, set loose from Australia, writes more freely in Dykes persona, engaging beautifully with the ragged trousered rhetoric and the covert rough and tumble of Bolshevik plotting amid the samovars and mattresses. ... A lesser writer might lazily have succumbed to historical hindsight, but Keneally portrays the mayhem of Russia in flux with a strict adherence to the order (and disorder) of things."
Tom Adair, the Times
"Thomas Keneally's at-times brilliant retelling of the experiences of two men in the lead-up to, and during, the momentous October Revolution of 1917. Reading at times like a cross between Peter Carey and Tom Rob Smith's Child 44, Keneally has delivered a broad-ranging piece of historical fiction that approaches his best."
Robert Epstein, The Sunday Independent
"The People's Train is a formidable piece of literary ventriloquism."
Edward McGown, The Telegraph
"A novel of action."
Catriona Kelly, Times Literary Supplement
'Thomas Keneally is one of the historical novel's most expert practitioners, and his new book sees him back on the form that produced SCHINDLER'S ARK' (Giles Foden, Guardian )
'Reading at times like a cross between Peter Carey and Tom Rob Smith's Child 44, Keneally has delivered a broad-ranging piece of historical fiction that approaches his best. Given that his best is the 1982 Booker-winning SCHINDLER'S ARK, that is high praise indeed.' (Robert Epstein, Independent on Sunday )
'Effortlessly captures the mindset of a young man convinced that the day is coming with the workers will rise...This impassioned idealism stands starkly at odds with our own knowledge of where the revolution lead – a contrast that lends the novel a queasy power.' (Edward McGown, Daily Telegraph )
'Thomas Keneally's impersonation of translated prose, artfully achieved, is studded with strange poeticisms...a sturdy achievement, expertly constructed and paced...One of its major pleasures is to be found in the way in which the author has braided together the factual and the invented.' (Jonathan Barnes, Literary Review )
Praise for The Widow and Her Hero
'This is thrilling stuff… the writer stepping up to the front rank, bringing back what they find and giving us a voice, an alternative view, beyond the horizontal bars of newspaper copy.' - The Weekend Australian
- " ... accomplished and highly readable ... enlivened by meticulous descriptions ... The Widow and her Hero reveals a writer who has lost none of the skill and talent he has been demonstrating for decades ... Above all, The Widow and her Hero is distinguished by its memorable portrait of two women: the quiet, thoughtful Grace and the fiery Dotty. They ... raise Keneally's new novel to an admirable height of achievement." - Andrew Riemer, The Sydney Morning Herald
- "This summer, I think (I will read) Thomas Keneally, who's just brought out a new book which is about war and heroes," he said. - Gordon Brown, Incumbent Prime Minister, Great Britian, BBC
- 'Any new work by this master of moral complexity is a matter for rejoicing. He looks into the heart of the human condition with a piercing intelligence that few can match.' - David Robson, Sunday Telegraph, UK
- 'Exceptionally good ... the work of a master storyteller.' - Allan Massie, Scotsman
'A subtle examination of heroism ... This clever, compelling novel asks some uncomfortable questions'
Penelope Lively, The Guardian
'Powerful and urgent ... a compelling and consistently emotionally engaging novel.'
Alex Clark, Sunday Times
'A subtle exploration of a despotic regime ... a fine political novel.'
Joan Smith, The Times
'Propelled by a real sense of urgency ... concise, compelling and unobscured.'
In the fifth decade of his career, Tom Keneally's powers of renewal and his unflagging appetite for story-telling distinguish his latest novel, The Widow and Her Hero. He turns to his favoured historical period - the Second World War, where a number of his works are set - and in particular to the commando raids against Japenese shipping in Singapore in 1943 and 1944. This master class fiction work is an interrogation of the nature of heroism, perhaps unproblematic for men in action, but of deep ambivalence for the women left behind.
FICTION JUDGING PANEL COMMENTS FROM PRIME MINISTERS LITERARY AWARDS 2008
Praise for THE TYRANT'S NOVEL:
'Brilliant, riveting … rank it with the greats.' - Kirkus Reviews
Alfred Hickling, The Guardian
Commonwealth Writer's Prize
Shortlisted • 2010 • Commonwealth Writer's Prize
Miles Franklin Literary Award
Longlisted • 2010 • Miles Franklin Literary Award
Video
At home with Tom Keneally
Please enjoy Tom Keneally's author talk on his latest novel The Dickens Boy. To find out more visit https://www.penguin.com.au/books/the-dickens-boy-9781760893194 We'd love to hear your thoughts via #PRHLongWeekend. Thomas Keneally was born in 1935 and his first novel was published in 1964. Since then he has written a considerable number of novels and non-fiction works. His novels include The Chant of Jimmie Blacksmith, Schindler's List and The People's Train. He has won the Miles Franklin Award, the Booker Prize, the Los Angeles Times Prize, the Mondello International Prize and has been made a Literary Lion of the New York Public Library, a Fellow of the American Academy, recipient of the University of California gold medal, and is now the subject of a 55 cent Australian stamp. He has held various academic posts in the United States, but lives in Sydney.