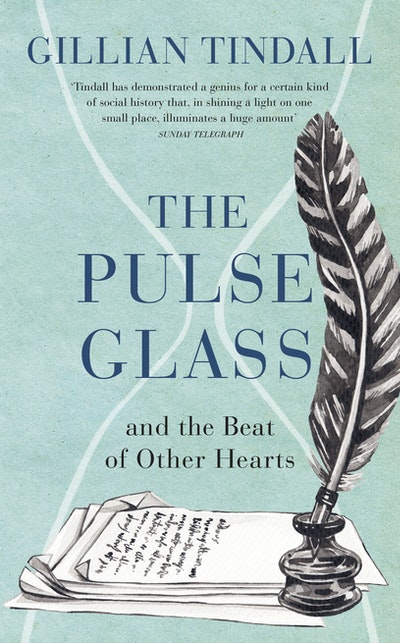 Published:

24 October 2019

ISBN:

9781473566934

Imprint:

Vintage Digital

Format:

EBook

Pages:

288
The Pulse Glass
And the beat of other hearts
---
---
---
A personal and global history in objects, Gillian Tindall traces the memories and meanings that accrue to the artefacts of human lives through time.
*As read on BBC Radio 4's Book of the Week*
'A genius for a certain kind of social history that, in shining a light on one small place, illuminates a huge amount' Sunday Telegraph
A toy train. A stack of letters. A tiny pulse glass, inherited from her great-great-grandfather, which was used to time a patient's heartbeat before pocket watches... Gillian Tindall, one of our most admired domestic history writers, examines seemingly humble objects to trace the personal and global memories stored within them, and re-animate the ghostly heartbeats of lost lives.
'Elegiac... Tindall reflects on a lifetime's interest in historical recovery' The Telegraph
'Tindall is a fine historian and writes with a wryness of everyday human foibles' The Times
Published:

24 October 2019

ISBN:

9781473566934

Imprint:

Vintage Digital

Format:

EBook

Pages:

288
Praise for The Pulse Glass
Elegaic... Her books are carefully wrought acts of restoration... In The Pulse Glass, Tindall, now aged 81, reflects on a lifetime's interest in historical recovery

Francis Wilson, The Telegraph
Tindall writes with affecting precision... Reading this book feels like looking out of the window on a long train journey. One is lulled by the rhythms into deep reflection and inexplicable nostalgia for the lives and landscapes of others

Jessie Childs, History Today *Books of the Year*
An excellent suite of essays on transience and remembrance... Gillian Tindall is a high-minded Autolycus, devoted not merely to snapping up the "unconsidered trifles" of past lives but holding them to the light to glean the stories they might conceal

Anthony Quinn, Observer
Tindall specialises in the overlooked, the underappreciated. She is very much a local historian, if you take that to mean that everything local can become universal; that the stories of ordinary people are as worth telling as the grand, the famous, the notorious... Tantalising... Tindall is a fine historian and writes with a wryness of everyday human foibles

Emma Hogan, The Times
Gillian Tindall has a richly furnished mind, as full of pigeonholes and secret drawers as an old-fashioned Victorian desk… Tapping at floorboards, exploring cellars, leafing through yellowing love letters…she unearths what she can about the worlds we have lost

Christina Hardyment, Times Literary Supplement