Anonymous beginnings to international hit: Sophie Kinsella's Shopaholic series.
Becky Bloomwood's method of managing money is to hide her credit card bills under the bed and hope they'll disappear. While most people may not go that far, anyone who has ever enjoyed the thrill of the hunt at a sale, fallen in lust with a pair of dreamy shoes – or tried to ignore a bill – catches glimpses of themselves in Becky and her naked love of beautiful objects wrapped in tissue paper in carry-bags, preferably those bearing a designer name.
From the moment the Confessions of a Shopaholic series debuted in 2000, Becky captured the hearts of readers around the world. Much to the surprise of Becky's creator, UK author Sophie Kinsella: so unsure was Kinsella that people would 'get' the fun, big-spending Becky, she submitted the first manuscript anonymously. Luckily, she also listened to her instinct.
'I could just see it going on all around me,' she told The Guardian in 2012. 'We all talked about shopping, we went shopping, the store card thing was massive, and I could see the hypocrisy of taking out the credit card, then being shouted at for not paying it off. I thought, "Wait a minute, shopping has become the national pastime, and nobody has written about it".'
Besides the hugely successful Shopaholic series, the mother of five – four sons and a daughter – has written seven bestselling standalone novels under her real name, Madeleine Wickham. (Sophie Kinsella is a combination of her middle name and her mother's maiden name.)
'I get a real buzz from writing the standalone novels,' says Kinsella on her website. 'I think because it's all new – I get to create a new heroine, give her new situations, put her in all new comedy moments and give her the most embarrassing scenes I can!'
Ten Shopaholic books and over a decade of massive change later, the universal love for Becky remains undiminished. 'What I had no idea was how many Becky Bloomwoods there are out there in this world. They're in every country, as far as I can make out.'
It's not only Becky's crazy shopping habits that makes the series such an enduring sensation. Kinsella is a wickedly witty writer, brilliant at conjuring endlessly inventive plots that send the well-meaning Becky on hilarious escapades as she tries to make amends for her mistakes. And rather than remain the ditzy (but never stupid) 25-year-old financial journalist readers met in the first book, Becky has evolved, going on to change careers, discover a secret sister (Shopaholic and Sister), marry the divine Luke Brandon (Shopaholic Ties the Knot), and become a mother (Shopaholic & Baby).
Kinsella is rightly dubbed the UK's queen of romantic comedy, and is rightly proud of her success. As she said in an interview in The Independent: 'It's an honourable thing to write a book that helps someone laugh and escape real life for a while.'
---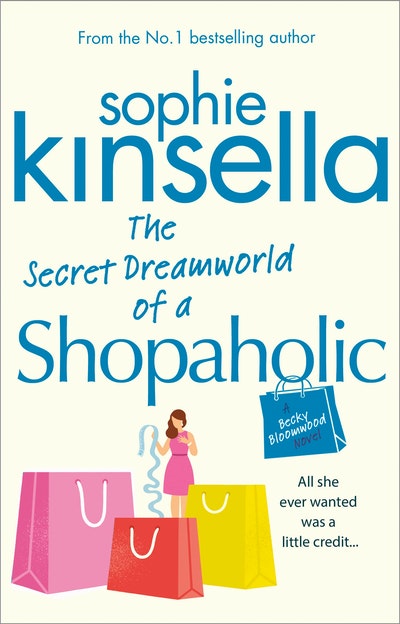 The perfect pick-me-up when life is hanging in the (bank) balance . . .! The fabulous first Shopaholic novel by international No. 1 bestselling author Sophie Kinsella.
Buy now
Buy now
---