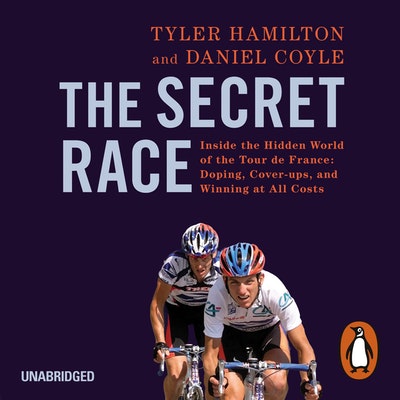 Published:

11 September 2012

ISBN:

9781448160815

Imprint:

RH AudioGo

Format:

Audio Download

Length:

11 hr 23 min

Narrators:

Sean Runnette, Tyler Hamilton
The Secret Race
Inside the Hidden World of the Tour de France: Doping, Cover-ups, and Winning at All Costs
---
---
---
The riveting, news-breaking story of former Olympic gold medalist and seven-time Tour de France rider Tyler Hamilton, who takes us deep inside the secret world of professional cycling, his years as Lance Armstrong's teammate, and what it took to win - no matter the cost.
On a fateful night in 2009, Tyler Hamilton and Daniel Coyle met for dinner at a restaurant in Boulder, Colorado. The two had met five years before while Coyle was writing his bestselling book, Lance Armstrong: Tour de Force. But this time, Tyler had something else on his mind. He finally wanted to come clean, about everything: the doping, the lying, his years as Lance Armstrong's teammate on U.S. Postal, his decade spent running from the truth. 'I'm sorry,' he told Coyle. 'It just feels so good to be able to talk about this. I've been quiet for so many years.'
Over the next eighteen months, Hamilton would tell his story - and his sport's story - in explosive detail, never sparing himself in the process. In a way, he became as obsessed with telling the truth as he had been with winning the Tour de France just a few years before. The result of this determination is The Secret Race, a book that pulls back the curtain and takes us into the secret world of professional cycling like never before. A world populated by unbelievably driven - and some flawed - characters. A world where the competition used every means to get an edge, and the options were stark. A world where it often felt like there was no choice.
Published:

11 September 2012

ISBN:

9781448160815

Imprint:

RH AudioGo

Format:

Audio Download

Length:

11 hr 23 min

Narrators:

Sean Runnette, Tyler Hamilton
Praise for The Secret Race
The news leaks about The Secret Race have vastly undersold its importance. Tyler Hamilton's book is a historic, definitive indictment of cycling's culture of doping during the Armstrong era.

Outside Magazine