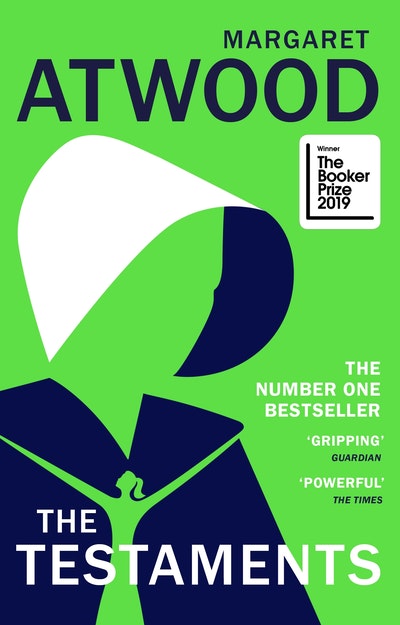 Published:

10 September 2019

ISBN:

9781473554436

Imprint:

Vintage Digital

Format:

EBook

Pages:

432
The Testaments
The Booker prize-winning sequel to The Handmaid's Tale
---
---
---
In this electrifying sequel to The Handmaid's Tale, Margaret Atwood answers the questions that have tantalised readers for decades.
The wait is over And so I step up, into the darkness within; or else the light. When the van door slammed on Offred's future at the end of The Handmaid's Tale, readers had no way of telling what lay ahead.
With The Testaments, the wait is over.
Margaret Atwood's sequel picks up the story 15 years after Offred stepped into the unknown, with the explosive testaments of three female narrators from Gilead.
'Dear Readers: Everything you've ever asked me about Gilead and its inner workings is the inspiration for this book. Well, almost everything! The other inspiration is the world we've been living in.' Margaret Atwood'THE LITERARY EVENT OF THE YEAR' Guardian
Published:

10 September 2019

ISBN:

9781473554436

Imprint:

Vintage Digital

Format:

EBook

Pages:

432
Praise for The Testaments
Thrilling and blistering

Daily Telegraph
An incredible follow-up

Jade Craddock, the Sun, *Pick of the Week*
Gripping, pacy and beautifully written

Justine Jordan, Guardian
Finding hope in a hopeless place, this is everything The Handmaid's Tale fans wanted and more. Prepare to hold your breath throughout, and to cry real tears at the end. My book of the year

Kayleigh Dray, Stylist
The Testaments is Atwood at her best, in its mixture of generosity, insight and control. The prose is adroit, direct, beautifully turned. All over the reading world, the history books are being opened to the next blank page and Atwood's name is written at the top of it. To read this book is to feel the world turning

Anne Enright, Guardian
I gobbled it down... Atwood has an incredible intellectual nimbleness that challenges us constantly and poses the question that lies like a pearl inside the shell of this frighteningly readable novel, "Before you sit in judgement, how would you behave in Gilead?"

Allison Pearson, Sunday Telegraph
No one needs another recommendation for The Testaments and still I have to say how thrilling it is when a book manages to exceed all expectations. How did she manage to make darkness feel so effortless? How did she think to inject humour where no humour should exist? Because she's Margaret Atwood, and she can do anything

Ann Patchett
A cracker: urgent, moving and as tense as any thriller... there's a darkly rebellious humour, ingenious wordplay and, of course, chillingly timely warnings. Atwood is long overdue a Nobel

Hepzibah Anderson, Mail on Sunday
At its heart, this gripping novel is a rallying call for action... In Atwood's world, resistance is never futile

Mernie Gilmore, Daily Express
The must-read novel of the year -- a perfect gift for bookworms and fans of the TV series

Sunday Telegraph
Believe the reviews, it is remarkable

Lindsay Woods, Irish Examiner
A plump, pacy, witty and tightly plotted page-turner that transports us straight back to the dark heart of Gilead... Atwood is on top form

Julie Myerson, Observer
The Testaments is that elusive dream of a book -- an erudite, accessible, highly readable adventure, that brims with ideas but never lets them get in the way of the story

Cathy Rentzenbrink, Prospect
While unflinching in depicting horror and showing how complicity enables the collapse of compassion, The Testaments is also a clarion call to hope, resistance and activism... a formidable achievement that will doubtless be read in decades to come

Anita Sethi, i news
With surgical clarity, Atwood documents how the stripping of fundamental freedoms, the weight of systemic oppression, pushes individuals to extremes... The pacing is flawless. The prose is lean, mean, and charged

David Canfield, Entertainment Weekly
The literary release of the year... The Testaments is ultimately a hopeful novel, filled with female resistance against oppression

Polly Dunbar, Grazia
Atwood's prose is as powerful as ever, tense and spare... I finished in six hours flat

Laura Freeman, BBC.com
Atwood is our high sorceress, a very grownup one, with a truly unnerving knack for auspicious timing... Like Kafka and Orwell, Atwood has become part of the public discourse

Lisa Allardice, Guardian
Fluent, imaginative and provocative

Stuart Kelly, Scotland on Sunday
It is an addictively readable, fastpaced adventure... the rhyme of reality with fiction is loud and devastatingly clear... In The Testaments, Atwood changes the emphasis of the plot, to strike a note of optimism – a hopeful reminder that resistance is possible and such regimes do eventually always fall

Holly Williams, Independent
Amid the concern... about the imperilled state of liberal democracy on both sides of the Atlantic, the publication of The Testaments could hardly be better timed... Atwood's dark vision of modern totalitarianism, fuelled by unbridled capitalism, ecological meltdown, collapsing birth rates, and rising religious extremism no longer looks darkly speculative, but alarmingly familiar

Rebecca Abrams, Financial Times
Margaret Atwood saw it all coming

Lucy Feldman, Time
While The Handmaid's Tale explored how totalitarian regimes come to power, The Testaments delves into how they begin to fracture... Atwood is at the top of her game

#1 Book of the Year, Amazon.com
A work of brilliant and searing defiance

MJ Hyland
Brace yourself

Lorraine Candy, Sunday Times
How transgressive, deliciously dangerous, even outrageous, she can and needs to be... And the four hundred and fourteen pages of The Testaments gave Atwood plenty of room for just that

Esquire
A confluence of political and cultural forces has made The Testaments as vital as a baby in Gilead

Ron Charles, Washington Post
The book may surprise readers who wondered, when the sequel was announced, whether Atwood was making a mistake in returning to her earlier work. She has said that The Testaments was inspired by readers' questions about the inner workings of Gilead, and also by "the world we've been living in." But it seems to have another aim as well: to help us see more clearly the kinds of complicity required for constructing a world like the one she had already imagined, and the world we fear our own might become

Jia Tolentino, New Yorker
The very act of writing or recording one's experiences, Atwood argues, is "an act of hope."... in testifying to what they have witnessed, Offred, Nicole, Agnes and, yes, Lydia are leaving behind accounts that will challenge official Gileadean narratives, and in doing so, they are standing up to the regime's determination to silence women by telling their own stories in their own voices

Michiko Katutani, New York Times
A mix of high and low, literary powerhouse and pop-culture icon, filled with homespun wisdom and razor-sharp observation

Deborah Dundas, Toronto Star
The greatest penwoman on the planet

Private Eye
Every one of her books makes you question the order of things... She is one of the greatest writers of the past century

Lorraine Candy, Sunday Times
Margaret Atwood has just done her own thing and now she is one of those authors who is helping to change the culture. I love her for her politics. When The Handmaid's Tale was published in 1985, it just seemed that that kind of theocracy and patriarchy she was depicting couldn't happen, the world was progressing, but look where we are

Jeanette Winterson, Sunday Times
A hopeful tale. It reassures us that we are right to fear our enemies and right to resist them, and that totalitarianism can be seen off... The heroines in The Testaments are marvellously resourceful... It is massively satisfying to find this kind of heightened reality in fiction

Natasha Walter, Guardian
Ingenuity has always delighted Atwood. Here she revels in it... The twists and turns of an extravagantly suspenseful final race for freedom are done with bravura relish

Peter Kemp, Sunday Times
The Testaments take us to a subtly altered Gilead and, in many ways, a more hopeful one... a rallying cry for activism that argues for the connectedness of societies and their peoples... Atwood's task in returning to the world of her best-known work was a big one, but the result is a success

Alex Clark, Guardian
Atwood's voice has become a rallying cry against climate change and threats to equality

Time
Atwood cracks open the claustrophobic world of Gilead and lets in some much-needed light and hope. Spare, tense and exciting

Psychologies
It's a very different novel from The Handmaid's Tale, charged with the optimism of change rather than drenched in nightmarish sweat... terrific

Claire Allfree, Metro
Taut and gratifying… At the heart of the novel is a consideration of the power of narrative itself – of who gets to speak and listen, of the ability for information to limit, control or expand a person's world… ultimately the truth retains the power to destroy

Donna Lu, New Scientist
It delivers superbly. The Testaments is, first and foremost, a manual of resistance . . . providing its readers first with a road map and secondly with hope

Sarah Crown, Literary Review
Gripping and full of incident, a deft balance of horror and wit… As ever, Atwood cuts to the truth about women and power

Johanna Thomas-Corr, Evening Standard, *Book of the Week*
The oppressed feminist shriek of the first novel gets its more optimistic echo in The Testaments...has the dramatic thrust and power to scorch the memory

Serena Davies, Daily Telegraph
It is a measure of Atwood's virtuosity as a writer... that rather than picking up where she left off in 1985 when The Handmaid's Tale was published, she has written such a perfect companion piece

Mary Carr, Mail on Sunday Ireland
Like all good dystopian writers, she presents us with a cracked mirror in which we are asked to see distorted images of ourselves

Robert Douglas-Fairhurst, The Times
If The Handmaid's Tale is disturbing, The Testaments is, in many ways, even more so. Less violent, sure, but Gilead isn't fresh and new at this point. It is a society that has existed for well over a decade, and as such it has become normality for all those who live there...this is, perhaps, far more frightening than the punishments and cruelty we see in the original text

Ann Dowd, Stylist
After Donald Trump's election, Ms Atwood came to be seen by some as a soothsayer... If The Handmaid's Tale was a warning, The Testaments has a more positive message... Ms Atwood says that it reflects a sense of hopefulness on her part

The Economist
For those waiting to find out what happened next, The Testaments is a fantastic conclusion to the story

Sarah Bates, Socialist Worker
The transgressive, deliciously dangerous mind of Margaret Atwood

Esquire
Compelling, poignant and controlled, Atwood's latest work will have any reader gripped

Harper's Bazaar
The Handmaid's Tale and The Testaments can seem like dark tales for dark times. But Atwood argues that they are not. "Writing is always an act of hope," she says, "because it assumes a reader. It assumes a reader in the future"... If what we need right now is a great big bundle of hope – and we do – I for one feel extremely reassured that Margaret Atwood is on hand to provide it.

Erica Wagner, New Statesman
Beautiful in its depth... It is in some ways the continuation and in some sense a response to the extraordinarily powerful world of Gilead she created in The Handmaid's Tale 30-odd years ago. There is a need now to look at what complicity, resilience and resistance might look like

Peter Florence, Chair of Booker Judges, The Times
She's always before her time. Each novel is about something people become incredibly interested in half an hour later... There is this tradition of women's writing that uses irony and lightness of touch to deliver monstrous concepts and beliefs. It's that ironic voice that has helped her seamlessly move from one generation of reader to the next. That is the test of a great writer

Carmen Callil, Observer
A savage and beautiful novel, and it speaks to us today, all around the world, with particular conviction and power

Peter Florence, Booker Prize judge, Guardian
The Testaments has come at the right moment for her as well as us because she's now a real sage

Jeanette Winterson, Observer
The Testaments has come at the right moment for her as well as us because she's now a real sage

Jeanette Winterson, Observer
A feast

Josie Long, Guardian
A truly dazzling literary feat that – blessed be the fruit – entirely lives up to the hope and the hype… Atwood's particular genius is pushing and pushing at sexist tropes until they reach their grotesque but ultimately logical conclusion

Ceri Radford, Independent
The Testaments calls for thought and reflection… ideological commitment is not its only characteristic. It is also a thriller, with a fast-paced plot featuring many entangled concealments and dramatic confrontations… Atwood's writing is at its incisive best... Atwood is not simply responding to our current anxieties… it is also her own testament, and a renewal of the warning of The Handmaid's Tale

Dinah Birch, Times Literary Supplement
The Testaments is all the better for choosing other, quieter forms of resistance for women under Gilead's rule… The sequel is able to buoy you as a reader in a way The Handmaid's Tale had no interest in doing, but sit with it and it's still slippery and at times satisfyingly unsatisfying. This is an intriguing book from a woman who knows she can do bleak any day of the week

Sophie Charara, Wired
The Testaments combines gripping entertainment with a complex sense of humanity

Sarah Ditum, Lancet
Lydia's fascinating tale serves almost as a prequel, while the girls' stirring battle is peppered with pithy wit. Praise be

Deirdre O'Brien, Sunday Mirror
Atwood has conjured a compelling sequel to The Handmaid's Tale that is tautly plotted in spare, economical prose… In The Testaments, Atwood succeeds in regaining control of Gilead through words

Ruth Scurr, Spectator
Terrifying, rage-inducing and utterly gripping

Eastern Daily Press
The interaction between these three women is deftly drawn. The enemy never feels other than overwhelmingly malign, yet perversely human and fallible

Morag MacInnes, Tablet, *Novel of the Week*
The Testaments cements Aunt Lydia as one of the most fascinatingly monstrous anti-heroes in fiction

Abigail Chandler, SciFiNow
'Reminds us of the vital connection between words and power and how important it is to validate women's words in particular

Susan Watkins, Morning Star
But the biggest name, with the year's biggest book, is Margaret Atwood: her Handmaid's Tale sequel The Testaments

Guardian
For my money, the single most exciting publishing event of the year

Bookseller
One of the most eagerly awaited books of the year

Daily Express
One of the year's big novels will undoubtedly be Margaret Atwood's sequel to The Handmaid's Tale, The Testaments

The Times
It will be one of the literary events of the year

Vogue
We'll be poring over The Handmaid's Tale for the 100th time in readiness

Good Housekeeping
The hoopla around the launch of Margaret Atwood's The Testaments is more reminiscent of the unveiling of an iPhone or something Pokemon related than that of a mere book

Johanna Thomas-Corr, Observer
Last week's release of Atwood's sequel, The Testaments, made the last Harry Potter launch look like a wet November afternoon...a truly dazzling literary feat that -- blessed be the fruit -- entirely lives up to the hope and the hype... Atwood's particular genius is pushing and pushing at sexist tropes until they reach their grotesque but ultimately logical conclusion

Ceri Radford, Independent
Taylor Swift would kill for this kind of drama... Now, to read it

Alice Jones, i paper
Terrifying and exhilarating

Peter Florence, Booker Prize judge, Guardian
Terrifying and exhilarating

Peter Florence, Booker Prize judge, Guardian
Atwood's musings on power and the patterns of history [is] as incisive as ever

Justine Jordon, Guardian, *Books of the Year*
Undeniably page-turning stuff

Robbie Millen and James Marriot, The Times, *Books of the Year*
A publishing sensation

Woman & Home
The perfect escapist pleasure

Hallie Rubenhold, winner of the Baillie Gifford Prize 2019, Guardian
Page-turning stuff

The Times
Canada's visionary

Monocle
A delicious page-turner

New Scientist
A gripping novel with a satisfying conclusion

Charlotte Heathcote, Daily Mirror
The Testamnets is a cracking sequel to Margaret Atwood's The Handmaid's Tale and a timely warning about the lengths to which a patriarchal culture will go to control female sexuality

Alison Flood, Sunday Telegraph
A superb and suspenseful expose of misogyny and the moral ambiguity at the heart of a fanatical regime

Martin Chilton, Olivia Petter and Ceri Radford, Independent, *Books of the Decade*
[A] rare combination of a rollicking thriller with major political nous told one of our greatest living writers. Essential

Den of Geek, *Books of the Year*
The Testaments… lived up to the hype

Anne Carter, Daily Express, *Books of the Year*
The Testaments… lived up to the hype

Anne Carter, Daily Express, *Books of the Year*
Superbly written and masterfully constructs the regime of Gilead more than its predecessor was able to

Will Evans, Exepose
The extraordinary Margaret Atwood... she's fabulous'

Hillary Clinton, Stylist