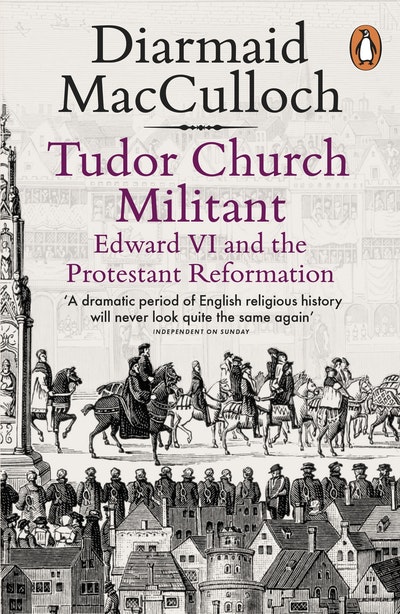 Published:

13 November 2017

ISBN:

9780141985077

Imprint:

Penguin Press

Format:

Paperback

Pages:

304

RRP:

$30.00
Tudor Church Militant
Edward VI and the Protestant Reformation
---
---
---
The leading book on the short, radically Protestant reign of Edward VI, reissued for the 500th anniversary of the Reformation.
Edward VI died a teenager in 1553, yet his brief reign would shape the future of the nation, unleashing a Protestant revolution that propelled England into the heart of the Reformation. This dramatic account takes a fresh look at one of the most significant and turbulent periods in English history.
Although the young Edward VI's death in 1553 led to resounding defeat for his Protestant allies, his reign has a significance out of all proportion to its brief six-year span. For during its course England's rulers let loose an explosive form of Christianity within the realm. In this lavishly illustrated book, MacCulloch underlines the significance of Edward's turbulent and neglected reign. As well as the young king's life and beliefs he takes a fresh look at the ruthless politicians who jostled for position around him and explores the strange afterlife of Edward's attempt at the religious transformation of his kingdom. In this MacCulloch traces a connection through the civil wars of the 17th century up to the present day.
Published:

13 November 2017

ISBN:

9780141985077

Imprint:

Penguin Press

Format:

Paperback

Pages:

304

RRP:

$30.00
Praise for Tudor Church Militant
A challenging, elegant and persuasive biography of an unjustly neglected king

Jerry Brotton, author of This Orient Isle
MacCulloch puts the young Edward at the centre of the action . . . as this excellent and lively study shows, his ghost continues to haunt the history of Anglicanism

Sunday Times
This is Reformation history as it should be written, not least because it resembles its subject matter: learned, argumentative, and, even when mistaken, never dull

Eamon Duffy, author of The Stripping of the Altars
One of the best historians writing in English today

Sunday Telegraph