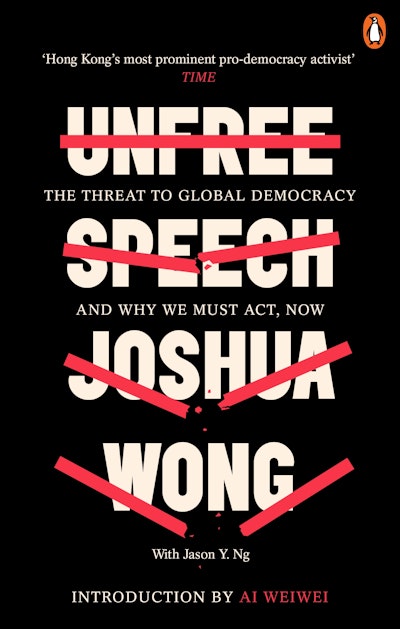 Published:

6 February 2020

ISBN:

9780753554807

Imprint:

Virgin Digital

Format:

EBook

Pages:

288
Unfree Speech
The Threat to Global Democracy and Why We Must Act, Now
---
---
---
The urgent, first book from global phenomenon Joshua Wong – leader of the Hong Kong protests, Nobel prize nominee and TIME, Forbes and Fortune world leader – who will tell us how he took on the biggest country in the world, and why we all have a stake in the global fight for democracy.
An urgent manifesto for global democracy from Joshua Wong, the 22-year-old phenomenon leading Hong Kong's protests - Nobel Peace Prize nominee and TIME, Forbes and Fortune world leader.At what point do you stand up to power? Aged 14, Joshua Wong made history. While the adults stayed silent, and China threatened to change their education policy, Joshua staged the first ever student protest in Hong Kong against the oppressive regime: and won. Since then, Joshua has led the Umbrella Revolution in 2014 and now the ongoing Extradition Bill protests which are hitting our news headlines daily. His efforts have garnered him mass global news coverage, a Nobel Peace Prize nomination and over 100 days in jail.
Now, for the first time, this is Joshua's story straight from the frontline of activism. Part-manifesto, part-memoir, Unfree Speech is Joshua's powerful and urgent call for all of us to stand up for democracy, wherever we live. It is a rallying cry for all of us to rise up and fight together for our freedoms. Hong Kong is the canary in the coal mine. When we stay silent, no-one is safe: when we free our speech, 'they can't stop all of us'.
Published:

6 February 2020

ISBN:

9780753554807

Imprint:

Virgin Digital

Format:

EBook

Pages:

288
Joshua Wong is a brave and inspiring young leader. Together we are one loud voice that cannot be silenced.

Greta Thunberg, climate change activist and bestselling author of No One Is Too Small to Make a Difference
If we want freedom, we need to learn from Hong Kong. With values, tactics, and courage, Joshua Wong shows us the way.

Timothy Snyder, historian and bestselling author of On Tyranny and The Road to Unfreedom
Joshua Wong represents a new generation of rebel. All they require and demand is a single value: freedom.

Ai Weiwei, artist and activist
One of the most prominent political activists in the world ... a powerful insight into the turbulence on the city's streets that made world headlines

Rana Mitter, Sunday Times
A call to arms for the Snapchat generation ... This book is a memoir of an extraordinary decade in which Wong went from a nerdy obsession with Marvel comics to a Netflix documentary in which he was characterised as a superhero for democracy.

Tim Adams, The Observer (Book of the Week)
[Wong's] tenacious dynamism shines through Unfree Speech: a guide to mobilising for democracy and representation in and far beyond Hong Kong.

Julia Lovell, award-winning author of Maoism