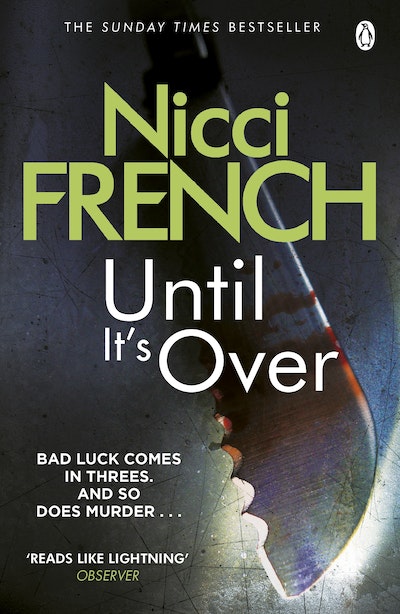 Published:

1 September 2008

ISBN:

9780141020914

Imprint:

Michael Joseph

Format:

Paperback

Pages:

384

RRP:

$26.00
Until it's Over
---
---
---
Until It's Over is a riveting psychological thriller from the Top Ten bestselling author, Nicci FrenchDEAD. UNLUCKY.Cycle courier Astrid Bell is bad luck - for other people. First Astrid's neighbour Peggy accidentally knocks her off her bike - and not long after is found bludgeoned to death in an alley. Then a few days later, Astrid is asked to pick up a package - only to find the client slashed to pieces in the hall of her own home.For the police it's more than coincidence. For Astrid and her six housemates it's just the beginning of a nightmare - the growing suspicion that the worst is yet to come.Because if it's true that bad luck comes in threes - who will be next to die?Praise for Nicci French:'Reads like lightning' Observer'Another nail-biting thriller' Daily Express'A taut, sexy and compulsive read' Elle'Taut and menacing . . . excellent' Guardian%%%Until It's Over is a riveting psychological thriller from the Top Ten bestselling author, Nicci French
DEAD. UNLUCKY.
Cycle courier Astrid Bell is bad luck - for other people. First Astrid's neighbour Peggy accidentally knocks her off her bike - and not long after is found bludgeoned to death in an alley. Then a few days later, Astrid is asked to pick up a package - only to find the client slashed to pieces in the hall of her own home.
For the police it's more than coincidence. For Astrid and her six housemates it's just the beginning of a nightmare - the growing suspicion that the worst is yet to come.
Because if it's true that bad luck comes in threes - who will be next to die?
Praise for Nicci French:
'Reads like lightning' Observer
'Another nail-biting thriller' Daily Express
'A taut, sexy and compulsive read' Elle
'Taut and menacing . . . excellent' Guardian
Published:

1 September 2008

ISBN:

9780141020914

Imprint:

Michael Joseph

Format:

Paperback

Pages:

384

RRP:

$26.00