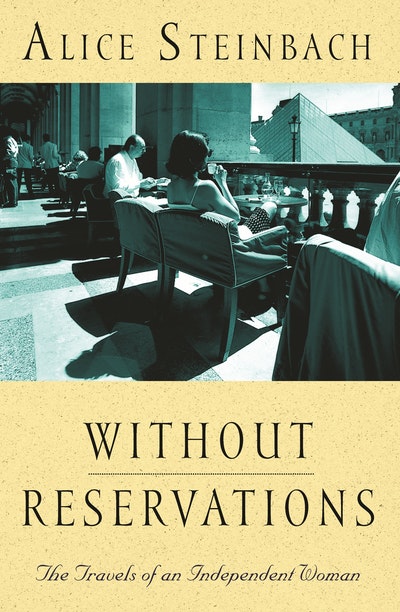 Published:

1 April 2003

ISBN:

9781863253765

Imprint:

Bantam Australia

Format:

Paperback

Pages:

304

RRP:

$29.99
Without Reservations
The Travels Of An Independent Woman
---
---
---
WITHOUT RESERVATIONS is about a woman's dream come true – taking a year off to travel the world and rediscover what it is like to be an independent woman, without ties and without reservations.
'In many ways, I was an independent woman,' writes Alice Steinbach, single working mother and Pulitzer prize-winnning journalist. 'For years I'd made my own choices, paid my own bills, shovelled my own snow, and had relationships that allowed for a lot of freedom on both sides.' Slowly, however, she saw that she had become quite dependent in another way. 'I had fallen into the habit – of defining myself in terms of who I was to other people and what they expected of me.'
Who am I, she wanted to know, away from the things that define me - my family, children, job, friends? Steinbach searches for the answer in some of the most exciting places in the world: Paris, where she finds a soulmate in a Japanese man; Oxford, where she learns more from a ballroom dancing lesson than any of her studies; Milan, where she befriends a young woman about to be married.
Beautifully illustrated with postcards Steinbach wrote home to herself, this is an unforgettable voyage of discovery.
Published:

1 April 2003

ISBN:

9781863253765

Imprint:

Bantam Australia

Format:

Paperback

Pages:

304

RRP:

$29.99
Praise for Without Reservations
"The strength of the books lies in its ability to inspire women to act on their travel dream and to explore not only a foreign country but also themselves." Armchair Traveler on offbeattravel.com
'There can't be many people whose travel-fueled meditations are as enjoyable to share as Alice Steinbach's. Her memoir…is a gracefully meandering chronicle of her travels in Europe and her search for a new definition of herself." Becky Ohlsen, Bookreporter.com
'The best books, like the best vacations, contain unexpected delights, surprises that enrich the soul as well as the senses. This is a book about love, and longing, and the passage of time. It's about hope, and courage, and the resiliency of memory. This book is a feast. Bon appetit!" Des Moines Register