A Q&A with Vasanti Unka, author/illustrator of Who Stole the Rainbow?
What did you want to be when you grew up?
Sometimes a racing car driver, sometimes a scientist (I had a chemistry set), sometimes a secret agent or a spy — I spied on lots of people to practice.
 Aside from being an author-illustrator, tell us a little bit about the best job you ever had.
I once worked at a printing company as a graphic designer. It was actually a terrible job but it was where I met one of my most long-time, dearest friends. We would laugh at each other's jokes all day so not a lot of work was done. Next door to this place was a children's book publishing company and we always talked about writing and illustrating books together. We still do.
What was a moment in your past which inspired what you've ended up doing?
My most boring job ever — tearfully, designing an excruciatingly boring book — led me to writing The Boring Book. This led me to the next book and beyond.
 We love to see the workspaces of creative people, can you show us yours?
At the moment I've moved my computer to the lounge where it's warmer, but here's a picture of my usual messy desk without the computer. The desk is adjustable; I can make it higher so I can work standing up when I feel like it. I work in a corner, facing the back deck, and look out to One Tree Hill. Behind me is a door to the front deck of the house. In summer I open both doors — it feels like I'm working outside. I painted the floor black and wrote poems on it. This one's about summer, written by Janet Frame.
Describe your working day to us—when's the best time for creating?
First thing in the morning I either go to the gym or go for a walk, and this is the time I use to stew on ideas and (hopefully) come up with creative solutions before I put pen to paper. When I get home I'm usually frantic about getting these ideas down. I feel more energetic in the mornings but I don't feel like there's a particular time of the day that's better for creating. I often rework things until I'm relatively happy and this can take ages. I usually have to listen to the right podcast or the right kind of music to suit my mood.
What was your favourite childhood book?
My family was very poor so we didn't have many books until we were older. The school library was great, though. I loved Charlotte's Web by EB White. It made me cry.
Vasanti's workspace
---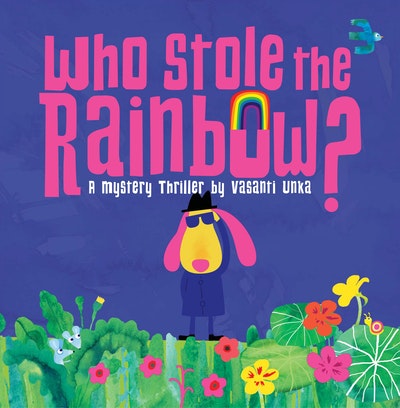 A dazzling 'mystery thriller for children' about how rainbows appear and disappear by award-winning picture book creator Vasanti Unka.
Buy now
Buy now
---