Benjamin Stevenson talks to us about his new must-have mystery and his friend's odd act that inspired his book.
Everyone in my Family has Killed Someone is unlike anything you've ever read before. Benjamin Stevenson has taken the rules of crime writing and thrown them out the window to create this year's must-have murder mystery.
Here Benjamin talks to us about his writing process, his bizarre Google searches, and his friend's odd act prior to watching a movie that inspired this unique and clever blend of classic and modern murder mystery. 
Your new novel is so different from your previous books, where did you get the idea?
I wanted to write something different from anything I had written before and from anything I was reading. Honestly, I took the rule book of crime fiction and threw it at the wall and just tried everything, literally everything. Some bits didn't work, but I was really pleased with the overall result. The idea itself, there were two things. One is that modern crime fiction is so much about what tricks the author can play on the reader and classic crime is more about playing fair. I was interested in trying to do those things at the same time. Secondly, whenever a mate and I go to the movies, he looks at the plot before we go and spoils the ending. He says it helps him enjoy it more, so I thought, 'what if I spoiled the entire book on the first page, can I build a crime novel out of it?'. With the setting of the family reunion, I wanted to do something inspired by Agatha Christie and I thought a snow resort would be an exciting place to lock a bunch of people in. In my book, I wanted to do seven mini mysteries so every character has a mystery as well as the overarching mystery, and I am pleased with the pace of the novel because you're constantly solving something even if it's not the larger mystery.
How did you go about developing your characters?
I wanted them all to be different and wanted to explore the fact they had all killed someone. There are a lot of different ways to kill someone or feel like you have killed someone, and those developments were guided by their crimes, accidents, or incidents. I really wanted a broad spread of characters at the family reunion — the matriarch who heads up the family was a natural fit, you've got the dorky uncle, and then you have some family members closer than others, and I found the interior family friction naturally as well. I used each of the characters to look at what a family is, and they're a blended family. There are a few thoughts about what does this mean, and family is not about whose blood runs in your veins, but who you would spill it for.  
What attracted you to the crime genre?
I love crime. I love the way in which crime has these automatic rules for the reader. The author gives the question and mystery to solve and they will solve it and you can solve it with them. It's exciting and a really page-turning way to write and read a novel, so it's definitely my favourite genre. I went back to classic crime because I wanted to write something fun. The solving of the mystery is supposed to be fun and enjoyable for the reader, and I was reading more and more modern novels where the climax is designed to be a 'gotcha' moment instead of an 'aha' moment. I was thinking about how much more satisfying an 'aha' is than a 'gotcha'. I was writing this during the pandemic and there are only so many books you can write about serial killers while the world is burning. I wanted to write something that is a joy to read while uncovering the mysteries.
Your book has already been optioned by HBO, have you been surprised by the response?
I'm usually surprised. This is my third book and I've been very lucky to write and publish three books in my early 30s. I was blown away by the response to this one, I hoped I might have had a pretty special idea when I started it but it always surprises me when people say they love it.
You're also a comedian, how does this help you with your crime writing?
Telling a joke uses elements of suspense in order to drop a surprising punchline on an audience and I used that a little bit in the overarching structure — using it in callbacks and dropping clues — and that works well in a crime novel. It gave me the confidence to try and put some funny bits in the books and try some unique approaches, particularly with the narration.   
What is your writing process like?
I'm still doing what I always do and I wrote this book like I write all my books. I work full-time and tour comedy. I fly to a city at night, do a gig, then go from an airport to work and work 9 to 5. I write on the plane and in my hotel room and that hasn't changed. This book has absolutely changed my life, but in terms of day to day I'm keeping it real. When I write I tend to plot out pretty heavily. I always know when the big plot beats are going to come, but I also edit extremely heavily. I'm not the type of writer who writes a whole book and then edits the book, I edit every chapter and sentence as I write it and won't go on with it until that's done. In terms of process, I'm not particularly rigid with it. I find time when I can, a couple of hours here and a couple of hours there. I used to try and write 1000 words a day but I gave that up. Some days I only write 50 words, but they'd be really successful days. I might write 50 words a day for 100 days then one day I'll do 2000. I write very, very slowly and put a brick in the wall until I see the whole thing. I'm also not a copious note-taker. I often spend two months researching and reading things, not writing things down because I don't want to transcribe a piece of research, I want to absorb it. When it comes to writing it, it comes naturally through the text rather than writing 'how this gun works'.
What is the weirdest thing you've had to Google when doing your research?
The way the serial killer kills people in this book, I had to look into that a bit to see if it was believable. It's sort of an ancient torture technique so I had to figure out how to keep that to the modern-day. In my last book, there is a scene where somebody gets strung up and I had to Google a few things about that.
How do you go about keeping readers interested in the mystery?
For me, it's about giving them enough, not just giving them one or two clues and completely burying them. It's about giving them clues on every page and making sure every mystery is interesting — not just who the killer is but the mystery of relationships. I say confidently in the book 'this is a clue' and I make it clear by sharing it openly. It then gets the reader questioning what the clue means and the context of the clue. I hope it's a great mystery and I think it's super fun.
---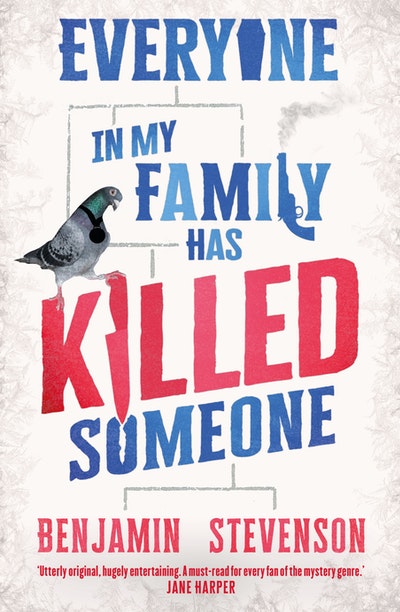 Agatha Christie and Arthur Conan Doyle meet Knives Out and The Thursday Murder Club in this fiendishly clever blend of classic and modern murder mystery.
Buy now
Buy now
---