One of the rather pathetic realities of the fact that so many of the restaurants in France are disappointing these days is the almost tearful joy in finding one that's everything you would have hoped for, often from your childhood or teenage memories. Such a place is Le Bistro du Paradou near Arles.
I've mentioned the restaurant and this soup in the introduction to the book, and like all great dishes it takes me back to the evening I ate it. I remember the large green tureen it was served in and the wonderful scent of basil, olive oil and garlic. I also recall the animated chat round the table with my friend John Illsley, his wife Steph and my wife Sas about the French and about the realities of his band Dire Straits writing 'Sultans of Swing' in a council flat in Deptford.
S E RV E S  6 – 8
Ingredients: 
100g dried beans, such as flageolet, cannellini or haricots, soaked overnight in cold water
4 tbsp olive oil
1 garlic clove, finely chopped
1 onion, chopped
1 leek, halved lengthways and finely sliced
2 carrots, chopped
1 bouquet garni (bay leaf, thyme sprigs and parsley stalks)
675g courgettes, cut into small dice
450g tomatoes, skinned, seeded and chopped
2 medium potatoes, cut into small dice
100g fine green beans, topped, tailed and cut into 3–4 pieces
100g frozen peas
75g orzo or spaghetti, broken into small lengths
Salt and black pepper
To serve
Green
Grated Parmesan cheese
Extra virgin olive oil
Method: 
Drain the soaked beans. Heat 2 tablespoons of the oil in a pan, add the garlic and cook gently for 2–3 minutes. Add the beans and 1.25 litres of water, bring to the boil, cover and simmer for 30–60 minutes, or until just tender. Add half a teaspoon of salt and simmer for another 5 minutes, then set aside.
Heat the remaining oil in a large pan. Add the onion, leek and carrots and cook gently for 5–6 minutes until softened but not browned. Add the beans, their cooking liquor and the bouquet garni to the pan of softened vegetables. Add the courgettes, tomatoes and potatoes and another 1.25 litres of water, then season with 2 teaspoons of salt and some pepper. Bring to the boil and simmer, uncovered, for 20 minutes.
Add the green beans, peas and pasta to the pan and simmer for another 10 minutes or until the pasta is cooked. Remove the pan from the heat, take out the bouquet garni and stir in the pistou. Check the seasoning and serve in warmed bowls, with some extra grated Parmesan cheese and a little jug of extra virgin olive oil to drizzle on top.
Extracted from Rick Stein's Secret France, published by Penguin Random House UK.
Text copyright © Rick Stein, 2019. Photography copyright © James Murphy 2019.
---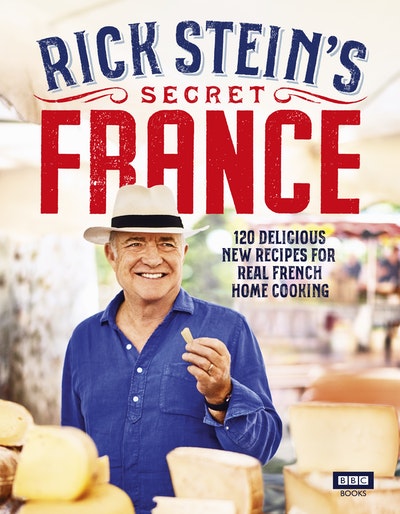 Almost twenty years after French Odyssey, which sold 280,000 copies, Rick returns to his beloved France to discover real, simple French cooking, distilled into this collection of 120 brand-new delicious recipes.
Buy now
Buy now
---