Driven is a mile-a-minute autobiography that celebrates self-belief, hard work and turning dreams into reality. This is Hayden Paddon's story in his own words. We've picked out the top 5 things you didn't know about Hayden Paddon. 
He battled with depression as a teenager, and he credits his love of driving for keeping him alive.
"Those two years were the hardest I'd faced. I had nothing going for me. I was stealing. I was lying. I wanted to run away from home. The only thing that kept me going was my love for rallying, driving cars and going sideways. Without rallying, life could've gone seriously bad for me."
And he has a powerful message for young people that might find themselves facing their own mental health challenges:
"For any teenagers reading this, if you are going through dark times, find that thing you love the most. Whether it's driving – like me – or sport, music, the outdoors, your family, or your mates, whatever it is, just hang onto it for dear life. Know that everything will get better. Keep that flame inside alive."  
His nickname is… Shrek!
"The friendliness between competitors here [in New Zealand] is second to none. There's plenty of banter and good-natured ribbing. Like when fellow driver Dean Sumner decided to nickname me Shrek that year, after the rotund movie ogre. Despite having embarked on a weight loss program that Jenny Craig would be proud of, I still wasn't the smallest of lads. My race suit was a bright lime green = so Shrek I became."
He's not a morning person:
"Rally starts are always early – for some, we are out of the sack at 3 am – and nights are short, so we try to maximise our sleep. I'll always wake up as late as possible. I'm not a morning routine person, I'm just not a morning person full-stop."
Unlike lots of elite sportspeople, Hayden does not have any lucky charms or rituals on race days.
"I don't wear lucky undies or socks or gloves. I don't eat the same breakfast every morning. I don't need an espresso to get me going – hot drinks aren't my thing. I don't believe in any of that superstitious stuff. Give me five minutes to get ready, then I'll get in the van and go. I'll eat breakfast at the service park, then I just get in my car and drive."
---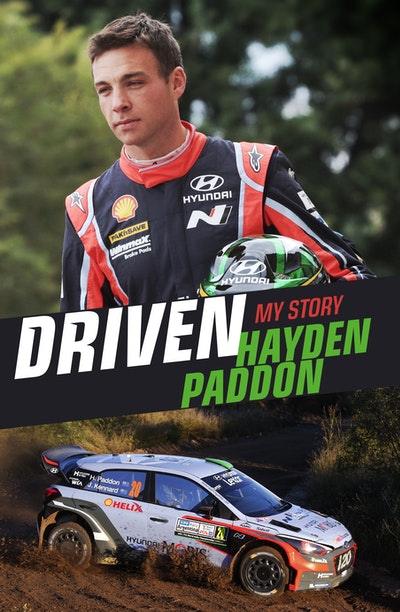 The inspirational life story of New Zealand's most successful rally driver, Hayden Paddon.
Buy now
Buy now
---