The Prime Minister of New Zealand is famous for her empathy and leadership skills.
You may know her as the youngest and third female Prime Minister of New Zealand, the first head of government to take maternity leave and the powerfully empathetic responder in times of crisis. But how much do you really know about Jacinda Ardern?
David Hill's new picture book Taking the Lead: How Jacinda Ardern Wowed the World is a treat for both adults and children, exploring the life and career of one of the most popular world leaders with beautiful illustrations by Phoebe Morris.
Here are a few things you might not have known about the leader of New Zealand's Labour party:
1. Jacinda grew up on an apple farm.
Jacinda was born in Hamilton on 26 July 1980 and her family then moved to Murupara, where Jacinda's father Ross worked as a policeman. Jacinda loved living on the orchard in Murupara and learned to drive a tractor before she could drive a car!
2. Jacinda started her political career in high school.
It was a tough choice between being a clown (because they have so much fun) or a scientist (like her big sister Louise), but when she realised her passion for helping others, Jacinda chose politics. For a school project, Jacinda interviewed former Member of Parliament Marilyn Waring and was very impressed by how friendly and helpful Ms Waring was. Jacinda swapped her after school job at the local fish and chip shop to work for New Zealand's Labour Party in the 1999 General Election.
3. Jacinda worked at a soup kitchen in New York.
After graduating from a Bachelor of Communications at the University of Waikato, Jacinda took some time to travel overseas. However, she just couldn't stop her desire to help others and ended up working at a New York soup kitchen, serving food to the poor and homeless people of the city.
4. Jacinda was President of the International Union of Socialist Youth.
After visiting the USA, Jacinda travelled to England where she worked for British Prime Minister Tony Blair before being chosen as the President of the International Union of Socialist Youth. The Union's focus was human rights and equal opportunities for the world's children. As President, Jacinda got to travel the world even more with meetings in China, Lebanon and Jordan, to name a few.
5. Jacinda performed as a DJ.
Jacinda loves music and briefly worked as a DJ at an Auckland's Laneway Festival and in some record shops. Her playlists include the Beatles and some of her favourite Kiwi bands like Street Chant and Opossom.
New Zealand Prime Minister Jacinda Ardern has had an impressive career since she was elected as leader in 2017 and was recently named #2 in Fortune's list of World's Greatest Leaders in 2019. Learn more about Jacinda in Taking the Lead: How Jacinda Ardern Wowed the World, out now in your local bookstore.
---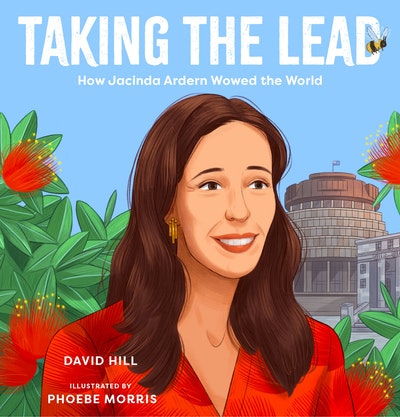 Meet Jacinda Ardern, the Prime Minister of New Zealand, who hopes the things she's done will help everyone, especially children, to believe that they can do great things too.
Buy now
Buy now
---