The co-creators of Hero of the Sea interview each other about writing, illustrating and their latest collaboration.
Author David Hill and illustrator Phoebe Morris (pictured below with the America's Cup at the launch for Hero of the Sea) are the massively talented duo behind our Famous Kiwis series. Sir Peter Blake, New Zealand sporting legend and environmental activist is the latest notable Kiwi to get the Hill/Morris treatment. 
Read on to see how Phoebe and David approach their work, and to find out a little more about the creation of Hero of the Sea.
PHOEBE: What was one of your favourite facts about Sir Peter Blake? Did you know this already, or did you discover it when you were learning about him for Hero of the Sea?
DAVID: I found out that I taught Peter's younger brother Tony when I was a high school teacher at Takapuna Grammar School! He's since become a very successful artist, painting historic and famous yachts. And I found out the lovely details about him proposing to Pippa in a boatyard, and the race in which the umbrella blew away - you've shown them both beautifully in your illustrations.
DAVID: Which part of the book did you enjoy illustrating most? And were there any really difficult parts?
PHOEBE: I love animals, so I really enjoyed drawing the parts of the story that I could add animals to. There are some whales, penguins, crocodiles, and more. I also snuck a small, helpful crab into some of the pages, right before the book went to print. He was a lot of fun to draw.
PHOEBE: It must be challenging to fit a person's whole life story into a picture book, how do you decide which parts to keep and which parts to leave out?
DAVID: In my first draft, I put in EVERYTHING. Then when I edit, I cut down and cut down. It's HARD — for Sir Peter, there were so many fascinating details. I tried to make sure the final draft had interesting events from each part of his life: boyhood; early yachting; the big ocean races; the environmental work.
DAVID: Did you always want to be an artist / illustrator? When did you start?
PHOEBE: I wanted to be a zoologist for a while, as well as a vet and a film director. I also really wanted a pet dog, so would draw endless amounts of pooches from an early age. Slowly I began to draw all sorts of things, and eventually ended up studying illustration at university. We finally have a family dog, too — his name is Boris Morris.
PHOEBE: How about you? Did you always want to be a writer?
DAVID: No, I wanted to be an astronomer! I still have a big telescope for star-gazing. But you have to be good at maths to be a professional astronomer, and I'm seriously useless at maths. I first tried writing to impress a new girl in our high school class. It was an epic fail. Then years later, when our son was born, I thought "You are the most beautiful little creature in the entire world", and I began writing about him. I've written about people who matter to me ever since.
DAVID: Tell us how you go about making an illustration like your marvellous one of the yacht in the storm during a Round-The-World Race — the one with huge waves and the umbrella flying away?
PHOEBE: Usually I start by thinking about the feel of the scene, in this instance — what it would be like to be in an enormous storm. Then I try and put that feeling on the page. I draw very loose and scribbly little drafts of what the page might look like. Then I do a more thorough plan, and then the final artwork with all the colours and finer details — including little umbrellas.
PHOEBE: Where do you write your stories from? Do you have a writing shed like Roald Dahl? Do you prefer to use a computer, or pen and paper?
DAVID: I've actually got a writing ROOM — it's a small room between the kitchen and the back porch, and I share it with the washing machine. I have a great view of the neighbour's side wall, about three metres away. The room has a large, untidy desk, where I write my first drafts with a variety of ballpoints on paper, before putting it on the computer, and then doing vast numbers of edits.
DAVID: What advice would you give to anyone who wants to be an illustrator?
PHOEBE: Draw all the time. Draw what you enjoy drawing the most to begin with, not what other people tell you to draw.  Draw from real life. Be observant of what is around you. Be prepared to work on weekends!
PHOEBE: What advice would you give to anyone who wants to be a writer?
DAVID: Read. Read, and then, read. Every time you read, you're picking up the ideas and tricks other writers use. Also, throw none of your writing away; you can never tell if it may give you ideas later on. And third, try writing about things you've messed up: failures you've had; things you wish you could go back to and do better. People love hearing about those.
---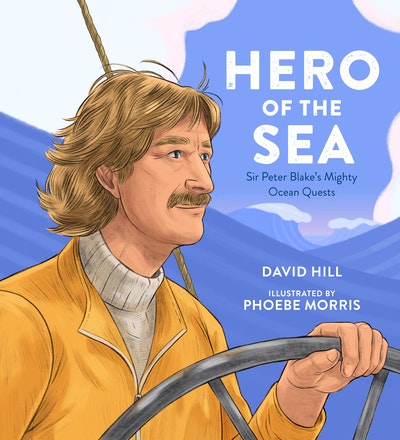 Meet Peter Blake, the famous New Zealand yachtsman, who won the world's most famous yacht races and worked to help save the world's precious waterways.
Buy now
Buy now
---