In Women and Leadership, New Zealand Prime Minister Jacinda Ardern reflects on the importance of role-modelling in shattering gender stereotypes.
'Jacinda Ardern's face is now familiar to the world, as a result of joy and hate,' write Julia Gillard and Ngozi Okonjo-Iweala in Women and Leadership, 'the joy that surrounded her becoming a mother while prime minister, and the hate crime that resulted in the horrific killing of more than fifty people who had gathered for Friday prayers at two mosques in Christchurch. Jacinda led the world in mourning the loss.'
Of all of the facts about gender bias revealed in Women and Leadership, there is one that speaks volumes about the state of our world: only thirteen countries have had more than one woman leader, and of those, only New Zealand and Iceland have had three. To better understand the arrival of Jacinda Ardern on the political stage, one needs to understand her past – as well as that of her nation.
Raised in a small town on New Zealand's North Island, Ardern's initial stirrings of social injustice led her to volunteer for the centre-left Labour party, while in her late teens. In 2017, just two decades after this first experience with political campaigning, she was sworn in as New Zealand's third female prime minister. Ardern spent the years in between travelling, studying, developing an adult worldview and working for Labour leaders including Helen Clark in New Zealand, and Tony Blair and Gordon Brown in the United Kingdom.
'Many young people with a passion for politics would deliberately construct a curriculum vitae like this as part of reaching their eventual goal of being in parliament,' write Gillard and Okonjo-Iweala. 'But Jacinda did not have her eye on getting elected. In fact, when the call came, she said no.'
Ardern was living in London and serving as the president of the International Union of Socialist Youth at the time she was first approached to run for parliament. With a postgraduate degree in political science and her experiences working for Labour Governments she was perfectly credentialed. But lingering self-doubts about her capacity to endure the rough-and-tumble world of politics led her to decline.
Fortunately, opportunity knocked a second time, and with critical support from a fellow party member with great foresight, Ardern was fast-tracked up the party list. As a result, she was elected to parliament, at just 28 years old. Fast forward to 2020 and she is the Kiwi prime minister known for bringing her newborn baby along to the UN General Assembly, her strength of character and compassion in the face of the horrendous Christchurch mosque shootings and her government's hugely effective response to the threat of COVID-19.
In the passage from Women and Leadership below, Gillard and Okonjo-Iweala pick up the story of this unlikely national leader, who has become a symbol of empathetic, compassionate and intelligent leadership, on a global stage.
Elected as a member of parliament in 2008, Jacinda Ardern's doubts about whether politics was the right fit for her never went away. She says: 'Even once I got in, I still constantly questioned whether I had the right character traits and personality for that environment, because I'm a sensitive person, I'm empathetic, I don't like the aggressive side of politics.
'I would get graded from time to time on scorecards put together by the media as having been unsuccessful because I hadn't claimed any government ministers' scalps. But that wasn't how I measured success. So, I just decided that perhaps I wouldn't be regarded as the most successful politician, but at least I would be happy with the way I conducted myself.'
Clearly, pursuing her own style did not hinder her advancement. In 2017, Jacinda became deputy leader of the Labour Party in March, then leader in August and prime minister in October.
Jacinda says of her meteoric rise through the ranks of the Labour Party: 'Every single time I've taken on a role in politics, I've been asked [to do so]. And I can honestly, hand on heart, tell you that, had it not been for the circumstances in each of those cases and having been asked, I wouldn't be in this role.'
Her appointment as leader so close to an election can be characterised as a glass cliff. Being thrust into a campaign without preparation, and with the former leader having resigned because of poor opinion polls, is a horrible start.
Jacinda faced not just an electoral test but also potentially one of her negotiating skills. New Zealand's parliament has just one chamber, the House of Representatives, to which one hundred and twenty people are elected. Out of that total, seventy-one members are elected by first-past-the-post as the representatives of single-seat constituencies. The remaining forty-nine are elected through a regional party list system.
To people from other democracies, the New Zealand system can seem a little strange because each voter gets two votes – one used to elect their local representative and one used to select their preferred political party list. In her career, Jacinda has been both. She was elected as a representative for the electorate of Mount Albert in Auckland in 2017. Prior to that she was elected to parliament because she was on the party list.
There are a large number of political parties in New Zealand in addition to the conservative National Party and Jacinda's Labour Party. It is nearly impossible for one of these two big political parties to form a government without entering into coalitions or arrangements with smaller parties.
Jacinda's opponent in the 2017 general election was the incumbent National Party prime minister, Bill English, who had taken over from the popular and long-serving prime minister John Key, when Key decided to retire from politics in 2016.
While many political pundits would have thought becoming leader of a political party polling at 24 percent just eight weeks before an election was the ultimate poisoned chalice, Jacinda won through. Her leadership was immediately embraced by the public with an almost twenty-point bounce in the opinion polls and a surge of donations to support Labour's campaign. Ultimately, Labour gained fourteen seats, while the National Party lost four. Even though that meant the National Party still held more seats than the Labour Party, with fifty-six seats to forty-six, Jacinda was able to negotiate the arrangements necessary to create a working majority and a Labour government. In doing so, she became New Zealand's third female prime minister.
Jacinda is very firm about the benefits of coming from a country where two women have been prime minister before her. In her words: 'None of my doubt arose because of a perception that the New Zealand public wouldn't accept me because I am a woman. That's the difference having two prime ministers like Helen Clark and Jenny Shipley made. I could see that you could be elected and you could be a successful prime minister and be a woman. That's not something that should be taken for granted, how incredibly important that role-modelling is.'
But she is also clear that role-modelling does not take away all the doubts that women feel.
'It never featured in my mind that I can't be in politics because I'm a woman. It just didn't. But it did feature in my mind that I couldn't do it just because it was me. I did question my ability constantly, question whether or not I could take on the roles that people challenged me to take on.
'I see this kind of self-doubt in other women. So that makes me think that it's not just my own personality. There is something about our – and I'm making grand sweeping statements here – our level of confidence. You know, that old cliché around seeing a list of traits that you need to possess to take on a role and you only see the ones that you don't have, rather than the ones you do. For women, I think this is absolutely true.'
---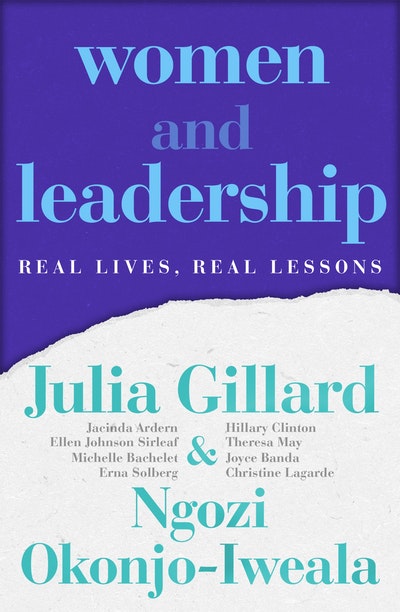 An inspirational and practical book written by two high-achieving women, sharing the experience and advice of some of our most extraordinary women leaders, in their own words.
Buy now
Buy now
---