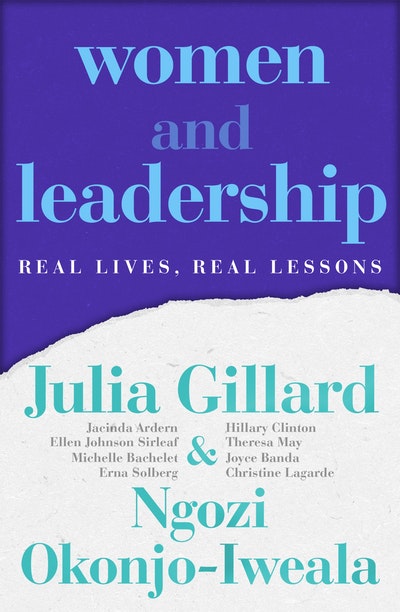 Published:

14 September 2021

ISBN:

9781761043734

Imprint:

Penguin

Format:

Paperback

Pages:

336

RRP:

$26.00
Women and Leadership
Real Lives, Real Lessons
---
---
---
An inspirational and practical book written by two high-achieving women, sharing the experience and advice of some of our most extraordinary women leaders, in their own words.
As a result of their broad experience on the world stage in politics, economics and global not-for-profits, Ngozi Okonjo-Iweala and Julia Gillard have some strong ideas about the impact of gender on the treatment of leaders. Women and Leadership takes a consistent and comprehensive approach to teasing out what is different for women who lead.
Almost every year new findings are published about the way people see women leaders compared with their male counterparts. The authors have taken that academic work and tested it in the real world. The same set of interview questions was put to each leader in frank face-to-face interviews. Their responses were then used to examine each woman's journey in leadership and whether their lived experiences were in line with or different from what the research would predict.
Women and Leadership presents a lively and readable analysis of the influence of gender on women's access to positions of leadership, the perceptions of them as leaders, the trajectory of their leadership and the circumstances in which it comes to an end. By presenting the lessons that can be learned from women leaders, Julia and Ngozi provide a road map of essential knowledge to inspire us all, and an action agenda for change that allows women to take control and combat gender bias.
Featuring Jacinda Ardern, Hillary Clinton, Ellen Johnson Sirleaf, Theresa May, Michelle Bachelet, Joyce Banda, Erna Solberg, Christine Lagarde and more.
Published:

14 September 2021

ISBN:

9781761043734

Imprint:

Penguin

Format:

Paperback

Pages:

336

RRP:

$26.00
Praise for Women and Leadership
I have met some of these women and their candour is a treat. They discuss their childhood, families, ambitions, successes and obstacles. They decry the double standards that hold women back, including being judged on appearance, marital and parental status, age and race. This book is worth reading for the insights into these remarkable women – a dream dinner party guest list – but the authors also examine the statistics, the biases (conscious and unconscious) and the structural obstacles that face women. This book demands that we never make assumptions about leadership based on gender. And the authors provide 10 useful tips for aspiring women leaders of all ages. Gillard and Okonjo-Iweala want women to persevere in their ambitions, but believe they need to be aware of the obstacles; they should create networks and mentor and support other women. The authors' truth-telling will forewarn the next generation of leaders.

Natasha Stott Despoja, The Age
Women and Leadership is a powerful reminder that there is no limit to what women can accomplish when we have the chance. Written by two celebrated trail-blazing leaders, it is a deeply personal portrait of the obstacles women in politics have overcome and the barriers we still face. Every page of this book is brimming with candour, wisdom and humour - leaving the reader rightfully convinced that while women still have to try a little harder and fight a little longer, sooner or later we will get the job done.

Madeleine K. Albright, the first woman to serve as US Secretary of State
An inspirational and practical book written by two high-achieving women, sharing the experience and advice of some of our most extraordinary women leaders in their own words.

Arts Review
Much-needed, frank talk from exceptional female leaders about how they've dealt with sexism in the line of duty… each contributor is refreshingly open and candid about their experiences. The case for female leadership, they rightly note, is a moral one: People should see in leaders a reflection of the full diversity of society.

KIRKUS STAR, Kirkus Reviews
Who better qualified to delve into this topic?

Business Life
Full of practical advice and insights into the careers of a diverse and impressive array of women, this is a valuable handbook for putting more women in positions of power.

Publishers Weekly
This remarkable exploration into women leaders—and why there aren't more of them—is an indispensable guide to addressing sexism and overcoming inequities.

Ms.
Much-needed, frank talk from exceptional female leaders about how they've dealt with sexism in the line of duty.

Kirkus Reviews, Kirkus Star
The ultimate lesson learned is that there is no "right way" to be a woman leader; all situations are unique and there are no specific set of rules for balancing work and personal endeavors...A thought-provoking study of women and leadership and an outstanding contribution to this topic.

Library Journal, STARRED REVIEW
For women leaders, the path to power is never smooth nor does it follow a straight line...The renown all have achieved leads to much introspection and learning, resulting in hypotheses about their collective lives that ring all too true. The takeaways are simple yet complex, and bathed in contradictions: Is it possible to call out sexism as a female? How to balance mother guilt with work? What's the right way to be a woman leader? (There isn't just one.) Snapshots of the pathways to power.

Booklist
The authors leverage their positions for unprecedented access to powerful women, and they offer their own stories with humility and clear eyes. Their posture in the book is the perfect portrayal of women eschewing competition to support other women—one of the most vital themes examined in the book. Every page brims with admiration and respect for women in leadership, the difficulties they face, and the diverse gifts they offer. Despite the grim statistics about how few world leaders are women, the book is hopeful and encouraging. It showcases the resilience and determination of women leaders and the impact they have, bringing wisdom from a variety of disciplines, including neuroscience, psychology, and economics, to bear. Its ending calls out specific lessons for men, too, calling them to a supportive role for women leaders.

ForeWord Review
Article
The people's choice
In Women and Leadership, New Zealand Prime Minister Jacinda Ardern reflects on the importance of role-modelling in shattering gender stereotypes.
Article