Neill Birss' thought his interviews with Burt Munro, legendary Kiwi motorcycle rider lost in the 1970s, never to be found – but they resurfaced under strange circumstances many decades later. Here they are in this book, Munro's voice as fresh and his stories as vivid as the day he told them to the young reporter.
Half a century ago, motorcycle legend Burt Munro told me, a young reporter, of his adventures. He was already well known in the motorbike world, but it was long before the film, The World's Fastest Indian, made Burt internationally famous.
I typed as Burt lurched from question to question in his Invercargill garage sleep-out.
The interviews, in my own time, were for series of articles I planned to sell to overseas motorcycle magazines.
Burt went off on one of his American expeditions, and I moved to Christchurch. Soon with a young family, and studying part-time, my unfinished Burt project slipped from next month, to next year, to "one of these days". Twenty or more years after the interviews, Burt had died. A friend writing a book about Burt requested my interview notes.
I searched but couldn't find them. I accepted they were gone for good.
In September 2011 Christchurch was hit by the first of thousands earthquakes. They continue. My wife and I, now empty-nest oldsters, escaped without injury, but our house, like most others, was damaged, then damaged again.
Urgent roof repairs done, we waited a year or two before our turn came for internal work. As the repair team progressed, we moved furniture around, and ditched junk that builds over a lifetime.
I was throwing armfuls of old and long-unread university notes into a skip, when a folder fell open and caught my eye. It contained pages of typing rather than my old student scrawl.  They were my Burt Munro interview notes.
I edited them into a manuscript, digging on the internet and badgering experts and children of Burt's friends for answers and elaboration.
Interview notes go cold quickly, but backgrounding Burt's great story rekindled my enthusiasm. At times I felt I was back in his hut, hammering the typewriter and yelling questions to the partly deaf Burt.
---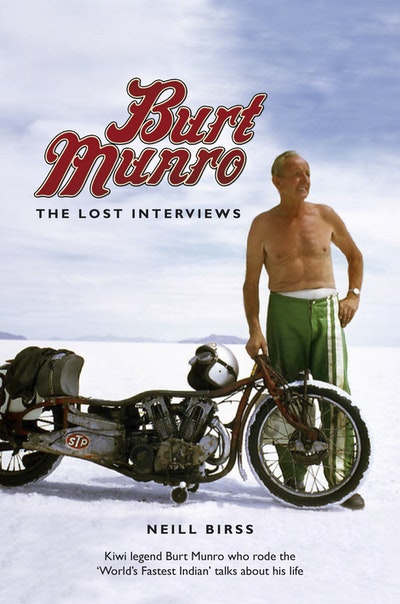 Previously unpublished interviews with Burt Munro, legendary Kiwi motorcycle rider made famous in the movie The World's Fastest Indian. Colourful tales of a life well-lived.
Buy now
Buy now
---