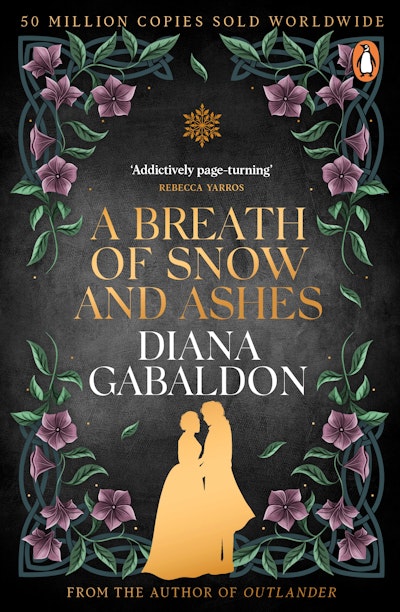 Published:

31 August 2011

ISBN:

9781446494295

Imprint:

Cornerstone Digital

Format:

EBook

Pages:

1424
A Breath Of Snow And Ashes
(Outlander 6)
---
---
---
THE SIXTH NOVEL IN THE BESTSELLING OUTLANDER SERIES.
THE SIXTH NOVEL IN THE BESTSELLING OUTLANDER SERIES.
_________________________________
The long fuse of rebellion has already been lit.
It's 1772, the Royal Colony of North Carolina, and the governor calls upon Jamie Fraser to unite the backcountry and preserve the colony for King and Crown.
One minor problem: Jamie Fraser's wife, Claire, is a time-traveller, as are his daughter and son-in-law. And Jamie knows that three years hence, the shot heard round the world will be fired, and the end of it all will be independence - with those loyal to the King either dead or in exile.
Beyond present danger, though, looms the threat of a tiny clipping from the Wilmington Gazette, dated 1776, which reports the destruction of the house on Fraser's Ridge and the death by fire of James Fraser and all his family.
For once, Jamie Fraser hopes the time-travelers in his family are wrong about the future. But only time will tell.
Published:

31 August 2011

ISBN:

9781446494295

Imprint:

Cornerstone Digital

Format:

EBook

Pages:

1424
Other books in the series
Praise for A Breath Of Snow And Ashes
Gripping.

OK!
The sixth instalment of the adventures of Claire and Jamie Fraser, already number one on the bestseller list, is a whopping 980 pages of action-packed escapism. It also has surprisingly melancholy and insightful views on the experience of growing old and dealing with the losses that entails... One of the things that sets Gabaldon apart from other romance writers is exhaustive research of the times in which her characters live, so evident in her attention to period detail.... plot lines and stand-alone yarns are expertly woven together with the overall theme of impending doom and the question of predetermination.

The Toronto Star
Fans of Diana Gabaldon's popular Outlander series have another rousing historical-science-fiction-romance novel to savour in A Breath of Snow and Ashes... For fans, this book is another slam-dunk hit. It's a massive, long-lasting source of entertainment.

The Gazette (Montreal)
Riveting. Gabaldon has a true storyteller's voice.

The Globe and Mail
Triumphant. . . . Her use of historical detail and truly adult love story confirm Gabaldon as a superior writer.

Publishers Weekly
Readers will find every expectation fulfilled... The large scope of the novel allows Gabaldon to do what she does best, paint in exquisite detail the lives of her characters.

Booklist
'Gripping'

OK!
'Diana Gabaldon is a born storyteller'

Los Angeles Daily News
'History comes deliciously alive on the page'

New York Daily News
'A blockbuster hit'

Wall Street Journal
The sixth instalment of the adventures of Claire and Jamie Fraser, already number one on the bestseller list, is a whopping 980 pages of action-packed escapism. It also has surprisingly melancholy and insightful views on the experience of growing old and dealing with the losses that entails.... One of the things that sets Gabaldon apart from other romance writers is exhaustive research of the times in which her characters live, so evident in her attention to period detail.... plot lines and stand-alone yarns are expertly woven together with the overall theme of impending doom and the question of predetermination

The Toronto Star
Fans of Diana Gabaldon's popular Outlander series have another rousing historical-science-fiction-romance novel to savour in A Breath of Snow and Ashes.... For fans, this book is another slam-dunk hit. It's a massive, long-lasting source of entertainment

The Gazette (Montreal)
Riveting. Gabaldon has a true storyteller's voice.

The Globe and Mail
Triumphant. . . . Her use of historical detail and truly adult love story confirm Gabaldon as a superior writer

Publishers Weekly
Readers will find every expectation fulfilled.... The large scope of the novel allows Gabaldon to do what she does best, paint in exquisite detail the lives of her characters

Booklist